The Apple (OTC:APPL) has finally fallen from the tree. The day after Steve Jobs announced that he is taking a medical leave of absence, leaving the day-to-day operations to Apple's COO, Tim Cook, Apple's stock took a plunge going as far south as $324.60 (pre-market), a 6.9% drop in share value from the previous day's close.
I was puzzled by the $324.60 sell order. It brought up an important question - how do you value "Steve Jobs" in the share price value? After all, when Steve Jobs "came back" to Apple in December 1996 through an acquisition, prompting the former CEO Gil Amelio to step down, the stock dropped by 41% through mid-1997. Apple has since posted a 9,218% return - which means a $10,000 investment would make you a millionaire 13 years later. So perhaps the answer is not that "value" is driving investors to sell at irrational prices, but fear. After all, if we believe in some sort of market efficiency, then surely the "Jobs health" issue was already somehow priced in.
The company then announced record-shattering earnings, sending Apple's shares as high as $357 in after-market trading. My own model expected a $5.50 EPS for the 1Q. It is difficult for me to imagine how the company managed to record a $6.43 EPS, but it obviously says a lot about Apple, namely that:
The company has the ability to multiply already profitable revenue streams through innovation;
Create entirely new products that tend to lead the markets (think iPod, iPhone, iPad) through monstrous followings; and
An extremely loyal customer base that looks to Apple as the next generation tech king more so than any other brand in the market.
My Model & Price Target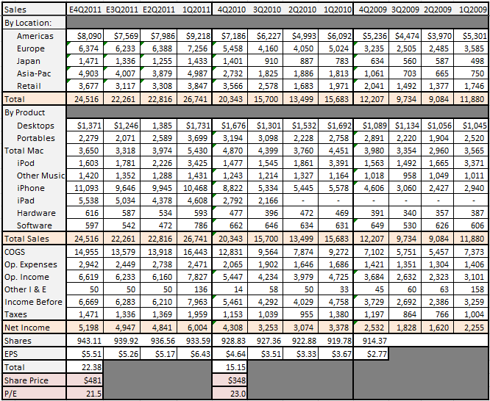 (Click to enlarge)
My current target on Apple is $481. I am not sure how Cramer got to his target of $400, but I certainly would not call my model "liberal." Perhaps our difference is in the multiple investors would be willing to pay for the stock. The current trailing P/E on Apple is 22.5x. My opinion is that growth will remain relatively strong through 2011 (specifically through iPhones and iPads), but the P/E will drop slightly to 21.5x.
Macs & iPads
Mac sales, which represented 28% of total sales in 1Q2010, were only 20% of total sales in 1Q2011. As the Mac figures begin to deteriorate in the following quarters, the company is positioned extremely well with their iPad offering. iPads picked up 17% of total sales in 1Q2011. The iPad appears to be an extremely hot item for Apple and even at conservative estimates, through the remaining 3 quarters of 2011, the iPad will continue to pick up 16-17% of total sales for the company.
iPhone
By far the strongest performer on the list is the iPhone, collecting 39% of total sales in 1Q2011 (40% 1Q2010). Most analysts agree that the shift from AT&T exclusivity should produce some heavy growth for Apple. The company will continue to see attractive figures through 2011 and my opinion is that demand will continue to be strong.
Tax Rate
One of the things I like to note is Apple's noticeably low tax rate. The company is able to minimize its tax rates by using overseas havens and transfer pricing tools. They have effectively lowered their tax rate from 8.8% to 7.3% from 1Q2010 by expanding their operations overseas since then. If the company's tax rates continued to be 8.8% during the previous quarter, their EPS would have been $6.04, making a considerable difference in share value.
Conclusion
As a final note, I will say this. Although fear sometimes precedes rational behavior, understanding the value of a company is critical to the health of a portfolio. It was reasonable to assume that Apple's share-value would have dropped following a negative announcement. It was the intelligent investor, however, who understands that Apple drives value through a thorough understanding of consumer demand, has and continues to be under extremely strong management (yes, even without Jobs), and picked up the shares at a more attractive price.

Disclosure: I am long AAPL.