I've written a lot recently on income investing risk assessment, as I consider it a highly pertinent issue in a ZIRP world. While the conclusion can likely be made that higher-yielding securities present an elevated level of income interruption (freezes, decreases, eliminations) risk, higher yields may not necessarily represent a compromise of total return as compared to lower-yielding brethren. The usual trade-off of higher yield is muted or non-existent dividend growth.
As we've frequently harped on, the path an income investor takes will be predicated by a variety of factors including standing capital, income need, valuation/interest rate/macro market perceptions, and general risk tolerance - just to name a few. Preference and need may dictate portfolio skewing towards one end of the yield spectrum or it may dictate non-correlated diversification amongst a variety of yield points.
REIT/mREIT Yield Variegation
One of the interesting things about the REIT space, and I'm including mREITs in this discussion, are the diverse yield points that can be found. One can find shopping center REITs such as Federal (NYSE:FRT) and Tanger (NYSE:SKT) trading at sub-3% yields while some of your mREITs, like highly regarded New York Mortgage Trust (NASDAQ:NYMT), currently trade with yields a full 10% higher. Investors can also find virtually any yield in between.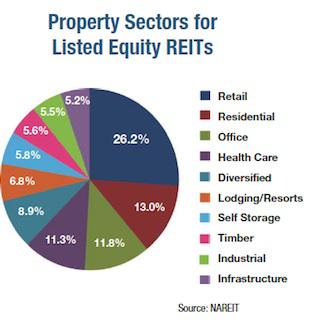 When an investor takes a liberal look at the REIT/mREIT space, it really represents somewhat of a yield-point microcosm of the income investing universe. And since there is such diversity amongst REIT types and accompanying performance (commercial, storage, lodging, healthcare, etc.) it really represents an interesting analytical space. The diversity amongst mREITs would seem much less, but variances in leverage rates, portfolio maturities, and the types of mortgage paper purchased, still creates a robust pool of choice for investors.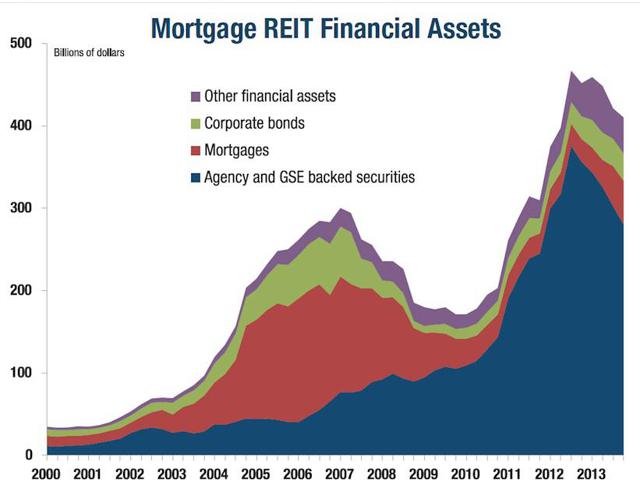 Source: REIT.com
Today's REIT: Good Buy or Good-Bye?
While many investors will look to certain REITs strictly as an income proposition, I prefer to look at them as total return and dividend growth propositions. While the operating output analysis differs, like your traditional C-corps., investors should have a good handle on a REIT's capital structure, valuation, and CAD/FAD/AFFO payout ratio.
Over the past 18 months or so it has been popular to deem REITs an interest rate sensitive group. As rates have gyrated around, many, but not all REITs, have seen considerable volatility - especially those with longer contractual lock-ins. With the 10-Year Treasury yield having now backed off the 3% level it brushed up against earlier this year, REITs have again rallied.
I would opine that group valuation, in general, is on the salty side, but not oppressively so at the moment, with some REITs still representing value and/or business momentum, while others not so much. Lingering worries of interest rate hikes and higher cost of capital, a sensitive issue for many REITS, should be part of investors' thoughts.
On a portfolio level, I doubt I would overweight the group, although pure income investors may find value in doing so. So all-in-all a few good buys and probably a few good-byes as well.
Today's mREIT: Good Buy or Good-Bye?
As investors found out in 2013, mREIT sensitivity to rapid interest rate gyration is intense. But as rates have eased in 2014, volatility has symmetrically eased, creating robust economic return.
I would opine that whether you are a buyer of mREITs today or not is predicated on where you see interest rates headed. Although a slow and steady rise may not necessarily spell widespread doomsday for mREIT dividends like last year's "taper tantrum" did, it will likely erode book values.
When book values were at drastic discounts to NAV as they were the end of last year, there was evident value. Now that those discounts have narrowed or in some cases disappeared, with accompanying increased asset values, I'd be a bit more cautious at this point.
Unquestionably, with the leverage that they typically employ, mREITs represent elevated risk as compared to equity REITs. Consequently, for the average investor, I would recommend negligible to minimal exposure. For those that wade deeper, I would hedge the position, unless you are prepared to deal with another taper-tantrum which should not be discounted as we edge out of QE and on to normalized monetary policy.
So in my opinion, mREITs, collectively, are not a good buy, but not necessarily a good-bye either.
The Real Challenge
Given the diversity that REITs represent in the investment universe, as well as my own portfolio, I thought it might be interesting to track the performance of a diverse group of REITs segregated by yield point. Arbitrarily I selected 6% as the demarcation point for this undertaking. The goal is to track dividends, dividend growth, and total return performance over time, based on initial price, in an effort to assess ongoing high- versus low-yield risk/return.
The groupings I've selected are:
| | |
| --- | --- |
| Higher Yield (6+% at purchase) | Lower Yield (<6%) |
| NorthStar Realty Finance (NRF) | Tanger Outlets |
| New York Mortgage Trust | Home Properties (NYSE:HME) |
| American Realty Capital Prop. (ARCP) | Realty Income (NYSE:O) |
| Lexington (NYSE:LXP) | LaSalle Hotels (NYSE:LHO) |
| iShares mREIT Index (BATS:REM) | Ventas (NYSE:VTR) |
For disclosure sake, I own four of the five in the higher-yield group, minus NYMT, while I only own HME and LHO in the lower-yield group. I attempted to adequately diversify the portfolios and include widely-helds, while also providing a "skin in the game" reality to the endeavor. I struggled with how much mREIT exposure to have in the high-yield portfolio and settled on NYMT and diversified REM. Both NRF and NYMT also show up in REM, amounting to about 6 percent. REM is dominated by Annaly (NYSE:NLY) and American Capital Agency (NASDAQ:AGNC).
We'll assume equal allocations to all stocks and begin with price points as of noon on Friday, Sept. 5 (see below). I'll post updates on a semi-frequent basis, probably monthly or at worst quarterly.
We'll discuss group performance outliers and the ongoing impact that interest rate perception and reality is having on REITs as a whole and individual names in the simulation.
The results should be interesting. Which group will prevail? If you have any comments on the equities chosen, feel free to let me know.
| | |
| --- | --- |
| Stock | Purchase Price |
| NRF | 18.35 |
| NYMT | 7.92 |
| ARCP | 13.20 |
| LXP | 11.07 |
| REM | 12.86 |
| SKT | 35.01 |
| HME | 63.72 |
| O | 45.07 |
| LHO | 36.80 |
| VTR | 65.93 |
Disclaimer: The above should not be considered or construed as individualized or specific investment advice. Do your own research and consult a professional, if necessary, before making investment decisions.
Disclosure: The author is long ARCP, LXP, NRF, REM, HME, LHO.
The author wrote this article themselves, and it expresses their own opinions. The author is not receiving compensation for it (other than from Seeking Alpha). The author has no business relationship with any company whose stock is mentioned in this article.