Copper fundamentals were bullish in 2010 and look to remain that way throughout 2011. Let's go over some basic supply and demand.
Supply:
Global production of copper was 18,256 (Kt) in 2009 and increased to 19,152 (Kt) in 2010. While this was a 5% to 6% increase year over year (depending on how you account for the "disruption allowance" factor) it is below the market expectation for production growth which was 8%. While this might seem inconsequential, it is actually a substantial shortfall. Global copper production increased only 5% to 6% in 2010 despite a 46% increase in the average price of copper from $2.34/lbs in 2009 to $3.42/lbs in 2010. Talk about inelastic supply! Currently Barclays Capital projects copper production to increase 2.3% to 5.5% (depending on global disruptions expectations).
Demand:
Global consumption was reported at 17,800 (Kt) in 2009, which increased 10.1% to 19,601 (Kt) in 2010. Many people would argue that at some point copper prices will become so extreme that it will eventually lead to demand destruction. Currently Barclays Capital does expect global consumption to grow about 4.2% in 2011. In aggregate the expected copper shortfall is anticipated to be about 825 (Kt) in 2011. In other words, copper demand will exceed the supply and as such inventories are expected to be lower at the end of 2011 from where they stand currently. Basic economics suggest that when demand outstrips supply prices tend to rise to a new equilibrium price.
Probability of Supply Shocks:
Copper is similar to many other commodities in that the vast resources are typically located in countries that are developing politically and economically. Oftentimes these countries are prone to shocks such as labor strikes. It seems fairly logical to argue that as the flat price of copper (i.e. cash copper prices) rise further and further, "labor" becomes increasingly concerned that they are not getting what they see as their fair share of the prosperity. As such, strikes, sometimes violent and very disrupting, can and do occur. If copper at $3/lb provides temptation for labor to take a stab at increased wages, copper over $4/lb makes that temptation far greater. Thus, in my estimation 2011 has a greater likelihood of supply disruptions than in years past. This is a very simplistic estimate, perhaps even too simple ... just call it a hunch.
A Basic Precursor on Commodity Markets:
While most people tend to focus on flat price (the front month price in futures market) to provide details on the underlying fundamentals of a commodity, there is actually more information contained in the time spreads (the difference between the front month contracts and contracts further out in the future) for a commodity than in the flat price of a commodity. Time spreads provide great imagery about the supply and demand balance of a particular commodity. Whether the market is in contango (long dated futures prices are higher than the front month prices) or backwardation (long dated futures prices are lower than front month prices) reveals substantial information about supply and demand. This is not always the case and different markets behave differently.
A terrific real world example occurred after the collapse of crude oil prices in 2008. The contango in the oil markets got so wide that traders with access to storage were able to capture anywhere from $7-12 USD/BBL for 8-12 months of storage time (which literally has zero "market" risk). When the demand for crude collapsed it became imperative that barrels of oil actually find a home for storage ... thus the market structure reacted accordingly.
When there is a supply shortfall (e.g. demand is outstripping supply) the market structure changes such that those with stored product are incentivized to bring the product out to market for sale. This occurs by lower prices in the longer dated futures contracts vs. shorter dated contracts.
What information is the copper term structure providing currently?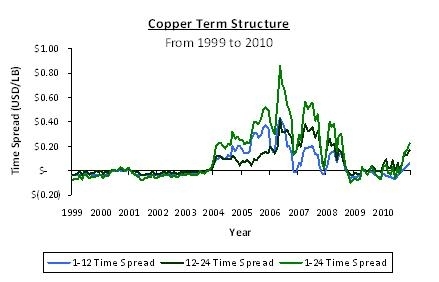 It appears to me that underlying fundamentals are increasingly bullish, although the copper market is not nearly as bullish as it was in the 2005-2007 time period. Perhaps that is because the flat price of copper is high enough that it is restraining demand to some extent. The more obvious answer may be the fact that residential/office construction is typically a substantial demand source and it's not exactly booming in the construction industry like it was in the 2005-2007 period.
So what has replaced the U.S. housing sector for copper demand? Emerging market demand has stepped up where the U.S. housing market left off. According to Barclays Capital, "demand for copper in wire and cable in particular is still expected to increase above historical trend rates given the ongoing electrification process of emerging markets." They go on to argue that "the changing profile of global energy use going forward will also have implications for copper demand. For instance, the use of more renewable energy sources, smart grids, etc., will all require the use of copper wire and cable."
Like most things, there are always two sides to every story. Barclays has noted signs that substitution has been increasingly occurring from copper to aluminum given the lofty prices for copper. However while substitution can and does occur, I do not believe substitution represents a credible strategic threat though it may, at times, restrain global consumption depending on relative prices.
My take:
Copper prices are looking somewhat lofty and as such, meaningful gain from here seems a bit too speculative without a tight stop. The fundamentals (ex. U.S. housing market) are quite strong and look to be strong during 2011. As my previous
article
on Canada mentioned (via commentary from the Bank of Canada), commodity prices are extremely dependent upon the path of emerging market economies. Several of these countries have taken steps to tighten monetary policy in an effort to stave off inflation, which may result in a decrease in the pace of their expansion. If emerging market countries successfully navigate their trade-off dilemma between inflationary pressures and maintaining growth, copper prices will remain strong for quite a while longer. If these nations have a mishap of any scale in their navigation, it will most likely result in a swift kick in the crotch for commodities - most notably copper.
I once gave a presentation to a student investment fund, when I was in college, in which I recommended Freeport McMoRan (NYSE:
FCX
) and Southern Copper (NYSE:
SCCO
) for inclusion into the investment portfolio. A question was asked regarding the risk of these positions and at what point would the thesis on copper be done.
On the risk front: The risk contributions by these stocks are through the roof - make no mistake about it. Both of these stocks are approximately three times more volatile than the S&P 500 over the past 10 years. Under the concept of risk parity (a concept which I find quite compelling) an investor wishing to constrain his or her portfolio to a roughly equal risk exposure to equities (i.e. the S&P 500) should invest no more than one-third the amount he would normally invest in a position into either FCX or SCCO. These stocks, on a total return basis, have been stellar over the past 10 years, and I believe they will be terrific investments for the next 10 years. However, because they are so incredibly volatile, they can destroy a portfolio that is too concentrated in them.
Additionally, the price an investor pays for a security (in terms of value) is one of the most crucial determinants of success. Both FCX and SCCO aren't exactly what I would refer to as "no brainer buys" at these values. Thus, I would personally consider scaling into these positions or perhaps taking an option position in which the downside risk is well known. There is more than enough macro-economic risk that could knock these stocks down 5%, 15% or even 20% or more in a very short amount of time. As such, waiting for the opportune moment (perhaps a repeat of reverberations out of Europe that are not necessarily related to copper fundamentals) will provide just the right price for an investor to make an allocation to these stocks.
On the thematic aspect of copper: My answer at the time was something along the lines of, "when the cover of Time Magazine or several other magazines run cover stories that say 'Emerging Markets Have Emerged' ... that is when copper is done. That potentially sounds a bit extreme, maybe even crass, but the fact is as that the middle class of the developing world is growing and that trend isn't likely to reverse itself over the course of my lifetime. With an expanding middle class throughout the world, copper consumption is likely to keep rising. However, I welcome any bear cases on long term middle class expansion throughout the world which will result in copper prices getting pummeled and staying low for a long period of time."
Disclosure: I am long FCX, SCCO, VALE.