Maybe there are some real consequences for big drug companies when they run afoul of regulators. All too often, fines or settlements with the Justice Department or the Food and Drug Administration for transgressions such as off-label marketing and questionable drug trial results are shrugged off as being just the cost of doing business for big pharma.
But GlaxoSmithKline's (NYSE:GSK) charge of $3.4 billion to cover litigation and settlement costs mostly associated with its Avandia diabetes drug led Jeremy Batstone-Carr, head of research at Charles Stanley, to cut his rating on GSK to Hold from Accumulate. GSK closed Tuesday at 1181.50p, down more than 4% since the announcement Monday.
Batstone-Carr argued that hopes had risen in recent weeks that GSK might be able to embark upon a share buy-back at some point over the next 12 months, but "this news pushes the likelihood of such an event back into 2012 and beyond in our view."
(Update: Morgan Stanley reportedly has downgraded GSK to Underweight from Equalweight.)
Analysts at JP Morgan Cazenove and Citi also thought that the prospect of a share buy-back in the near term has diminished. Citi had downgraded GSK to Hold from Buy prior to the announcement.
Dominic Valder, an analyst at Evolution, said: 'The fact that this has come two quarters after the previous one [financial charge] will make people worry.' He has a 1550p target and a Buy rating.
Michael Leacock at RBS Capital was surprised by the scale of the new legal charges, writing "It is good to see litigation risk reducing but we believe that investors may be disappointed by the overall cost, and be increasingly keen for a good performance in 2011." He kept his Buy rating after cutting his price target to 1610p from 1760p prior to the news.
The costs are mounting up for Glaxo. As the Financial Times points out, GSK has the dubious distinction of topping the ranking of US government financial penalties, accounting for almost a quarter of big pharma's penalties since 1991. Stronger whistleblower laws and increasing scrutiny as the government becomes an ever bigger customer of big pharma suggest drug companies may need to be pay greater attention to stay clean.
Ed Silverman at Pharmalot points out that Glaxo has now taken more than $6 billion in charges to cover ongoing legal problems stemming from Avandia, which was linked to an increased risk of heart attacks in a widely debated analysis published in 2007. Since then, Glaxo has come under fire for failing to disclose clinical trial data, prompting an extensive US Senate Finance Committee investigation.
Tracy Staton at Fierce Pharma also draws attention to GSK's unresolved problems with marketing of its Paxil and Wellbutrin antidepressants and its $750 million fine settlement related to serious lapses in manufacturing at a now-closed plant in Puerto Rico.
And Jim Edwards at Bnet calculates that "When all is said and done, GSK will probably have lost money on Avandia even though it earned more than $16.3 billion in revenues during its lifetime."
Still, GSK does have its fans. Of the 16 analysts tracked by Alacra Pulse who have changed or reiterated their recommendations since mid November, eight have a positive rating, five are neutral and three are negative. However, some of these have not yet updated their ratings since the charge announcement. The mean price target of these analysts is virtually unchanged at 1373p, though the high target has dropped to 1760p to 1610p. The low target is 999p.
Current 12-month price targets of selected sell-side and independent analysts. Click image to enlarge.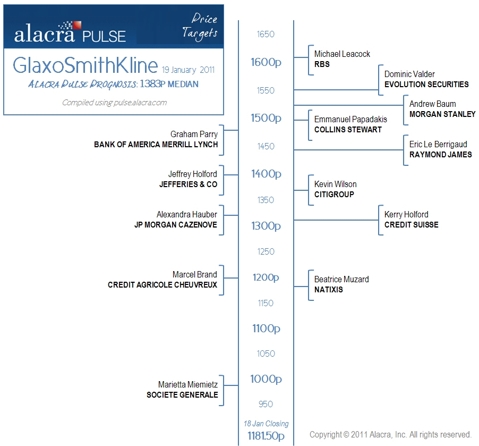 Fitch Ratings this week issued a negative outlook for big pharma companies as patents expire. Moody's kept its A1 rating but said the charge was a credit negative.
However, UBS's Gbola Amusa argues that Glaxo "has the best, the brightest, the most booming pipeline in the industry over the next three years," and estimates 7% growth for the company's sales over the next five years compared to 3% or 4% across the industry.
Last week Jefferies & Co upgraded GSK to Buy from Hold and raised the price target from 1300p to 1400p, while last month Credit Suisse upgraded the company to Neutral from Underperform and boosted the price target from 1225p to 1310p.
GSK's new lupus drug Benlysta, approved by the FDA in November, "has the potential to be transformational, "according to Andrew Witty, GSK's chief executive, and emerging markets could be another realm of growth for the company. Witty, who took over the company in 2008, reportedly wants to clean up its legal messes and has pledged to run GSK in a more ethical and compassionate manner. Let's hope so.
Sources: Alacra Pulse, Bnet, Comtex SmarTrend, Fierce Pharma, Forbes, Minyanville, Pharmalot, Street Insider, The Telegraph.