MGIC Investment Corp. (NYSE:MTG), an almost $2 billion market cap Milwaukee provider of mortgage insurance, picked the wrong day to miss estimates -- especially with the overall market down and technology giants Apple (NASDAQ:AAPL) and IBM receiving a lukewarm reception to their own blow-out earnings. As of last night, MTG shares not only had fallen over 20% but closed at the lows -- often a bearish sign for the next day, but in this case it appears that MTG is just above support.
[Click all to enlarge]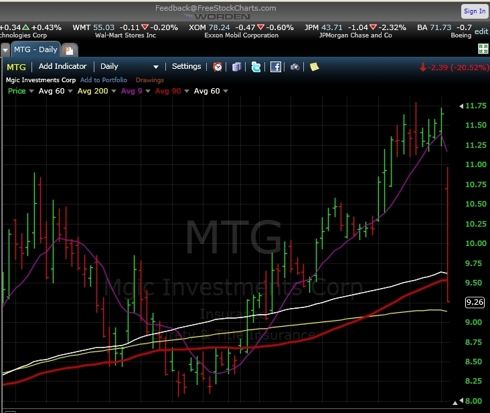 The 200-day moving average is 9.14, and that should provide investors with some comfort that the short-term worst may be over. With five times the average trading volume yesterday of slightly more than 22 million shares, this was one of the most active (as well as difficult for investors) days MTG has seen in a long time.
I pulled up an excel spreadsheet made by EDGAR Online of MTG to take a look at the numbers. Based on the spreadsheet and my charts, I see the following about the company: MTG reported a loss of $0.93 per share when the Street was expecting a loss of about $0.65 per share. This compares to a loss of $2.25 per share for the same period last year. The reported loss was from total revenues of $361 million, compared to $405 million dollars for the same period last year.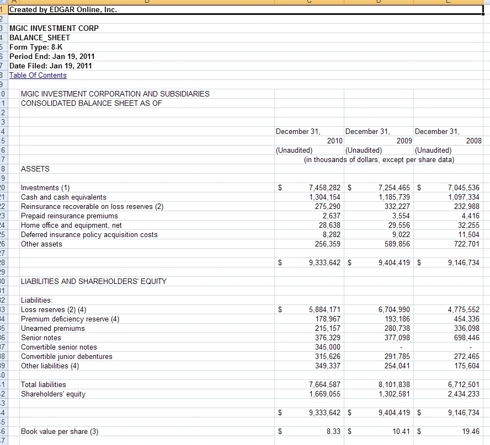 With a book value of $8.33 per share, the stock price is getting close to selling at no premium to book. MTG reported $1.3 billion in cash, which amounts to about $6.50 in cash per share. Based on the last quarter, MTG should run out of cash within about seven quarters (putting cash flow aside). Adding in current value of investments -- which appear to be doing well, with a realized gain of $13 million -- along with a gain of $57 million and the value per share by a liquidity point of view increases dramatically and, I believe, buys enough time for MTG to fully stabilize if the losses can be brought under control within a reasonable amount of time.
For long-term investors, yesterday's sell-off may provide a value-buying opportunity absent the large cash burn. Let's look further at the numbers and see if we can get a better idea of when / if the company may find its way back to profitability .
When looking at the last 12 months' earning results, MTG is reporting a loss of $2.06 per share. This compares to a loss of over $10 per share for the same period a year ago. Along the same lines, revenue for the 12-month period shows that revenue was $1.52 billion vs. $1.70 billion for the same period a year ago. This leads me to believe that revenue is stabilizing while the losses are declining, even if the losses are not declining as quickly as estimated by the Street.
To be sure, unless you been under a rock for the past year and a half, the news of the current state of the housing / mortgage market is very clear. If foreclosures and losses continue, MTG will face very strong headwinds and at some point will have to seek more capital to continue. This will almost assuredly dilute the current stock holders. Granted, it appears that at least some dilution is already built into the price after the sell-off yesterday.
I think with QE2 well on its way and the Fed's comments that low interest rates are here to stay until deflation (read housing pricing) fears abate, we likely are seeing the bottom in housing prices. This does not necessarily mean less foreclosures, as they show no sign of slow down. But with stable-to-increasing home prices, the losses per foreclosure may very likely be peaking or have already peaked.
At the same time, if we do see an overall improvement in home prices this could quickly vaporize the rate of foreclosures as short sales and outright sales are able to be completed. The incentive for people to do a strategic foreclosure to walk away from an upside-down mortgage will vanish as well. These factors work hand in hand and, like the drop in home prices, created a snowball effect with home prices that may very quickly reverse what appears to be (but is not) at this point a never-ending problem.
Based on the chart, as well as the reported numbers and my estimates going forward, I feel that MTG offers an opportunity for a small investment in the middle of the sell-off.
As MTG has somewhat active options for a stock at its price level -- along with a sky-high implied volatility premium -- I will be looking to sell some near-money strike February and/or March puts. I may also trade MTG stock looking for a pop today, but I think options may offer a better risk-to-reward value. This will allow me to earn time premium with time decay working in my favor, while at the same time giving me a net long position. If I get the stock put to me, I get it at an even better price than yesterday while at the same time lowering my risk from holding the stock outright. This type of trade of course limits my upside profit to only the amount of premium collected, but I prefer the lower risk and the longer term required to sit on MTG for an out-sized gain.
Disclosure: I have no positions in any stocks mentioned, but may initiate a long position in MTG over the next 72 hours.