Baidu (NASDAQ:BIDU) held its 9th annual Baidu World conference last week in Beijing and much of the conference was focused on mobile internet, O2O, cloud services, wearable, and Baidu's own AI strategy called "Baidu Connect". Mobile internet continues to be a key focus, in particular the trend towards searching via voice/image and service-oriented search. Baidu also announced the Baidu Connect program that integrates search, O2O and mobile payment to facilitate transactions and to provide a comprehensive O2O platform to both merchants and users. Additional cloud computing centers will be rolled out and will support Baidu's new mobile search initiative.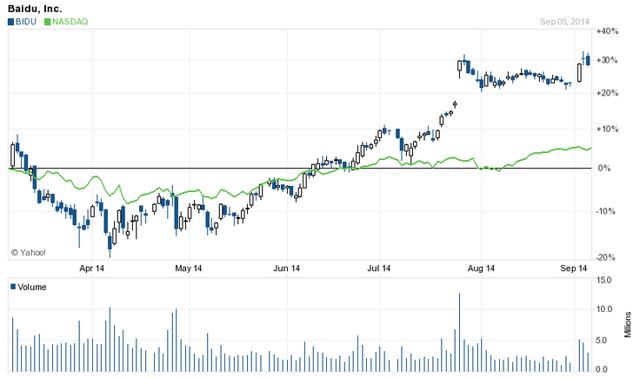 Shifting habit of mobile search
Management highlighted a key trend in mobile search behavior due to the rising popularity of mobile internet and the proliferation of low-cost smartphones. Specifically, users are shifting towards more voice and image search from the traditional text search. Currently, ~45% of Baidu's mobile search comes from voice and image, with voice accounting for ~10% and image search, via taking a picture of an object, accounts for ~35%. Management expects voice and image to account for >50% of the queries as technological hurdles lower in the near-term.
One interesting note is that service-oriented search is catching up to informational search. Information search was most popular during the PC era when people look up for specific information via desktop search engines. However, users are searching for services more than information during the mobile era and this makes sense in that majority of the search that are done through mobile devices would involve any particular service sector (ie. movie theaters, restaurants, POI). Management highlighted that service-oriented search has seen +133% increase in queries over the past year.
Pushing into O2O and mobile payment via Baidu Connect
Baidu introduced the Baidu Connect to resolve the limitation of today's mobile search requests, namely lower user activity, low retention ratio, low conversion rate, and minimal personalization. Baidu Connect addresses those issues by integrating search, LBS and mobile payment onto a single platform so the user can search for the relevant services/products and that will allow the merchants to send tailored ads to the customers based on their purchasing history. As expected, this type of service is ideally suited for Baidu Map, which will include a more comprehensive version of Baidu Connect in its Map 6.0 update.
Big data and cloud
Big data and cloud computing is another major theme and Baidu is integrating big data analytics with live-only search queries so that it can deliver more relevant search results/services to the users. For example, if a customer takes a picture of a specific item, the search result will not only explain to the user what it is but also informs the user where to purchase the relevant item.
Given the scope of the big data analysis, Baidu is setting up new data centers and management aims for 3m kernels and 4k PB storage capability for data processing. I view this supportive of Baidu's overall big data strategy and its desire to move into AI. Management noted that AI is becoming increasingly important amid the shift in mobile search habit in that search is becoming more interactive (i.e. voice and taking pictures).
Uncertain margin outlook
Consistent with its prior assessment, management is once again uncertain over Baidu's margin trend stating that the difficult margin profile is the result of heavy near-term spending in R&D and marketing. While the core business will continue to be profitable, the new businesses will continue to be a cost burden, as Baidu needs to educate customers on accepting them and it will likely take some time to see meaningful traction.
Conclusion, overall the conference provided some interesting insight on Baidu's mobile search development and Baidu Connect, which I believe will continue to enhance Baidu Map's current service offerings. At 36x forward earnings, I still feel the stock is too rich given the near-term margin pressure. I reiterate my bearish view on the stock.
Disclosure: The author has no positions in any stocks mentioned, and no plans to initiate any positions within the next 72 hours.
The author wrote this article themselves, and it expresses their own opinions. The author is not receiving compensation for it (other than from Seeking Alpha). The author has no business relationship with any company whose stock is mentioned in this article.