By David Sterman
As investors continually seek out new investment ideas, it can get very tiresome. Just when you've found certain appealing stocks, they move up to your price target or lose operating momentum, and you're compelled to find the next idea. But what if you could hold a stock for the whole year, a whole decade or even a whole generation?
Well, that's how people used to invest. My grandmother bought shares of AT&T (NYSE:T) in the 1950s -- and never sold them. The dividend income was surely appealing. And the capital appreciation helped her stay well ahead of the forces of inflation. But if my Grandma were alive today, would she still be able to find a "forever stock?" After all, in recent years, even stalwarts such as AT&T have lost their luster: Ma Bell's shares have fallen by half since 2002.
You can still find "forever stocks" if you know where to look. The key ingredient is to seek out companies with long operating histories, that sell goods or services that won't become obsolete, and routinely generate solid rates of return on their deployed capital.
Of course, if it is to be a core holding, you'll have to avoid companies subject to wild cyclical swings such as Alcoa (NYSE:AA), Deere & Co. (NYSE:DE) and JP Morgan (NYSE:JPM). Those companies are likely to be around -- and flourish -- for many decades to come, but they'll give you plenty of indigestion along the way. You also want to find companies that can handle external impacts such as inflation. They must show the ability to raise prices whenever their own costs rise.
For example, Yum Brands (NYSE:YUM) has seen its shares rise steadily for more than 15 years. The fast-food operator is truly becoming a global name with its KFC, Taco Bell and Pizza Hut restaurants opening around the world. That means the company is truly tied to the globe and not just the United States. Fearing inflation? These value-oriented chains would hold even greater consumer appeal if rising prices deter people from eating at pricier restaurants.

The Ultimate Rain or Shine Stock
There's one thing that's bound to never change: people always need shelter. They can look to buy a home or spruce up their existing home. Or they can look to rent a place if home ownership doesn't appeal. And no matter where they live, people dislike old dingy walls with flaky paint. So a fresh paint job is often a key step in turning a house into a home. And that's been great for Sherwin-Williams (NYSE:SHW). It's not a sizzling growth story -- sales have grown from $5 billion in 2001 to around $7 billion in 2009. And in coming years, analysts only expect sales to keep growing at a high single-digit pace. Yet for a "forever stock," that's good enough.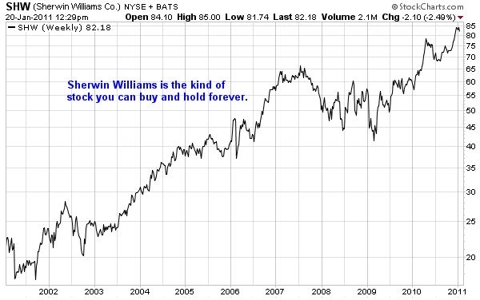 What drives the company's growth? A nice combination of annual price increases, new household formation of around 1.0-1.5 million in the United States (a trend which has only temporarily stalled in recent years), and international expansion. The company, which is five years away from its 150th anniversary, operates more than 3,000 stores.
Here in the United States, Sherwin-Williams should benefit from an eventual rebound in housing. Looking abroad, the company has a chance to build on its 500-plus store base, developing a go-to brand name as it has in the United States. Those growth drivers are augmented by a series of stock buybacks as management puts excess cash flow to work. Free cash flow is on track to rise for its sixth straight year, to nearly $700 million.
Sherwin Williams is also on track to boost its dividend for at least the 10th straight year. (My database doesn't go back further than that). The company hiked its dividend by more than 20% a year during 2005 through 2007, though payout hikes have been more modest in recent years. A rebounding economy and all that FCF should set the stage for more robust dividend hikes in the years to come.
As a final kicker, the company's return on equity has exceeded 30% in each of the last four years -- not bad for a company that was exposed to the brutal downturn in the housing market.
It's simply hard to imagine a scenario where demand for paint slumps. And Sherwin-Williams has the most powerful brand in the business. A caveat to the "forever stocks" scenario: markets have rebounded sharply, lifting shares of companies like Yum Brands and Sherwin-Williams. Some investors may prefer to wait for deep market pullbacks before pouncing on these buy-and-hold-forever names. Then again, that approach may cause you to miss out on even more upside that many predict for the stock market in coming years.