For a long-term investor, 3D printing offers a tantalizing opportunity, as the technology has the potential to completely transform the traditional manufacturing process. Diversification is one way to invest in the 3D printing market. Owning multiple 3D printing stocks can both share gains from the sector as well as hedge some losses. Often when the larger 3D printing stocks 3D Systems Corp. (NYSE:DDD) and Stratasys Ltd. (NASDAQ:SSYS) report earnings, their successes or failures can affect the rest of the market. When DDD reported Q2 2014 results, DDD dropped 10%, SSYS fell 4%, and Exone Co. (NASDAQ:XONE) fell 7%. When SSYS reported its own Q2 2014 data, SSYS rose 14%, DDD rose 2%, and XONE increased 7%. A well-diversified 3D portfolio has not only printer manufacturers, but also service providers and CAD (Computer Assisted Design) software developers. This allocation can provide the ground level 3D printing machines that actually do the work, the service sector that will obtain and do work with the printing machines, and the CAD capabilities to design and input blueprints into the printers. We'll take a look at some small and micro-cap 3D printing stocks that follow the aforementioned business models.
Voxeljet (NYSE:VJET) is an industrial printer manufacturer and service provider centered in Germany and expanding to North America in Canton, MI outside. The expansion to North America could potentially allow VJET access to the American auto industry as well as putative Canadian customers. The largest printer offered by VJET, the VX 4000, has a printing area of 3.3x6.5x13.1 cubic feet and is capable of printing in plastic, sand, or metal to give molds. Printers with large operating areas can be used to mass produce smaller items or fabricate larger items like car or airplane parts. Q2 2014 earnings reported a 31% revenue increase over Q2 2013. Profit margins for Q2 2014 were up from Q1 2014, 31.5% compared to 28.7%. Expanding to North America will find new customers for VJET and new markets for its printers, especially the large scale VX 4000 that could potentially make inroads into the American manufacturing system. The General Motors Co. (NYSE:GM) sold 2.5 million vehicles during Q2 2014, costing $39 billion in expenses. Assuming equal costs for all vehicles, the 800,000 vehicles sold in the U.S. would have cost GM approximately $12.5 billion. Were VJET to capture even 1% of that by locating a facility in MI, VJET could stand to gain $125 million, nearly half of its total market cap.
ARC Group Worldwide (NASDAQ:ARCW) is a global 3D printing service provider, offering printing and manufacturing services. ARCW is unique in that it offers printing services, but does not sell or distribute printers on its own. It acts as a middleman to provide customers with 3D printing services without them having to actually operate potentially complicated 3D printing machinery. ARCW provides both plastic and metal injection molding, methods to bind a substance together, inject into a mold, and treat the substance into operational capacity. For Q1 2014, ARCW reported $1.6 million in income. Because ARCW does not manufacture and distribute printers, no R&D funds need to be devoted to printer development. VJET paid $1.1 million in R&D in Q2 2014 working on the development of several projects, leading toward improved printer capabilities and product offerings. Had ARCW needed to devote an equivalent amount for R&D to develop and improve printers, income would have only been $500,000. This reduced expense allows ARCW to put more towards advertising and growing the business.
Cimatron Ltd. (NASDAQ:CIMT) is a provider of computer assisted design, CAD, and Computer Aided Manufacturing, CAM, for making molds, tools, and parts. The brand includes integrated software lines GibbsCAM and CimatronE, and is used in the medical, aerospace, and electronics industries. In 2013, CIMT began a 3D printing advisory board on its board of directors to begin offering its manufacturing software to the 3D printing industry. The software CimatronE, introduced in July 2014, was made to be compatible with 3D printing machines. A micro-cap stock with market cap of $70 million, CIMT reported for Q2 2014 a year over revenue increase of 6.5% to $11.8 million. Net profit was also up, $1.3 million from $1.0 million in Q2 2013. Net profits for 2013 were also up over 2012 net profits, $4.8 million up from $3.7 million. With the growth of the 3D printing market estimated to reach $3.7 billion by 2015, providing 3D printing compatibility with its software opens CIMT to a market with geometric growth potential.
Small cap stocks like these are much riskier than larger cap stocks, but have greater potential to grow. Had an equal amount of money been invested in each of VJET, ARCW, and CIMT a year ago, the investment would be up 200% by now.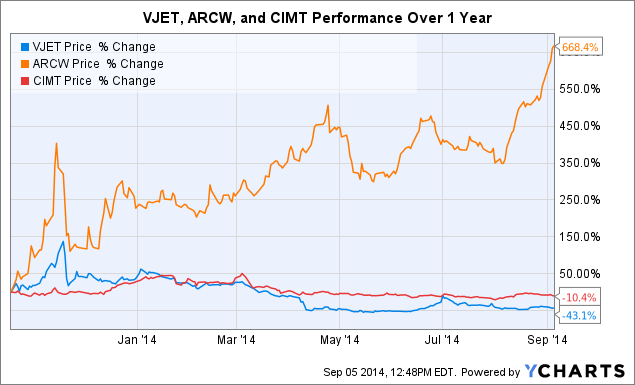 data by YCharts
Caution should be exercised if putting a large part of a portfolio into small-cap stocks. Investors preparing to add these stocks to their portfolios should take long positions, as the 3D printing market is still in the early stages of expansion. The market for 3D printing changes rapidly, and fluctuations are to be expected. VJET stock prices are greatly dependent on sales of printers, and thus R&D is important in producing good printers that can compete in the market. Services might expand in the future as well, especially if the new facility in Canton, MI leads to a new customer base. ARCW is a service provider with a unique position providing services and manufacturing rather than printers. This approach is very effective now that the 3D printing industry is becoming more widely known, and there are fewer individuals who have experience operating 3D printers. ARCW provides that expertise without customers having to train employees in 3D printing. In the future ARCW might have to change its approach, as 3D printers become more widely used and more people have experience operating them. Additionally VJET and DDD each operate service segments that compete with ARCW to provide manufacturing services. As all of these printers grow and extend their reach, CIMT stands to gain as a software provider for all of them with CimatronE. As the 3D printing market expands, VJET, ARCW, and CIMT are well-placed to expand along with it.
Disclosure: The author is long DDD, VJET, ARCW, CIMT.
The author wrote this article themselves, and it expresses their own opinions. The author is not receiving compensation for it (other than from Seeking Alpha). The author has no business relationship with any company whose stock is mentioned in this article.
Additional disclosure: The data provided here is for informational purposes. Before buying or selling stock you should do your own research to reach your own conclusion. Investing includes risk and potentially loss of principal.
Editor's Note: This article covers one or more stocks trading at less than $1 per share and/or with less than a $100 million market cap. Please be aware of the risks associated with these stocks.