OK, the Google and Hewlett Packard news bumped me from my CNBC "Talking Numbers" segment Thursday afternoon in which I was scheduled to discuss the latest short interest data on the more widely traded ETFs. Given the fact that there are some very tradable trends amidst the short interest ratios of these ETFs, I thought I would share some of the homework that I put together on the subject.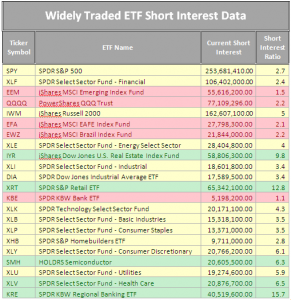 The table to the right displays the latest short interest and short interest ratio figures for the top 20 or so (I'll explain the "or so" in a moment) ETFs, according to their respective average daily volume. For reference, the S&P 500 ETF (NYSEARCA:SPY) boasts a short interest ratio of 2.7, which is higher than its average short interest ratio of 1.45 over the last year. The higher reading suggests that there has been a rise in pessimism towards the market in general over lately, a good sign for the contrarian investors.
Digging deeper into the numbers uncovers some prospective market outperforming ETFs for the next few months. The fields identified with green backgrounds indicate the five ETFs with the highest short interest ratios among these stocks. Following our Behavior Valuation approach, which combines contrarian investing with technical analysis, the Health Care, Retail, Real Estate, Semiconductor and Regional Bank ETFs are poised to outperform the market as they are most likely to experience bullish pressure from a potential Short Squeeze rally.
On the other side of the coin are the Large Cap Financial, International, and Large Cap Technology ETFs, all of which have relatively low short interest ratios identifying the lack of a potential Short Squeeze. In addition to the lack of a Short Squeeze, a low short interest ratio is often a sign that the sector is "overloved" or "crowded", often a sign that an ETF is nearing a tradable top.
Now the "or so". I expanded the list to the top 22 ETFs as the 22nd ETF is of particular interest to us. The SPDR KBW Regional Banking ETF (NYSEARCA:KRE) currently shows a short interest ratio of a whopping 15.7 days to cover. Compared to the SPDR KBW Bank ETF (NYSEARCA:KBE) and SPDR Select Sector Fund – Financial (NYSEARCA:XLF), the KRE is showing clear potential to outpace the larger XLF shares.
The disparity between the Regional and Large Cap Financials tips the market's hand that we should expect to see a continuation in the relative strength in the KRE shares. Given that the KRE has already outpaced the XLF shares' performance since the beginning of December by more than 40% (18.3% compared to 12.9%), we expect the trend to continue as the short sellers get squeezed back to reality.


Disclosure: I have no positions in any stocks mentioned, and no plans to initiate any positions within the next 72 hours.