The market is a bit frothy now, so I'm having a harder time finding value. When this happens, I go to my "playbook," or historical stock sector rotation(s) based upon the current point within an overall business cycle.
A positive forward-looking sectors is Basic Materials.
Within the sector, I found what I believe to be a hot ticket: International Paper (NYSE:IP).
INTERNATIONAL PAPER (IP) ONE-YEAR CHART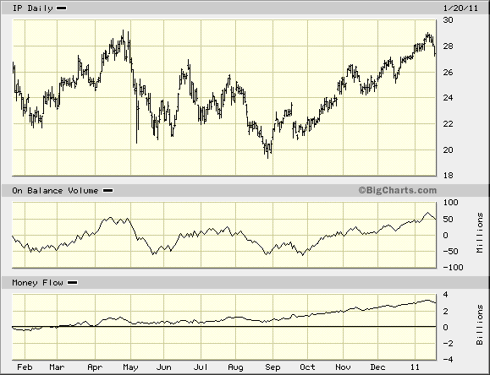 (Click to enlarge)
Let's take a look at the company and the stock.
Background
The International Paper Company (International Paper) is a global paper manufacturing and packaging company. IP distributes and operates in primarily in North America, Europe, Latin America, Russia, Asia and North Africa. The Company operates in six business segments: Industrial Packaging, Printing Papers, Consumer Packaging, Distribution, Forest Products, and Specialty Businesses and Other.
The Fundamentals
The balance sheet is where I like to start an analysis. In this area, IP has somewhat pedestrian metrics. The debt-to-equity ratio is high: 149 percent versus an industry average of 97 percent. However, despite International Paper carrying a relatively highly level of overall debt, the long-term debt has been trending down. The company has retired some debt and rolled some out into the future at reasonable interest rates.
In late 2010, International Paper completed a long-term land and business divestiture program that began in 2005. These sales have provided the company with the ability to bolster their cash position and assist the aforementioned debt reduction effort. Additional debt retirement should continue through early 2011.
The most recent quarter annualized return-on-equity and return-on-capital ratios are good, at 25 percent and 6 percent, respectively. These figures are above industry marks. Better yet, these metrics have improved dramatically versus the ttm (trailing twelve month) figures. Things are on the upswing.
The current ratio is 1.8. This is a strong figure indicating that IP has the ability to manage its short-term cash needs. Indeed, the current ratio is buttressed by the company holding $3.28 cash per share, or nearly 12 percent of the share price as of January 20.
Moving to earnings, the story gets better. If one accepts the premise that the global economy will improve over the next couple of years, International Paper is well-positioned. Analysts' EPS estimates for 2010 are about $2 a share. The fourth quarter conference call, scheduled for early February, will confirm the figure.
My forecast for 2011 and 2012 is approximately $2.70 and 3.50 per share. This leans towards the high side of some pro analysts. I am going with the upper end of the range given that Materials and Packaging both tend to do well as an economic recovery advances. Furthermore, International Paper has beaten the consensus quarterly EPS estimate seven times since 2008. They only missed once (the first quarter of 2008).
Businesses need paper products and packaging materials as their fortunes improve. IP is the biggest player in this sector.
Applying a market 15 PE multiple to my projected 2011 earnings, one comes up with a $40 price target. Using a 12X multiple for my 2012 projection, I calculate a $42 share price. Please note that IP's five-year average PE has been 19. Therefore, my forecast assumes that the future PE ratio will compress significantly as the business improves. This is typical of cyclical companies.
The current Enterprise Value (essentially market capitalization plus debt minus cash) is above $44 per share.
I like the fact that International Paper has diversified their business globally; targeting Latin America and China and Russia. A recent report indicated that IP is well-received in China, and growing.
My view is that IP businesses (and the shares) will reach their cyclical peak in 2012 or 2013.
The cash flow metrics are improving. This is the area whereas I try to watch cyclical companies most carefully. If I wait until all the metrics already "look good," it's generally too late: I will have missed the stock move. On the other hand, if my projections and assumptions are unrealistic, or the company misses earnings, the stock will get crushed.
The company's current cash flows are ordinary. Operating cash flow is down YoY versus 2009, and Free Cash Flow through the first three quarters of 2010 has been only 30 cents a share.
However, on January 11, I suggest the IP board provided a key tip....a margin of safety for the investor. They increased the dividend from 12.5 cents per share to 18.75 cents per share, a fifty percent increase. The International Paper press release stated:
"...This second dividend increase reflects our intent to restore our dividend to pre-recession levels," said John Faraci, Chairman and chief executive officer. "Today, International Paper is a much stronger company and we remain committed to creating sustainable returns for our shareholders...."
Rarely will a board increase the dividend twice in a year without confidence the company will generate the cash to sustain it. Indeed, it would be an embarrassment to company leadership to raise the dividend twice, then backtrack on it due to insufficient cash flows.
For the record, IP had a $1.00 annual dividend prior to the Great Recession. The current annualized declaration is but 25 cents off that mark.
The increase boosts the yield to 2.6 percent. Not too shabby for an emerging cyclical play.
The share price action also indicates an earnings momentum change. International Paper stock lagged the S&P 500 and their Industry group over the past year. More recently, the stock has beat the S&P 500 over the six and three-month periods. While the company share price trailed industry competitors over the past year and six month time frames, it has performed in line with peers for the last three-months. A an early positive trend is emerging.
Risks
Of course, there are some worries and warts. One has to buy into the premise that the global economy will amp up. IP is particularly sensitive to the business cycle. Hence, a high beta of 2.3. Institutions hold nearly 80 percent of the shares outstanding, so the big boys can bounce this stock price around quickly and drag the small investor along with it. These shares can take the stairs up: and the elevator down.
In addition, the paper and packaging business has inherent perils. It's a mature business. Environmental claims, required capital-intensity, government regulation, and end-user demand remain a concern.
There is also a $2 billion underfunded pension liability to manage.
The Technicals
As a fundamental investor, I tend to use the charts for a confirmation of my analysis, or a way to determine an entry or exit point. Upon this premise, the IP technicals look good. The stock has trended higher and remained above its 50 and 200-day moving averages since October. These two SMA lines crossed bullishly in early December. The MACD and Money Flow are positive.
I also like the weekly chart. It's followed a nice, clear upward trend line since August. As of mid-January, the trend line is about $27.50. This is the price where I'd like to add to my position. Just today, we got that pullback.
From a technical perspective, my concern is that the stock looks overbought on a short-term basis. The Slow Stochastic and an Oscillator I use are reading a little rich. The upward price movement has been on lackluster recent volume. However, I offset this with the fact that NYSE volumes have traded at a likewise concurrent low level. As a long-term investor, the fundamentals of the stock are sound.
Nonetheless, IP shares (and the overall market) have been up for weeks. I'd like to see a bit of a retrace after the latest run before pulling the trigger. I just want to buy shares "on sale," if possible. I never like to "chase" a stock.
Please note the short-term action does not change my long-term bullishness on this security.
Conclusion
International Paper is a cyclical stock: in the right sector and poised to move higher. The balance sheet is acceptable. Earnings momentum is strong. The board and management of the company have expressed confidence going forward based upon their willingness to raise the dividend payout twice of late. The 2.6 percent yield is decent, and based upon recent management discussion, I expect another dividend boost in 2011.
Disclosure: Author long IP