BACKGROUND

On January 6th the Journal of Commerce Index of 18 industrial materials (including cotton, steel, copper, aluminum, zinc, crude oil, nickel and rubber) rose to within 1 point of the record high set in July 2008. The index dates back to 1985 and has been published daily and developed by the Center for the International Business Cycle Research at Columbia University. The components of the JOC Index were chosen specifically because of their success in anticipating inflation trends.

The current inflationary pressure brought about by the continued rise in commodity prices prompted the Central Bank of China to state, "Monetary easing policies in the United States and the other major economies are leading to abundant liquidity in international markets, intensifying imported inflationary pressure."

As of December 2010 the overall inflation rate in China was 4.8% after reaching 5.10% in November with the food inflation rate dropping to 9.60% after hitting 11.70% in November 2010. From 1994 until 2010, the average inflation rate in China was 4.25% reaching an historical high of 27.70% in October 2994 and a record low of -2.20% in March of 1999.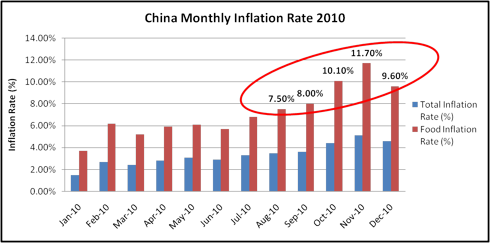 (Click to enlarge)
Commodities as an asset class had outperformed both equities and bonds in 2010 on the back of China's 10.3% double-digit GDP growth. Much of this rise in commodities prices was attributed to industrial metals such as copper, iron, steel and aluminum that were essential to infrastructure development.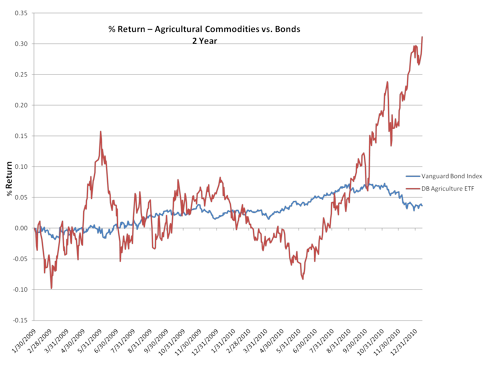 (Click to enlarge)
Looking ahead in 2011, with China's multiple rounds of raising bank reserves and interest rates (currently 5.56% as of the last week of December 2010), hard commodities should cool off; however, agricultural commodities will continue to trend upward as a result of irregular weather patterns and an ever expanding Chinese middle class.

REVERE'S OUTLOOK

There is a strong correlation between the rise in commodity prices and China's inflation rate. We believe this trend will continue over the near to mid term creating a stronger demand from China for agricultural products.

In the second half of 2010 and the beginning of 2011, a series of droughts and floods in Australia, Russia, Brazil and Argentina sparked a sudden shortage in agriculture commodities such as wheat, corn and soybeans. This has had a material impact on food prices in China where meeting consumption demand is dependent (heavily), on imports.

This runaway food inflation spells opportunities to the U.S. because China is the number one ranked agricultural import partner for the year 2010, accounting for 16% of the U.S. total agricultural exports. Furthermore, this percentage has been rising steadily in the last decade where in 2001 China was ranked fifth in U.S. share of agricultural export, behind countries like Japan, Canada, and Mexico. In absolute dollar terms, export to China grew close to six times in the last decade, from $3.1 Billion in 2001 to $17.5 Billion in 2010.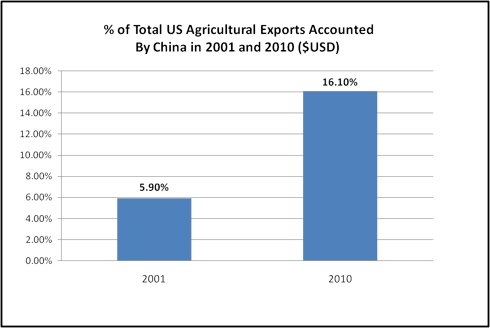 (Click to enlarge)
For investors looking to capitalize on this insight, investing directly in agricultural commodities via futures or ETFs may be one route to take, but Revere believes a better approach is to focus on the three F's: Fertilizers, Farming Machinery and Financing. These are the enablers of agriculture and will benefit no matter what crops are being grown!

REVERE RESEARCH REVEALS

Two subsectors within agriculture and within finance should benefit from the continued rise within commodities. Of note is China's growing need to import goods and services related to agricultural products including crop production, farming equipment and real estate which includes financing. Additional upward pressure on commodity prices comes via the devastating floods in Australia and Brazil where prime fields have been wiped out for the 2011 growing season. This in turn brings more buyers into the U.S. agricultural markets.

Fertilizers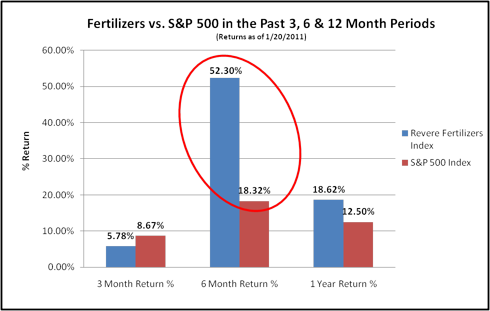 (Click to enlarge)
Fertilizers are essential ingredients for growing crops as they supply the nutrients necessary to promote yield and improve quality. Revere tracks an index of 14 focused fertilizer companies that produce a combination of nitrogen, phosphorous and potassium-based fertilizers, and for the last 6 and 12 month period, they've outperformed the S&P 500 by 34% and 6% respectively. The surge in performance of fertilizer companies was concentrated particularly in the last 6 months, which coincided nicely with China's uptick in monthly inflation rate beginning in August 2010.

Top Fertilizer Performers:
CF Industries Holding, Inc. (NYSE:CF) - up 78.8% in the past 6 months
Potash Corp. (NYSE:POT) - up 70.2% in the past 6 months
Farming Machinery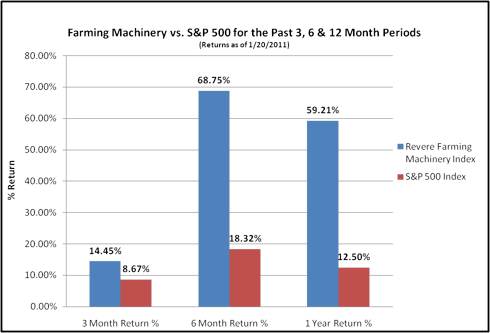 (Click to enlarge)
Farming machinery includes a wide range of tools and equipment that are used to improve the efficiency of planting, growing and harvesting crops. Some examples are machines that include animal feed processors, irrigation systems, and soil plowing vehicles. In short, similar to fertilizers, farming machinery increases yield production and quality on a massive scale.

This is relevant for China as the majority of its farming operations have remained small,inefficient and labor intensive. China has vowed to industrialize its farming practices on a national level, and this should serve as a strong catalyst for the farming machinery sector. In terms of performance, the Farming Machinery sector has outperformed the S&P 500 by 50% and 47% in the last 6 and 12 month period, respectively.

Top Farming Machinery Performers:
Arts-Way Manufacturing Co (NASDAQ:ARTW) - up 136% in the past 6 months
Lindsay Corp. (NYSE:LNN) - up 96.7% in the last 6 months
Financing - Midwest Banks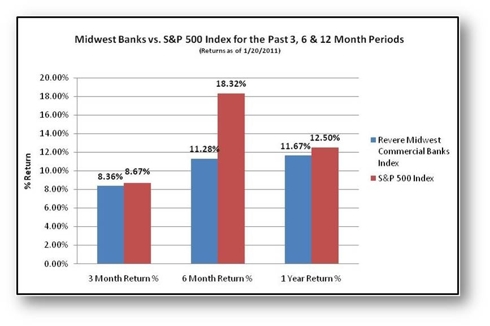 (Click to enlarge)
The recent financial crisis had severely dampened investors' confidence in the U.S. regional banks sector as evidenced by its 50% downfall since the recession began. Even today when the recession has been declared over , the "hangover" from mismanaged real estate loans and a high unemployment rate still linger, and are not expected to improve significantly in the near future. Nevertheless, there could be one bright spot among regional banks that are well positioned to finance the agricultural boom in Midwest states such as Iowa, Illinois, Indiana and Nebraska.

As demand for agricultural commodities increases from China's insatiable appetite for more foodstuff(s), Midwest farmers will need financing to scale up their operations. Their main source of financing will have to come from the banks, particularly Midwest focused banks that have had a history of working with them, and understand the dynamics of agricultural economics. Looking at the returns of a group of Midwest focused banks as tracked by Revere, they have underperformed the S&P 500 in the last 6 and 12 month period. Yet, when compared to the Dow Jones US Regional Banks Index - a more relevant benchmark - Midwest banks outperformed it by 1.3% and 4.8% in the last 6 and 12 month period, respectively. Revere believes this linkage between China's food inflation and Midwest banks has not been fully recognized by the market, as it is still early in the investment cycle. Opportunistic investors should begin due diligence and identify banks with a greater share of their loan portfolios exposed to agriculture.

Top Midwest Bank Performers:
Macatawa Bank Corporation (NASDAQ:MCBC) - up 246% in the past 6 months
Mercantile Bank Corporation (NASDAQ:MBWM) - up 71% in the past 6 months
Additional candidates include:
CONCLUSION
Recent irregular weather patterns and a growing Chinese Middle Class have contributed to a perfect storm of rising agricultural commodities.
American companies are well positioned to benefit from China's food inflation with the US being China's number one trading partner, particularly in agricultural commodities.
Companies engaged in fertilizers, farming machinery and financing of agricultural operations offer good investment opportunities, without having to face the risk, volatilities and expenses associated with selecting individual commodities.
Disclosure: I have no positions in any stocks mentioned, and no plans to initiate any positions within the next 72 hours.