During his "Mad Money Lightning Round" on Thursday evening, Jim Cramer briefly addressed his concerns about the data center industry:
Equinix (NASDAQ:EQIX): "A server play ... I would be a seller of EQIX because I don't think the data centers, the physical space, is going to grow the way people think."
Cramer has never been a fan of this sector.
Back in October 2009, Jim had already expressed his opinion about the industry's future, and it was a very negative picture:
"Get out of the data-center stocks. I think the data center industry is in decline. I see an industry that's about to be brought low by new technology, so I think you should sell, sell, sell."
The death of the data center didn't happen.
At the beginning of 2010 Data Center Knowledge had an interesting article tracking his prediction in the short term:
So how did Cramer's prediction turn out? If you sold all your data center stocks, you're probably regretting it. Nine of the 13 publicly-held companies we track in our Data Center Investor chart have gained in value since Cramer's Oct. 22 call, including five stocks with double-digit improvements in that short time. Those include Equinix (EQIX) and Switch and Data (SDXC), whose merger announcement prompted Cramer's prediction of Data Center Doom.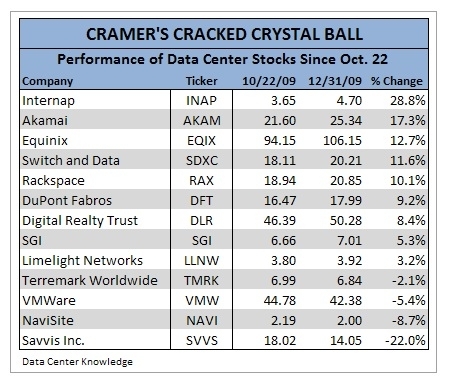 The data center hasn't yet been brought low by Nehalem processor technology, which Cramer warned would "make the data center model obsolete." Cramer completely ignored the data center sector as shares of these companies surged in value for most of 2009, discovering DuPont Fabros (NYSE:DFT) in late September, long after its shares surged from $2 to $13.
Results of data center related stocks for the whole 2010 were also quite interesting:
Here's a look at our Data Center Investor leaderboard for the full year 2010: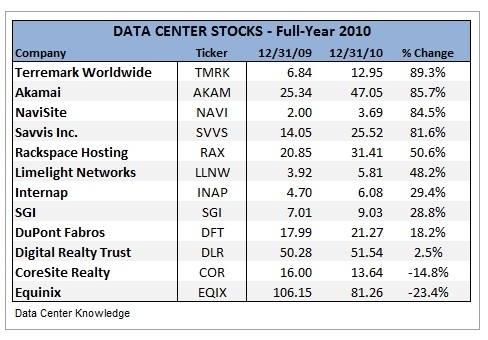 For comparison purposes, the Dow Jones Industrial Average was up 11 percent on the year, while the S&P 500 gained 13 percent and the NASDAQ Composite soared17 percent.
This time Jim Cramer's criticism is not about technical aspects of the sector (which he missed completely in the past), but growth expectations.
Will he be right this time or will history repeat itself, and his call represent, once more, an interesting entry point for investors?

Disclosure: I am long EQIX.