In Greek mythology, a Chimera is a monstrous hybrid creature far stronger than the sum of its parts. The name appears to fit the philosophy of Chimera Investment Corporation (NYSE:CIM), which has endeavored to assemble an array of income-generating assets which, also, are more than just the sum of their parts.
Chimera is classified as a REIT for tax purposes, but doesn't actually own any real estate. Rather, it fits into the novel little segment of companies doing business as "mortgage REITs."
The mortgage REIT game
Chimera indirectly invests in real estate. Instead of buying the real estate outright, it is dealing in the ever-growing business of mortgage-backed securities, chiefly those related to residential mortgages.
Their portfolio is overwhelmingly made up these Residential Mortgage Backed Securities. A meaningful percentage of these are "agency RMBS" released by government-run entities like Ginnie Mae, but most are non-agency RMBS assets.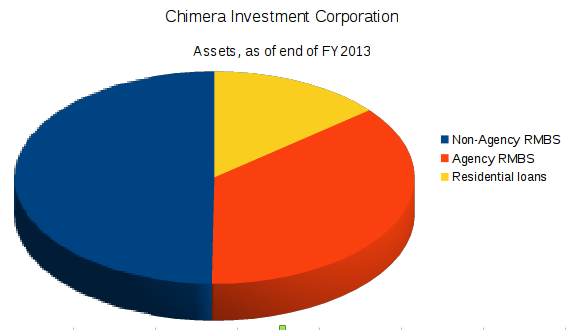 The split of these assets is not constant, and Chimera is constantly revising its portfolio to focus more heavily on whatever is generating the best returns at any given time.
Right now, that means non-agency RMBS, and the company seems to be increasing that percentage more going forward. Last week, the company announced it had acquired the rights to another $4.8 billion of non-agency RMBS with purchases from the various Springleaf Mortgage Loan Trusts.
That's a hugely significant play. Chimera's entire portfolio of assets only amounted to $6.9 billion at the end of FY2013. It's up to $12.5 billion as of the end of Q2, showing the company is being really aggressive in increasing its portfolio right now.
A REIT with no land and no employees
Chimera is certainly an odd beast, a REIT with neither any land nor a single employee of its own. Rather, it is managed entirely by FIDAC, a subsidiary of Annaly (NYSE:NLY), which is given a 0.75% management fee on the company's returns, and Annaly further owns 4.38% of Chimera's outstanding shares.
The Chimera determination to keep costs low is such that it doesn't even have any office space of its own, and rather operates entirely out of Annaly's.
Annaly is a strong player in the mortgage REIT industry in its own right, and seems to be handling Chimera's operations with a similar eye toward generating nice income for investors.
Dividends
Like any REIT, Chimera has to return most of its income in the form of dividends to shareholders. The quarterly dividend has consistently been 9 cents per share, which by itself is a 10.8% yield.
That's certainly nothing to sneeze at, but it represents only the minimum yield of Chimera, and the company has often paid special dividends at the end of their fiscal year, in keeping with their need distribute. In FY2013, that amounted to another 20 cent special dividend per share. That would bring the yield up to a whopping 16.8%.
| | |
| --- | --- |
| | Total Dividends Paid Per Share |
| 2009 | $0.43 |
| 2010 | $0.69 |
| 2011 | $0.51 |
| 2012 | $0.38 |
| 2013 | $0.56 |
In each of the first two quarters of 2014, EPS has been 10 cents, in both cases beating the FY2013 equivalent. If that trend continues, we could be on track to see another special dividend at year's end.
The risk and the GAAP vs. non-GAAP spread
Chimera has been impressively consistent in its ability to generate such nice returns in a low-interest rate environment, but is so far untested in a higher interest rate market. The company says it believes it can continue to generate appealing returns, but it still remains an unproven proposition.
That said, most of the government's talk of interest rate increases has not come to pass, and while Europe and others cut their rates to record lows, it is hard to imagine the United States really substantially increasing its own interest rates. There's just too much political momentum behind a relatively weak dollar.
The other thing investors must keep an eye on is the difference between GAAP and non-GAAP book value of Chimera's assets, as the company insists the GAAP value can be somewhat misleading given the nature of their business.
Right now, the company is trading virtually at its GAAP book value of $3.35, but a bit above the non-GAAP book value in the most recent 10-Q, which was $3.09. That means the question of whether you're buying assets at a slight discount of a bit of a premium depends on how you're looking at things.
Conclusion
However you slice it, Chimera has been consistently returning very impressive dividends for years, and its recent acquisitions show an aggressive effort to build that asset base. There are a lot of assets in the pipeline here, especially after the Springleaf transaction, and that should keep the company on track.
The nature of a mortgage REIT means that Chimera is probably never going to see its share price grow in a meaningful way. Its ability to generate strong returns from assets, however, makes it a really compelling income investment choice.
Disclosure: The author has no positions in any stocks mentioned, and no plans to initiate any positions within the next 72 hours.
The author wrote this article themselves, and it expresses their own opinions. The author is not receiving compensation for it (other than from Seeking Alpha). The author has no business relationship with any company whose stock is mentioned in this article.