The importance of dividends cannot be disputed or denied. To paraphrase Will Rogers, dividends provide investors both a return of and a return on invested capital. Consequently, in addition to augmenting returns, dividends also simultaneously reduce risk. Each time a dividend is paid to an investor, the investor has less capital at risk equal to the amount of the dividend paid. As an aside, this important point is often left out when people are calculating yield on cost. Even though this return of capital is a great benefit, it also can require a new investment decision if the investor is not spending the dividends.
One way to handle this is to only invest in dividend paying companies that offer a DRIP (dividend reinvestment program) program. This is a legitimate strategy that takes advantage of the benefits provided by the concept called "dollar cost averaging." If the price of the stock you are reinvesting in is high, your dividend will buy fewer shares of expensive stock, and conversely, if the price of the stock you are reinvesting in is low, your dividend will buy more shares of the cheaper stock. This is a proven strategy that works in the long run.
Another option, and one that we prefer, is to collect your dividends with the objective of selectively reinvesting them in companies that you believe are the most opportune in your portfolio. In other words, use the dividend income you receive to purchase the stocks that you believe offer the best value and highest future returns. This strategy requires more effort and research, but can enhance long-term returns, if you're disciplined. This is critical, because a significant advantage of a DRIP program is discipline.
On the other hand, it's also important to point out that dividends are only one factor to consider when designing or managing an investment portfolio. If your investment objective is income, then dividends can, and should be, one of your primary considerations. However, if your objective is long-term growth of capital, then dividend paying stocks may not be your best choice. This is not to say that dividend paying companies would not still be a good choice, they just may not be your best choice. Your best choice is defined as the one that would make you the most money over time. Faster earnings growth will normally accomplish this, however, there is more risk taken.
As a general rule, there is a strong correlation between earnings growth rates and the level of dividends paid, if any. The higher the rate of earnings growth, typically the lower the payout ratio will be. This is partly due to the fact that fast-growing companies need to reinvest their capital to fund growth. Over time, as companies get bigger, growth tends to slow and so does the companies' need for capital lessens. This is typically the time where companies will institute a dividend in order to compensate their shareholders for a slower earnings growth rate. Of course, it should be noted that there are exceptions to every rule, including this one.
The 10 Lowest Yielding Dividend Champions
The following analysis through the lens of our F.A.S.T. Graphs™ research tool reviews the 10 lowest yielding dividend champions. In our previous article we covered the 10 highest yielding dividend champions where we discovered mostly low total returns. In fact, most of the returns we did find came from dividends, as there was very little capital appreciation due to low earnings growth and valuation discrepancies.
Therefore, as you might guess, you will find that 7 of the 10 lowest yielding dividend champions had double-digit historical earnings growth, or very close to it. As a result, these lower yielding companies generated higher total returns than their higher yielding counterparts. However, you also should note that a significant greater portion of their total returns is attributed to earnings growth and reasonable starting valuations. It's also been noted that both of these articles covering highest and lowest yielding dividend champions review the same historical holding period of 1997 to current.
A brief description of each company will precede each of their graphs taken directly from each company's website. However, we will add brief commentary on each graph in order to assist the reader in interpreting what they're looking at. However, for the most part we will let the graphs and the accompanying calculated performance results speak for themselves.
Summary and Review
Our first F.A.S.T. Graphs provides a statistical summary of the 10 lowest yielding dividend champions we are reviewing. Note that when the current PE column is written in red that this indicates overvaluation. Since valuation matters a great deal, this would indicate caution for those considering purchase, and further caution for any investor who already holds one of these example companies.
Click to enlarge
H.B. Fuller Company (NYSE:FUL)
"H.B. Fuller Company is a leading worldwide solution provider of adhesives, sealants, paints and other specialty chemicals. The company's products and services have diverse application, ranging from consumer to durable goods."
From our price-earnings correlated F.A.S.T. Graphs™ below on H.B. Fuller Company we discover a very strong long-term correlation between stock price and earnings growth. Additionally, we discover periods of cyclicality with earnings results.
Click to enlarge
H.B. Fuller Company has only modestly outperformed the S&P 500. Even though the company did increase its dividend every year, during periods of low earnings growth the increases were quite modest. Also, their total cash dividends were less than the S&P 500.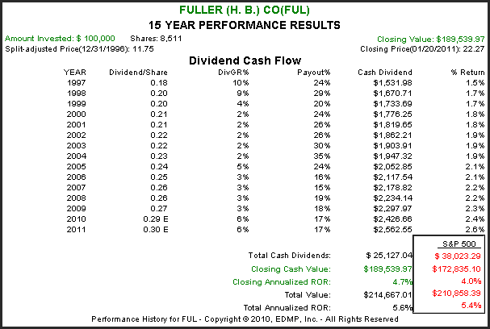 Tootsie Roll Industries (NYSE:TR)
"Tootsie Roll Industries, Inc. is America's favorite candy company, manufacturing and selling some of the world's most popular confectionary brands. Tootsie's brands include some of the most familiar candy names: Tootsie Roll, Tootsie Pop, Charms Blow Pop, Mason Dots, Andes, Sugar Daddy, Charleston Chew, Dubble Bubble, Razzles, Caramel Apple Pop, Junior Mints, Cella's Chocolate-Covered Cherries, and Nik-L-Nip."
Tootsie Roll Industries has the second highest yield of this low yielding group, but also the lowest earnings growth rate. Although considered a very high quality company with very little debt, Tootsie Roll Industries' record of earnings growth leaves much to be desired.
Click to enlarge
"Energen Corporation is a growing oil and gas exploration and production company complemented by a small, single-state natural gas utility."
"Sigma-Aldrich Corp. is a leading Life Science and High Technology company. Our chemical and biochemical products and kits are used in scientific research, including genomic and proteomic research, biotechnology, pharmaceutical development, the diagnosis of disease and as key components in pharmaceutical, diagnostic and other high technology manufacturing."
"Filtration, It's What We Do - CLARCOR Inc. is the most diverse filter company in the world. Our filters clean the air you breathe and the water you drink. We clean the liquids used in engines, from trucks to airplanes to locomotives. We filter the air and fluids used in manufacturing plants to decrease pollution, remove odors, reduce energy requirements and improve efficiency. We remove the water and contaminants from natural gas and oil to help meet the world's energy needs."
Precision Dispensing, Surface Preparation, Test and Inspection, Nordson is the leader in precision dispensing equipment for applying industrial liquid and powder coatings, adhesives, and sealants to numerous consumer and industrial products during manufacturing operations. Nordson solutions also include test and inspection equipment and curing and surface preparation systems. We operate in 30+ countries around the world.
"Franklin Resources Inc. is the parent of Franklin Templeton Investments, a global investment manager. At the core of our business are multiple world-class investment management groups – Franklin, Templeton and Mutual Series – each operating independently and offering their distinct perspectives to financial advisors and their clients."
"100+ Years of Medical Technology Innovation - For more than 100 years, C. R. Bard, Inc. has been developing innovative medical devices that meet the needs of healthcare professionals and patients. From a one man shop in 1907 to a global leader in the medical device industry we are committed to enhancing the lives of people around the world."
"Helmerich & Payne, Inc. is an energy-oriented company engaged in contract drilling, primarily in the U.S. and South America. The company was incorporated under the laws of the State of Delaware on February 3, 1940."
"Wesco has four major subsidiaries: (1) Wesco-Financial Insurance Company ("Wes-FIC"), headquartered in Omaha and engaged principally in the reinsurance business, (2) The Kansas Bankers Surety Company ("Kansas Bankers"), owned by Wes-FIC and specializing in insurance products tailored to Midwestern community banks, (3) CORT Business Services Corporation ("CORT"), headquartered in Fairfax, Virginia, and engaged principally in the furniture rental business, and (4) Precision Steel Warehouse, Inc. ("Precision Steel"), headquartered in Chicago and engaged in the steel warehousing and specialty metal products businesses."