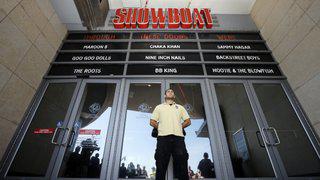 Security guard blocks entrance to Showboat Casino Source: KPBS.org
Showboat Casino Hotel has been a fixture on the Atlantic City Boardwalk for 27 years. The New Orleans-style casino was a victim of competition in surrounding states - slot machines in Maryland, casinos in Delaware, New York and Connecticut. This is only the tip of the iceberg, as more casinos are being planned along the New York-Washington, DC corridor that Atlantic City has historically catered to. The oddity was that Showboat was still profitable:
"I'm upset. I'm angry, because Showboat never went bankrupt," she told WHYY's Emma Jacobs. "It was a good casino, a good place to work and people enjoyed it because it was a big emphasis on customer service. A people place."
Caesars Entertainment (NASDAQ:CZR) is closing Showboat in order to reduce the number of casinos in Atlantic City which is reeling from reduced revenue and increasing competition. It is almost a steel industry concept where by reducing supply, pricing power and potentially revenue will increase for the remaining participants. Caesars also teamed with Tropicana Entertainment to buy the Atlantic Club Casino in December 2013; the Atlantic Club was closed the following month. In force closing casinos, Caesars may be doing what market forces were eventually going to demand. After the closing of Showboat and the September 2nd closing of the $2.4 billion Revel Casino, more than 5,000 jobs were lost in Atlantic City in less than one week.
Avoid Casinos With Atlantic City Exposure
With the loss of thousands of jobs this year, a return to its roots as a seaside resort may be the only way to save Atlantic City. After revenue growth from gambling seemed limitless, Atlantic City sort of lost its way as a family attraction. That said, the closing of Revel, Atlantic Club and Showboat in 2014 may be a harbinger of things to come. Below is a list of Atlantic City Casinos and their status: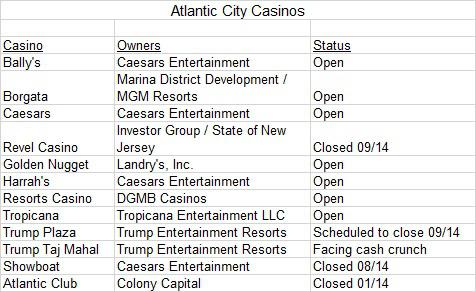 Casino revenue in Atlantic City has fallen from $5.2 billion in 2006 to $2.9 billion in 2013 - an annual decline of about 8.2%; revenue is expected to fall further. By the end of 2014, Atlantic City will have eight casinos, down from 12 a year earlier. That said, I would advise investors to avoid casino stocks like Caesars and MGM who have exposure to the Atlantic City market.
Caesars Entertainment
After closing Showboat, Caesars currently operates three casinos in Atlantic City. The company reported Q2 revenue of $2.2 billion and loss per share of $3.24. Analysts were expecting loss per share of $1.19; revenue was also about $30 million shy of expectations. Revenue growth was flat Y/Y compared to the $2.2 billion recorded in Q2 2013. EBITDA declined nearly 15% to $360 million from the $418 million earned in Q2 2013. In addition, Caesars was unable to cover the $654 million of interest expense on its $24 billion debt load, most of which was a holdover for the LBO of the company at the height of the financial crisis in 2008. At 8x-10x its $1.6 billion trailing twelve months EBITDA, the company's enterprise value is about $12-$15 billion. Given that its enterprise value is less than its $24 billion long-term debt, Caesars is worth $0 per share.
MGM Resorts
MGM Resorts International (NYSE:MGM) currently owns the Borgata Hotel Casino in Atlantic City. The company reported Q2 revenue of $2.6 billion, up 4% over Q2 2013 results. EBITDA increased 21% Y/Y from $450 million to $543 million; EBITDA margin also increased Y/Y from 18% to 21%. In Q2, MGM paid $204 million in interest expense on $12 billion in long-term debt. Its equity market capitalization of $12 billion and long-term debt of $12 billion gives the company an enterprise value of $24 billion. That said, with an enterprise value at 10x run-rate EBITDA of $2.3 billion, the stock is fully valued. The 6.1% decline in August gaming revenue in Maucau, combined with the continued decline in Atlantic City makes MGM a stock to avoid.
Conclusion
Atlantic City's casino revenue has declined over 8% annually since 2006. Caesars' recent closing of Showboat Casino in Atlantic City is the tip of the iceberg. Investors should avoid Caesars and MGM based on exposure to Atlantic City.
Disclosure: The author is short CZR.
The author wrote this article themselves, and it expresses their own opinions. The author is not receiving compensation for it (other than from Seeking Alpha). The author has no business relationship with any company whose stock is mentioned in this article.