When people think of rocketing growth stocks, they might gravitate toward former amazing stock market climbers such as Google (NASDAQ:GOOG), Apple (NASDAQ:AAPL), or Baidu (NASDAQ:BIDU). But these are all massive capitalization stocks now into the tens or hundreds of billions of dollars. What about the little guy with a total market cap that compares to the 2009 wage and compensation of John Stumpf, Wells Fargo CEO (which reportedly amounted to more than 21 million)?
Very small market capitalization stocks with high EPS growth potential can deliver huge capital gains if expectations are met. That is a very big IF…
Still, compare the S&P 500 Index to the S&P 600 Small Cap Index from January 2001 until January 2011. The S&P 500 declined 2% during this time while the S&P 600 Small Cap Index rose 96%. The standard warning of 'historical returns do not guarantee future growth' applies here. Nonetheless, stocks with tiny market capitalizations can be a welcome addition into a long-term portfolio that is willing to wait out the higher short-term volatility associated with these smaller companies.
image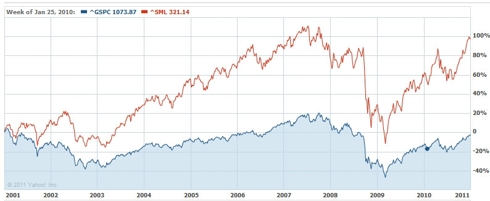 Next we will differentiate between the S&P Small Cap Growth and Value to determine which is a higher earner. When considering total returns (dividends plus capital growth), the S&P Small Cap Growth Index outperformed the Value Index on 1, 3, and 5 year returns. The 1 year return of the Growth Index as of December 31st, 2010 was 27.99%, but this fell to 3.28% over 3 years and 5.16% annualized return over 5 years. The Value Index was only marginally behind.
What are some possible scanning ideas to dig up a few of these very small cap growth stocks?
Small – Micro Cap Growth Stock Ideas
We will start with a market capitalization less than 300 million, which means micro cap or less.
With these tiny companies we desire a high insider ownership of at least 20%. If management owns a large portion of shares, they are more likely to care about shareholder value than a fat-cat making a huge salary with no invested interest in share value.
EPS growth needs to be minimum 20%, but high double digit and triple digit growth is also welcome. Total annual EPS can be positive or negative.
Daily volume needs to average at least 100,000 – which isn't much.
Lastly, we want a little positive price action where current prices are at least 40% above the 52-week low.
The High-Growth List of Micro Cap Stocks
Below is a sampling of micro cap stocks that made the list.
PSDV
ZHNE
ROIAK
THLD
Now for the warning: You should absolutely not run out and buy these stocks just because you see them on the list. Some of the stocks on the list may depend heavily on future financing which has yet to be secured. Equity financing will create dilution and harm share prices. Or they may be anticipating FDA approval which could literally make or break such a small company. Others have little data to go on. You should carefully look over a potential pick and make sure you are comfortable with the risk.
Below are a few choice selections on the list that I am watching:
Again, this is only the beginning. There may be some crucial detail on one of these stocks that I totally missed or one of the figures I read was incorrect. Please investigate the picks throughly yourself. Still, if you want to add a small portion of highly speculative picks into your portfolio, some of these micro caps could be the answer.
Disclosure: I have no positions in any stocks mentioned, and no plans to initiate any positions within the next 72 hours.