"Paradigm Shifting" is one of the most overused words by micro-small cap companies to describe their product, service, and/or technology. As an avid investor in micro-small cap stocks for almost a decade it is hard for me to think of a company that hasn't used these words at some point in time. In reality most of the successful companies I've invested in didn't have a "paradigm shifting" products, they were simply great products. A paradigm shift isn't simply a cool new technology or production method, it needs to also significantly reduce the input costs (time and money) associated with it.
Paradigm Shift: A dramatic change in methodology or practice. It often refers to a major change in thinking and planning, which ultimately changes the way projects are implemented. A paradigm shift can happen when new technology is introduced that radically alters the production process of a good.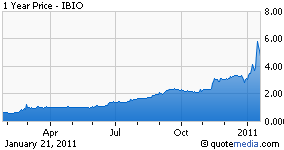 iBio Inc (NYSEMKT:IBIO), a $150 million market cap company out of Newark, Delaware that is backed by the Bill & Melinda Gates Foundation and the US Govt (DARPA) has developed a real paradigm shifting technology platform called iBioLaunch. The iBioLaunch™ platform uses transient gene expression in plants for superior efficiency in protein production. Advantages include significantly lower capital (more than a 90% reduction) and process costs (more than a 90% reduction), and the technology is designed for infectious disease applications or proteins where speed, scalability, and surge capacity are important. To give you an example, with conventional bacteria or mammal cell production techniques it takes 12-16 months to produce proteins from start to finish. iBio can do it under 5 weeks. It can cost upwards of $1 billion to construct a conventional facility to produce proteins. iBio production facility is under $100 million. iBio's core operational focus is on biosimilars, biobetters, orphan drugs and vaccine discovery, development, production and licensing.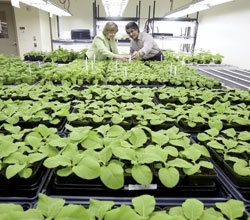 iBio has a strong IP/technology portfolio (4 US Patents, 11 more pending, and over 50 foreign patents pending) and through its ongoing partnership with Fraunhofer USA Center for Molecular Biotechnology (FCMB) will continue the development and refinement of the technology for various categories of biotherapeutics. iBio's relationship with FCMB, Bill & Melinda Gates Foundation and DARPA is very unique and creates a beneficiary (iBio) that is truly set up for stock appreciation. The Bill & Melinda Gates foundation and DARPA have provided $70+ million in non dilutive funding to FCMB, and iBio owns all the IP that comes out of FCMB. It is the perfect Not For Profit and For Profit set up as iBio has a minimal cash burn ($1-1.5 million per quarter) due to this set up.
The only other company with a similar type of technology is Protalix (NYSEMKT:PLX) which currently commands an $800 million market cap. Protalix is currently awaiting approval of its lead drug candidate, taliglucerase alfa, with a PDUFA date of 2/25/2011. Protalix is producing proteins using plant cells but in isolation. PLX uses poly bio reactors and derivative of carrot cells in isolation. IBIO uses no bio reactors as the plant is the reactor. IBIO has much less CAPEX and quicker growth from start to finish with higher yields due to the patented vectors delivering DNA to plants to grow the proteins.
Both IBIO and PLX are great platforms and the first breakthroughs in manufacturing and production for over 40 years, but iBio's OPEX and CAPEX are much lower. IBIO can produce almost all protein therapeutics where PLX can't and PLX can't produce vaccines currently. iBio's IP advantage is being able to circumvent patents held by competitors on the use of cells in isolation to produce recombinant proteins, because the iBio approach relies on transient expression of proteins in whole plants, and does not involve cultivation of cells in isolation. This said I believe iBio benefits greatly from any PLX success as it will bring awareness to iBio.
iBio has transitioned itself from "science project" over the last several years to commercialization and business development in 2011. With a fully operational production facility up and running in Newark Delaware, iBio is just starting to showcase and license out their platform. As you can imagine the interest level is likely very high from countries, big pharma, and other potential commercialization partners. The company announced just last week a commercial license and product development agreement with Fiocruz/Bio-Manguinhos of Brazil for new Vaccines. I think this licensing deal is the first of many that we will see throughout 2011-2012. With every licensing deal announced giving further validation to the iBioLaunch platform, I expect stock appreciation throughout 2011.
I believe iBio is a true paradigm shifting technology addressing a $150 billion annualized addressable market. At a $150 million market cap I believe iBio will eventually be valued multiples higher in 12-24 months as both retail and institutional monies find out about the name. The only analyst that covers the stock is Raghuram Selvaraju of Noble Financial, and you can view his updated report [here]. A very good iBio corporate video can be viewed [here].
Disclosure: Author long IBIO