Assisted living and nursing home care has never been a glamorous industry, but it is certainly a necessary one. The baby-boomer generation will be reaching the new retirement age of 67 between 2013 and 2031, with the greatest amount of retirees expected in 2024.
With this positive outlook on demand, Ensign Group (NASDAQ:ENSG) is poising itself to be a heavy contender in the retirement market, displaying a 12% acquisition rate over the last six years, and positive margins in an industry that is short on private-pay retirees after pensions evaporated in late 2008.
Ensign Group is a holding company that owns 54 independently operated assisted living & skilled nursing care facilities in California, Arizona, Texas, and Idaho. It leases an additional 30 facilities in an operating agreement, totaling over 9,300 beds.
Capital Structure and Valuation
The market cap is $516 million with 21 million shares outstanding, 12.7 million in the float, and the average volume traded daily is 137,000 shares. ENSG currently trades at about 2.5 times its tangible book value (MRQ), while the industry averages about double that amount adding to the attraction considering that 37% of its income generating assets are off balance sheet as operating leases. The firm is expected to earn $1.97 per share on average in 2011, which at the current multiple gives it a value of $28 per share.
images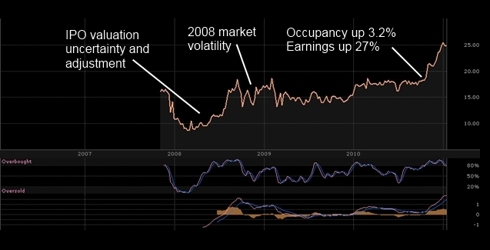 Growth and Profitability
I prefer organic growth, but considering the nature of the industry the current strategy is acceptable as long as ROA (adjusted for non-lease related earnings) does not decrease as a result. Management has made it perfectly clear that they intend to primarily grow revenues through acquisitions, and improve patient mix and occupancy as a secondary means.
The firm has grown on average of 11% per annum in terms of total beds since going public in 2007. About 75% of revenue is generated from Medicare and Medicaid, with others, including private payers, making up for the remaining 25%. The aggregate of all facilities operates with an occupancy rate of about 79.6%, which can be expected to increase as Boomers move into retirement. The majority of acquisitions have been financed through ENSG's 2007 IPO.
Management is open to financing growth through new issues of stock if debt financing becomes unfavorable or unlikely. In such a case it was noted that growth through acquisition could be delayed or abandoned. The good news is that the company has secured a $35 million loan in January to fund future growth, and could mean the addition of 400 + assisted living beds depending on the economies of scale. Ideally, a dilution of stock would quickly be offset by an increase in unencumbered facilities.
ENSG is "more aggressive than [the] competitors" in making capital expenditures to keep facilities up. The total amount for the nine months ended September 30th was just above $20 million. Which indicates a share price of 23 times free cash-flow (adjusted for the TTM); this appears to be a letdown considering that the industry average is 10 x.
It's not necessarily a negative thing when considering that there is a certain amount of modernization that goes into each new acquisition. The parent company is able to increase occupancy by about 6%, post acquisition. I will continue to watch the free cash flow and CAPEX for signs of improvement. The gross, operating, and net margins are 20%, 11%, and 6% respectively, the latter two of which slightly exceeds industry averages. The industry gross margin is 38%; this demonstrates that the company can earn more on less.
Liquidity and Leverage
The current ratio is 1.7 times debt compared to the industry average of .84, but adjusting that amount for the newly acquired $35 million 7-year 6.04% term loan increases the ratio to 1.98 before the transformation of cash into physical facilities. After additions to PP&E, the current ratio will fall to 1.6 assuming none of the loan is used for CAPEX. This is still very good considering the industry. ENSG is leveraged more than its competitors with most of its debt in the form of long-term debt and insurance contingencies. The difference in the firm's capital structure is not peculiar when bearing the size in mind; ENSG is one of the smaller competitors in the industry which make it a good candidate as a growth stock*.
Long-Term Outlook
Most of the facilities' residents are age 75 and older, indicating that the expected escalation in demand will start in 2021. The US Census Bureau expects the number of people in skilled nursing to more than double around that time. ESGN's operating leases average between 5 and 20 years with the options to renew, extend, or in some cases, purchase the operation. This will give the firm some flexibility in letting go of less profitable facilities.
Risk Shared by the Industry
The assisted living and skilled nursing care industry is highly regulated and scrutinized by State and Federal Government, with regular audits and which can result in fines or facility closure.
There has been a trend of increasing class action suits
Congress wants to do away with pre-admission arbitration agreements which will probably result in more litigation
In 2012 Medicare will be up for adjustment under an attitude of cost limiting
If one subsidiary/facility is charged with fraudulent activity the parent company can lose its ability to operate
Risk Unique to ESGN
12 facilities in California are under investigation involving rehabilitation service claims in or before 2007 which may result in an undetermined liability
Staffing may be affected by immigration law (think Texas, Arizona, California)
Under cross-default and master lease agreements, the default of one facility can potentially cause the loss of multiple facilities
The actions of previous owners can carry over to the new parent company
A note about risk: My family has owned several assisted living facilities ranging from 14 to 40 private-pay beds, and there is always the looming threat of being "shut down" if state or federal inspectors do not find everything satisfactory. The focus is usually on record keeping, or investigating complaints from disgruntled employees, residents, etc. These things should not intimidate an investor because they are inherent in the industry, and I believe that the entire executive team including subsidiary management is well equipped to handle the risks associated with the industry based on their available backgrounds.
Conclusion
Considering the economic outlook and albeit short history of dividends along with management's desire to continue paying, I believe that ENSG will make a nice long position over 20 years. Management has voiced that they would like to continue paying dividends every quarter as long as there is enough cash. I believe the real test will come when they have to decide between diluting stock for growth or taking on more debt and thereby increasing fixed costs that could otherwise be used to pay out dividends.
Personally, I would hope that they do neither for a term in the interest of shareholders. What sets this company apart from the others is that they have not reached a size where additional growth will only marginally contribute to the net income, like many of the larger competitors. This makes them a growth stock* that pays dividends, and that can be hard to find.
For investors with an outlook of less than two years I would recommend picking up this stock under $20; otherwise I would recommend buying it at the current price of $24.
*The five year growth rate is 23.38% compared to 7.42% for the industry.
Disclosure: I have no positions in any stocks mentioned, and no plans to initiate any positions within the next 72 hours.