Last week was definitely "A Tale of Two Cities", with small caps going in reverse while the Dow Jones Industrial Average motored to a new high.
As you can see, small caps, as measured by the Russell 2000, are now down over 1% while the large caps, as measured by the S&P 500, are up over 2% (click to enlarge images):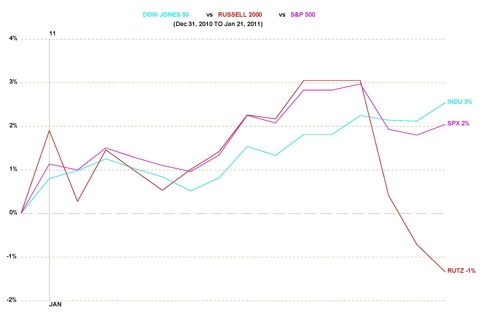 If we were to annualize the performance YTD, assuming the month ends like this, the S&P 500 would be up over 27% (I am on the record for about +20%), while the Russell 2000 would decline about 13%.
If the picture above is worth a thousand words, then the next one must be worth ten-thousand, as it puts the trend into better context: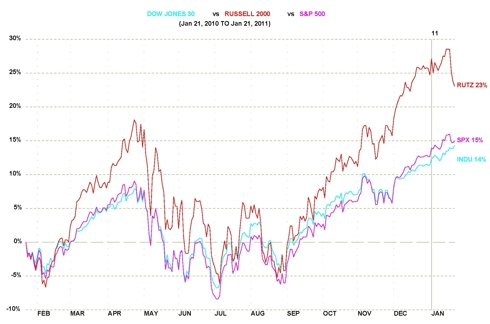 As you can see, small caps (the red line) went to work after Labor Day, plowing ahead over 30% and blowing away a pretty awesome move by their big brothers. The move last week is a correction that even a long-term small cap bull like myself felt was long overdue (see my article from late in December entitled "Big Bounce Leaves small caps Vulnerable"). In that article, I actually suggested that the dominance over the past decade is likely on hold.
For those who look back to the peak last April and try to draw a parallel, good luck. Market corrections may be led by small caps, but it's not a correction when they fall but big guys rally. It's a ROTATION!
This is perhaps a year for stock-pickers (finally), which means you can't just bet on an asset class and expect it to deliver market-beating results. I made the case for small caps last week in an article I shared on the All-Star blog at TradeKing, so I remain very committed to that big universe as a source of ideas despite my belief that there won't be a huge difference one way or the other between small companies and big companies in aggregate this year. In my model portfolios, I moved in December to add several big companies, but the move this week among stocks I follow has me ready to consider jumping ship.
In just three weeks, about 15% of the Russell 2000 has declined by 8% or more. In other words, there are almost 300 stocks that are trailing the S&P 500 by 10% or more already this year. I examined this group and found that on average these stocks are up over the past year, many substantially, suggesting that a large number of these stocks are in correction.
Here is what I did to cull out some possible buy opportunities from this large group of recent losers:
One-year return > 15% (greater than the S&P 500): 105 stocks left
50dma > 200dma (confirming uptrend): 102 stocks left
>200dma (no technical breakdown): 79 stocks left
Here is what the 79 stocks look like in aggregate. By sector, 20 come from the red-hot Consumer Discretionary sector, 10 from Energy, 5 from Financials, 10 from Health Care, 14 from Industrials, 13 from Technology and 7 from Utilities. It's very broad-based.
The average stock is up 60% over the past year, with a range of 17% to 275% - definitely stocks in an uptrend. Most of the PE ratios are below 20X, which is happy hunting as far as I am concerned. A few are higher, like Neogen (NASDAQ:NEOG), which I mention because I nailed this one in advance when I discussed stocks that would likely face some retracement in an article entitled "Abundance of Extended Stocks Suggests Caution" in mid-December. Here is what I said:
NEOG, which was helped by the egg safety issue earlier this year, has been a "black 5" since September, as the moving averages crossed in June. Yes, the 10dma hasn't dipped below the 50dma since June. According to my price momentum indicator, it is 1.72 units overbought, which is quite extreme. Interestingly, the stock isn't heavily shorted. The stock is "expensive" - 41PE. I think that this is a good example of a company that could run into some profit-taking.
For the record, while the stock remains expensive after its recent decline, it seems likely to do well fundamentally.
In an attempt to reduce our 79-stock list to something easier to tackle, I constrained PE multiples to 20X (43 left). Here they are, sorted by sector: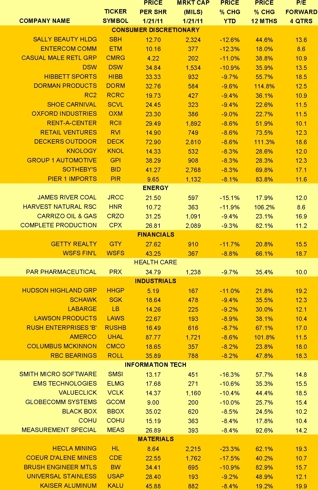 There is nothing more humbling than trying to stay on top of small caps. Among these companies, while I am familiar with several, I follow only Shoe Carnival (NASDAQ:SCVL) and Dorman Products (NASDAQ:DORM) closely (both are on my 100-stock Watchlist). I spent some time looking at both closely earlier this weekend. SCVL has $4 a share in cash and huge inside ownership, and it looks quite attractive to me. DORM was one of our best stocks last year in the Top 20 Model Portfolio, though we exited too early. I am fearful that Q4 might disappoint, but the stock too looks attractive after this sharp pullback.
A final note on Getty Realty (NYSE:GTY), the REIT. I had highlighted this as one of "Nine Obscure REITs Yielding More than 5% with Low Leverage" in November. This week, they announced a deal that reduces their heavy exposure to a single operator but also sold 3mm shares - perhaps this is a chance to buy.
So, as always, screens are a start and not a final part of the process, but I am pretty confident that many of these stocks remain in uptrends that have been interrupted solely by profit-taking.
Disclosure: I have no positions in any stocks mentioned, and no plans to initiate any positions within the next 72 hours.