Ever since the New York Stock Exchange building opened on April 22, 1903, it has flawlessly followed a particular pattern that, even to this day, still stands: hope, greed, skepticism, followed by, fear, panic and despondency, whereby the pattern is once again repeated, going back to hope. It is a cycle that can either make or break traders, whether expert or beginners, as the ability to distinguish between the greed and skepticism aspects is usually overshadowed by money. As the infamous 1987 Wall Sreet movie character, Gordon Gekko once said, "It's a zero sum game, somebody wins, somebody loses. Money itself isn't lost or made, it's simply transferred from one perception to another." Taking this into account, its now important to identify how the markets have begun to step into the skepticism state of mind, with fear beginning to quietly tip toe through the herd of retail investors.
One of the leading mistakes traders often overlook is getting caught up in the mainstream media hype instead of following the principles that got them to where they are at today. It seems every major station you turn to these days, of the likes including CNBC, Fox Business, Reuters, Bloomberg, et al, have been bumping up their forecasts for the major U.S. exchanges. When you have the likes of Barry Knapp, head of equity strategy at Barclays Capital, stating that the S&P 500 will rise 12% by year end 2011, especially after the ridiculously bullish run we've had, it should immediately raise a few red flags.
Despite this feverish level of bullishness currently plaguing investors like an incurable disease, it seems that finally the social undertow of fear, skepticism and anger is coming to a boil, as Google (NASDAQ:GOOG) searches for "Buy A Gun" have just hit an all time high. How much of this is due to the recent events from Bernanke's money printing scheme and food inflation is unclear. What is clear is that the trend is most certainly not your friend. It is also ironic to note that the last time the queries for this term hit near similar levels, they seemed to have preceded prior market tops followed by large corrections. How's that for a nice stock market conspiracy theory?
Just take a moment to think about it — you have 15 million unemployed, a national debt clock that that's just about ready to explode, china (top holder of U.S. debt) dumping treasuries, food and fuel prices spiraling out of control to the upside, and yet the market continues to ignore it the same way that it did prior to the May 6th, 2010, flash crash, as if there was nothing to learn from it. From this, we can draw one conclusion: technicals lag fundamentals, but in the end fundamentals will always lead.
One of the championing indicators used by experts in determining a market top, or reversal of trend, is the investor sentiment. According to a Pragmatic Capitalism article:
"The latest sentiment reading from Investor's Intelligence bullishness has once again jumped towards new highs. The latest reading showed bullishness at 57.3%. This is 2.8% higher than last week and just 1.5% off the recent higher of 58.8% set during the Christmas week in 2010. All in all these sentiment readings have been giving a huge warning flag, but the market has continued to plow higher. The obvious conclusion is that once everyone is bullish they have positioned their portfolio as such, however, the market has given investors not a single good reason to ignore the onslaught of positive economic data."
We are currently in the 20th week of above-average optimism in a row, and now officially the 2nd longest streak in the survey's history, with the S&P 500 also setting a record for the most consecutive days above the 50-day moving average. If this isn't enough to make your stomach turn as an investor, then you might as well be a walking dead zombie.
Put-to-Call Ratio Against Market Corrections
Next up is the downright ridiculous equity-only, put-to-call ratio that is now hovering around the same levels it did back in April-May of last year, where we had one of the sharpest and quickest market corrections in stock market history with nearly 200 points lost on the S&P 500 during a two month span.
(click image to enlarge)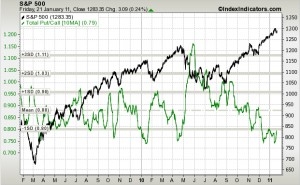 (Click to enlarge)
Perhaps no better indicator of a market top is when we're taking a look at the largest IPOs in U.S. history compared to the S&P 500 chart. A special kudos goes to Blackstone in particular (number seven on the chart below) — it's always curious why folks line up to buy when it's the smartest money in the room eager to sell to them. Jason Goepfert from Minyanville put it best, "One might suggest that the returns are negative because they're kind of clustered around only a few distinct time periods, mostly leading up to bear markets. But that's kind of the point — when bankers (and by proxy, investors) are feeling so confident that they can swing these huge deals, usually the market environment has been very welcoming. Sometimes, too welcoming …"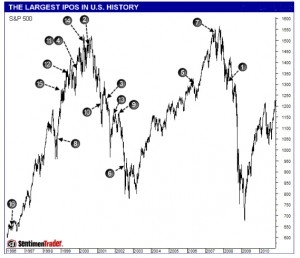 (Click to enlarge)
To add insult to injury, it seems that the 5th wave during the S&P 500 structure is near completion and as some professional traders on stockcharts.com are pointing out, we may be in for a world of hurt as it ends and we begin the A, B, C corrective movements to the downside that could take us to the forecasted 1040 level to test the previous lows.
Preparing For the Worst
While an impossible thought to conceive of at first, learning to hedge your portfolio against smart money can be as easy as finding companies where insider buying still exists. Just as insider selling jumps to a record as stocks climb to their highest level in two years on the S&P 500, there are however, a few small-cap biotech stocks and an ETF that you should be paying close attention to.
When a company's own management team believes in its product and begins to invest in the company, it is generally believed that a favourable and optimistic future outlook is in the works.
Neoprobe Corporation (NEOP) – A total of 411,185 shares were purchased during 2010 by insiders, increasing their stake to 13% owned. The company is up 18.45% year-to-date, and it all comes in anticipation as its blockbuster product, Lymphoseek, a "first-in-class" radiopharmaceutical designed to identify lymphatic tissue and support intra-operative biopsies during solid tumor cancer surgeries, is expected to present additional requested data from Phase 3 clinical trials during first quarter 2011. A projected $370 million dollar market is estimated by experts for Lymphoseek. For more information on Neoprobe, view our Seeking Alpha article on Neoprobe here.
BioSante Pharmaceuticals (BPAX) – Company insiders bought 37,000 shares during the last 12 months, including January, 2011, on top of a recent raising of cash from institutional investors at a little to no discounted market price. The company has seen its share price rise 12.8% over the last 12 months due to anticipation on its two upcoming catalysts for the first half of 2011 which could easily propel the company to new 52-week highs. It is expected in the coming weeks that the company will begin a Phase 2 study at Johns Hopkins cancer center for GVAX (therapeutic cancer vaccine) and also to receive Phase 3 results for its flagship product, LibiGel (women's sexual dysfunction) to support an NDA filing. For more information on BioSante, view our Seeking Alpha article here.
Lastly, out of the major U.S. industry sectors, financial (NYSEARCA:XLF) is one of only two sectors that hasn't been able to beat its April 2010 high – the same is true for the banking sector (NYSEARCA:KBE). The financials are currently trading about 5% below the April high, and a failure to move above its previous high watermark can spell trouble for the overall market. Moreover, it's a little dishearning that we now require a 2nd round of bank stress tests in order to determine whether our financial system is stable, though the legitimacy of the tests is arguable at best. One way to protect yourself from a potential double-dip in the financials is by buying the Direxion 3X Financials ETF (NYSEARCA:FAZ), which is hovering around its 52-week lows, and seen as quite a bargain by many experts, especially during one of the worst financial times of the century.
In conclusion, the next time you're dozing off on your investments, remember, as Mr. Gekko said, "Money never sleeps," so should you?
Disclosure: I am long NEOP.OB, BPAX, FAZ.