What investments should you choose for a Roth IRA? Exchange-traded funds can be a great addition to a Roth, as they can provide diversification without having to buy 25-50 different stocks in various sectors. With the right ETF, you can obtain diversification in a variety of ways: by asset type (financials, basic materials, etc.) location (U.S., foreign) and company size (large-cap, mid-cap, small-cap).
What is a Roth IRA?
For investors not aware of Roth IRAs, here is a brief definition and a few reasons to consider opening an account:
A Roth IRA is an individual retirement account that is well-suited for younger investors. You can contribute to the account whether or not you participate in another retirement plan, whether it's through your employer or business.
This is because money invested in a Roth IRA is allowed to grow tax-free, just like a traditional IRA or a 401(k) plan. However, unlike other retirement accounts, you don't have to pay any taxes once you withdraw your money at retirement. This can really help you maximize your retirement savings.
With a Roth IRA, you have freedom of choice with your investments. You can generally invest in stocks, bonds, mutual funds, ETFs, commodities, options, real estate, and more. This is an advantage over 401(k) plans, where your options are generally limited to mutual funds.
Another huge advantage to a Roth IRA is that you can withdrawal your contributions (but not your investment gains) anytime without tax or penalty.
The flipside is, you don't get any tax breaks upfront, unlike a 401(k) or traditional IRA, which invests money out of your paycheck, pre-tax.
For 2014, individuals under the age of 50 can contribute up to $5,500 a year to a Roth IRA, while those over 50 can contribute up to $6,500.
You can contribute to a Roth IRA if your modified adjusted gross income is less than $129,000 if you're single, and less than $191,000 if you're married, filing jointly, or a qualifying widower.
Read all of the full Roth IRA rules on the IRS website.
What ETFs Should You Consider?
As mentioned in a previous article, I personally feel that diversified, low-cost ETFs are investors' best bets, since mutual funds tend to carry high expense ratios, and individual stocks can be hard to diversify and track, especially over a long-period of time.
With more than 1,600 ETFs to choose from, things can get quite confusing. I think that investors should focus on lower expense ratios, proven track records and asset diversity.
Here are three more ETFs I am currently considering for a Roth IRA - in addition to the first three I mentioned in my previous article:
1. PowerShares QQQ Trust ETF (NASDAQ:QQQ)
This ETF is based on the Nasdaq-100 Index, and includes 100 of the largest domestic and international non-financial companies listed on the Nasdaq exchange, based on market cap. The fund currently trades at $100.8, and has a distribution yield of 1%.
Here are the top 5 stocks in the QQQ, based on weighting:
1. Apple (NASDAQ:AAPL), 13.06%
2. Microsoft Corp. (NASDAQ:MSFT), 8.3%
3. Google (NASDAQ:GOOG) (NASDAQ:GOOGL), 4.32%
4. Intel Corp. (NASDAQ:INTL), 3.81%
5. Gilead Sciences (NASDAQ:GILD), 3.54%
The fund has a solid 10-year track record, returning 10.4% annually, compared to a 10.6% return in the Nasdaq 100 index and a 7.97% return in the Nasdaq composite index. This also easily beat the S&P 500, which returned just 7.78% over 10 years.
When it comes to correlation between the QQQ and the Nasdaq 100, the QQQ scores a .95 over 5 years. (A value of 1 indicates a near-perfect relationship).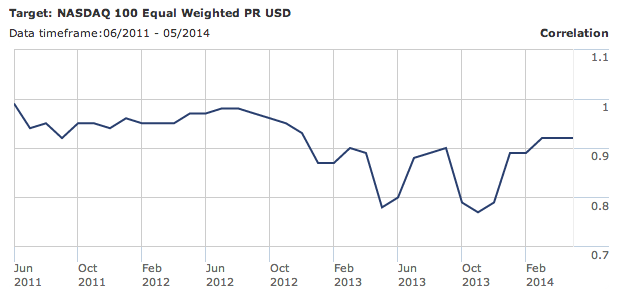 Another reason to like this ETF: It carries an expense ratio of just .20%, giving investors diversity in the tech space at a low cost. Apple also happens to be its largest holding, which is a stock I'm currently bullish on. Just keep in mind that this ETF is only comprised of stocks trading on the Nasdaq market - so you'll need at least another 1-2 ETFs for a truly diversified Roth IRA portfolio.
2. Vanguard High Dividend Yield ETF (NYSEARCA:VYM)
This ETF seeks to track the performance of the FTSE High Dividend Yield Index, which measures the investment return of common stocks of companies characterized by high dividend yields. The ETF aims to provide a convenient way for investors to gain exposure to stocks with histories of above-average dividend yields.
In a Roth IRA account, this is huge, because all dividends and interest earned is tax-free. You should re-invest all dividends, each and every year, to reap the full benefits.
The ETF has a current market price of $67.70, with total net assets of $12.2 billion and a current yield of 2.89%. The fund's top 5 holdings include Apple, Exxon Mobil (NYSE:XOM), Microsoft Corp., Johnson & Johnson (NYSE:JNJ) and Wells Fargo (NYSE:WFC).
The Vanguard High Dividend Yield ETF has a .96 correlation with the S&P 500 - which means if you already own a large cap domestic stock ETF such as the Vanguard Large Cap ETF (NYSEARCA:VV) or the Schwab U.S. Broad Market ETF (NYSEARCA:SCHB), it might not be the best idea to also hold this ETF in your portfolio, as you should be aiming for diversification.
The ETF has performed very well over the past 5 years, returning 16.9% on average annually and 7.10% since its inception in 2006. However, the ETF has, in fact, underperformed the Nasdaq and S&P 500 index slightly in that time period.
Still, I like this ETF for a Roth IRA, as it provides investors with yield and diversity at a low cost, with an expense ratio of just .10%.
3. iShares MSCI Frontier 100 Index ETF (NYSEARCA:FM)
This ETF aims to provide exposure to 100 of the largest "frontier" or emerging market stocks, aiming for long-term growth and global diversification. As of June 2, 2014, the index consisted of stocks in 21 emerging market countries, including Argentina, Nigeria, Pakistan, Romania, Ukraine, Vietnam, Jordan, etc.
I like this ETF as it provides investors with exposure to emerging markets, with 22.76% of assets of located in Kuwait, 13.83% located in Nigeria and the rest located in the above mentioned countries. The funds top holdings include National Bank of Kuwait, Mobile Telecommunications Co., Nigerian Breweries, Emaar Properties, etc.
The fund carries a distribution yield of 4.69%. Since its inception in 2012, the fund has returned 27.35%. Although this ETF is only a few years old, it already has more than $800 million in assets. As frontier markets attract a bigger following, I only expect this ETF to grow in size. I think it provides investors with diversification outside of the U.S. and into exciting emerging markets, so it should be considered for a Roth IRA portfolio.
*Note: Please consider your own individual investment objectives, tolerance for risk and financial situation before investing, and do your own due diligence before making any investment decisions.
Disclosure: The author has no positions in any stocks mentioned, and no plans to initiate any positions within the next 72 hours.
The author wrote this article themselves, and it expresses their own opinions. The author is not receiving compensation for it (other than from Seeking Alpha). The author has no business relationship with any company whose stock is mentioned in this article.