McGraw-Hill [(MHP) $38)] should be on your radar screen for further research. You will either like its diversification, conservative balance sheet, dividend growth, market-leading positions, and steady performance, or you will run away as fast as you can due to the potential risks of its credit agency exposure, long-term potential shifts in the publications business and uncertainty concerning possible changes in overall credit rating requirements for bond issuers.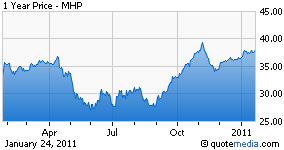 McGraw-Hill is over a century old and has been a market leader in its areas of expertise. MHP is fairly unique as about 45% of its revenues come from financial services, 40% from educational publishing, and 15% from information and media.
Financial Services operates using the Standard and Poor's (S&P) brand, and offers services to investors, corporations and governments. It operates two segments: Credit Market Services (credit ratings services) and Investment Services (financial data, research and indexes).
Education Publishing is one of the premiere global education-oriented publishers, operating in all segments of the market: high school and college, universities, professional and adult education.
Information and Media comprises 9 television stations along with industry data distribution and publications. Their brands include JD Powers, AviationWeek, McGraw-Hill Construction, and Platts.
MHP has been a steady dividend performer. From the most recent Barrons:
McGraw-Hill has paid a dividend every year since 1937 and is one of the fewer than 25 companies in the S&P 500 to have enhanced payouts annually for the last 38 years. The new dividend brings the company's average compounded annual growth rate since 1974 to 9.8%.
Operating results are some of the best in the sector, with gross margins averaging 61.2% over the past five years, operating margins averaging 23.1%, and net margins averaging 13.6%.Trailing twelve month Return on Invested Capital (ROIC) of an impressive 23.3% is substantially better than its peers Pearson (NYSE:PSO) at 7.4%, News Corp (NASDAQ:NWSA) at 7.2% and Thompson Reuters (NYSE:TRI) at 3.0%
MHP is not without risks and doubters. The most obvious is its exposure to its S&P rating activities with MBS products during their heydays. Regulations put into place by the Dodd-Frank financial reform law will impose new standards for credit rating agencies, increase MHP's costs of compliance. In addition, the law amends standards in fraud suits, giving S&P greater exposure to agency rating lawsuits with the risk of knowingly or recklessly failing to conduct a reasonable investigation. Litigation expenses are expected to be higher over the next several years as these suits work their way through the system, and if things go badly for S&P, could turn into an avalanche. Further regulatory changes could alter the market landscape to the detriment of S&P.
The Educational segment has untold challenges of competition from non-traditional text books, such as the Internet, and high student costs associated with high school and college text books.
David Einhorn, GreenLight Capital, has a short position in MHP and has been vocal in his belief that rating agencies are going to get hammered due to litigation and regulatory changes.
Offsetting these risks is the steady performance of the company. Fourth quarter results are expected to be good for the Financial Services section. With the possible end of low interest rates in sight, debt issuers have been quite active and have created a larger demand for ratings services. Some of the higher activity is a pull through of future opportunities in 2012. Educational and Media business has held up quite well.
McGraw-Hill shares have a low beta of 1.2 and the company maintains a great balance sheet. Cash as of the end of last qtr stood at $1.36 billion, operating cash flow of 1.2 billion, and total debt was $56 million. Dividend payout ratio is a comfortable 34%
Earnings per share in 2010 are expected to be in the $2.70 range with 2011 estimates of $2.95 to $3.05 and 2012 estimates in the $3.25 to $3.50 range. Over the past five years, the publishing sector's PE ratio has ranged from 7.8 at its low to 22.5 at its high, with an average of 15. Applying a slightly below industry average of 13 to 2012 MHP earnings estimates brings a target price of $42 to $45, or 15% to 20% above today's market price.
Dividend investors should review McGraw-Hill for its 2.7% current yield and superior dividend growth. While the stock has had a nice run from forming a triple bottom at $28 over the summer, the stock should continue to move up over time. Nibbling here with a plan to add on dips should sufficiently reward investors.
As always, investors should conduct their own due diligence, should develop their own understanding of these potential opportunities, and should determine how it may fit their current financial situation.
Disclosure: I have no positions in any stocks mentioned, and no plans to initiate any positions within the next 72 hours.

Additional disclosure: McGraw-Hill is the publisher of my two books.