Recently, Wells Fargo Advisors (NYSE:WFC) and Raymond James Financial Inc. (NYSE:RJF) took steps to distance their dealings with F-Squared, a $27.7 billion money manager and the largest firm in the fast growing ETF managed portfolio niche.
It's no secret that the Securities and Exchange Commission has had F-Squared on its radar for overstating market results, but until now it has been business as usual for the firm, and they have been raking in money from investors.
In late 2013, F-Squared informed clients that they were under investigation by the SEC for overstating historical return performance. Last Friday, in a filing submitted by the firm, they indicated that the SEC gave them a Wells notice and is now considering escalating the matter to the courts with a formal civil case. As of now, the SEC is giving time for a response, but the notice was enough to alarm WFC and RJF.
Details of the Probe
This SEC probe focuses on the timeframe between April 2001 and September 2008. During this period, F-Squared advertised that the returns they gained were due to quantitative and mathematical modeling strategies. Those strategies allowed them to produce a return higher than 200 percent for their Premium AlphaSector index, which was about two times higher than the return that the S&P 500 produced during that same stretch of time.
F-Squared has indicated that they have been cooperating with the SEC and have taken steps in the past to "ensure that these problems will not recur," according to a quote by an F-Squared spokesman.
Rise in ETF Managed Portfolios
ETF managed portfolios, such as the ones managed by F-Squared, have become highly popular investment tools for financial advisors. F-Squared manages ETFs that track a wide variety of bonds and global stock markets. They control more than 25 percent of the $102 billion managed in the ETF managed portfolios niche. In 2014 alone, assets rose by more than 50 percent for the firm.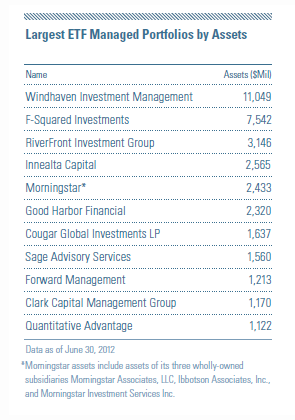 (Source)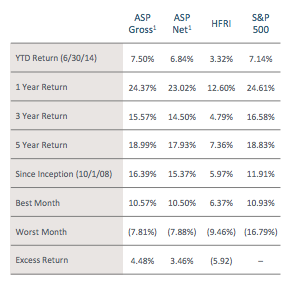 (F-Squared Performance: Source)
For now, this approach of publishing a track record with those type of returns seems to be acceptable as the SEC has only issued warnings. Many firms continue to sell the managed portfolios run by F-Squared via Virtus mutual funds. Shares of Virtus Investment Partners (NASDAQ:VRTS) have taken a beating since this recent news came out, as investors contemplate what the repercussions could be for F-Squared and any companies that are tied to its products.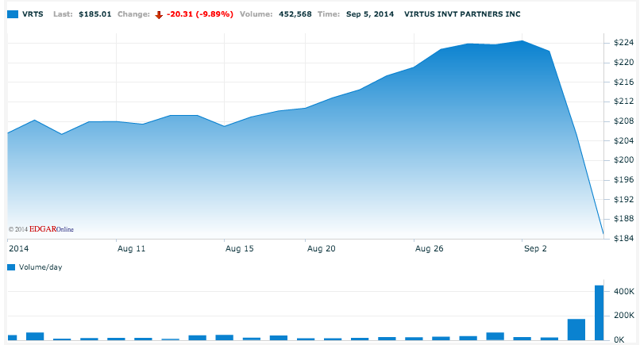 (Nasdaq.com)
Conclusions for WFC, RJF Shareholders
Both Wells Fargo and Raymond James have solid foundations on which to make this shift. Wells Fargo continually beats earnings estimates; Raymond James has also beat revenues estimates for over ten quarters, consistently.
Recent earnings for WFC were $1.01 per share for the fiscal quarter that ended in June. For that same time period, earnings were $.85 per share for RJF.
Historically, WFC showed earnings of $3.89 per share on its last annual report, which was up about 16 percent over the prior year. RJF's annual report indicated that the brokerage firm increased its $2.58 per share earnings by 17 percent over the prior year.
At the close of trading on September 5, 2014, WFC's stock price was $51.63, which is up 13.7 percent for the year. Shares of RJF closed at $54.97, up 5.3 percent for 2014.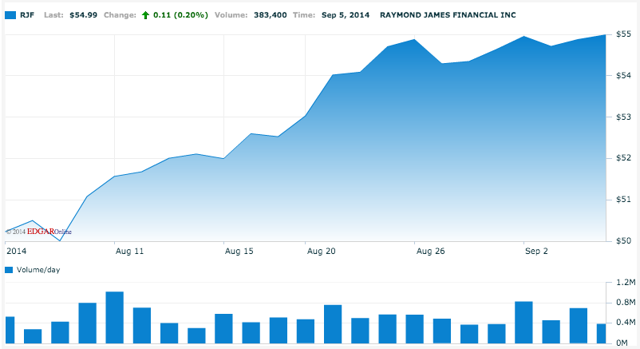 (Nasdaq.com)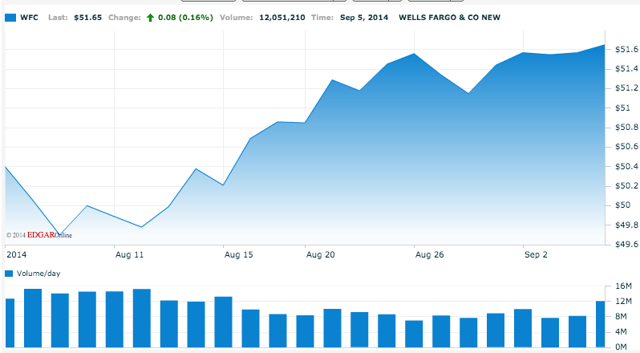 (Nasdaq.com)
We believe the steps both firms are solidly positioned to shift away from F-Squared, which looks like an increasingly unsteady investment, as the SEC continues to open the case.
We invite readers wishing to join the discussion on Wells Fargo, Raymond James, and ETF portfolio management to click the +FOLLOW button above the title of this article, and those looking for the latest updates to click +Get real-time alerts.
Disclosure: The author has no positions in any stocks mentioned, and no plans to initiate any positions within the next 72 hours. The author wrote this article themselves, and it expresses their own opinions. The author is not receiving compensation for it (other than from Seeking Alpha). The author has no business relationship with any company whose stock is mentioned in this article.