Typically my writings pertain to unloved stocks that are temporarily mispriced which I uncover through detailed fundamental analysis. If all goes accordingly the stock will appreciate toward its intrinsic value and the "mispricing" disappears while the investor realizes a return through capital gains. However in this missive I will focus on the less glamorous underbelly of the investing world; income investing.
Any income investor will tell you the current landscape is not particularly appealing: The Fed has bludgeoned interest rates so aggressively since 2008 that yield is scarce and especially hard to find for those unwilling (or emotionally unable) to take on a level of risk that could result in permanent impairment to capital. PIMCO legend Bill Gross goes so far as to compare the situation facing income investors to that of the male praying mantis during mating season in his hilarious commentary this month titled "Off With Our Heads!" Mr. Gross explains the combination of the Fed keeping short term rates near zero and the QE2 purchases of longer dated Treasuries offers bondholders "about as an attractive situation as the one facing a male praying mantis: 0% interest rates if you stay in cash, or probably principal losses if you take durational risk by buying 5-10 year maturities. Eventually, as reflationary policies take hold, long-term bondholders lose their heads as the yield rises to reflect higher future inflation."
In other words the dilemma for income investors is that investing in anything relatively safe and short-dated generates virtually zero yield and extending out into longer dated maturities will almost assuredly result in principal loss as yields climb in the future. Mr. Gross advises investors to "make a 180-degree turn from those sexy long green legs" in reference to chasing yield from long-dated bonds. However this may not be a valid option for those who need to generate yield and need to generate it today.
So how does one generate a worthwhile yield while still protecting their principal from the debilitating impact that higher future yields will almost certainly have? I believe I have found two obscure investments that provide investors with a win-win situation should interest rates stay at the current historically depressed levels or in the event that rates eventually do rise.
The two securities that I highlight provide income investors with the best balance of current income and principal protection, and these securities are two floating rate preferreds issued by Bank of America (NYSE:BAC) and Goldman Sachs (NYSE:GS). The Bank of America preferred is referred to as the "Series 5" tranche and trades on the NYSE under the symbol BML.L (possibly BML.PRL) or can be found using the CUSIP # 060505583. The Goldman Sachs preferred is referred to as the "Series D" tranche and trades on the NYSE under the symbol GS.D (possibly GS.PRD) or can be found using the CUSIP # 38144G804.
What separates these two securities from a typical income-generating bond or preferred stock is the unique structure of the dividend which I will also refer to as the "coupon payments." Both of these preferred stocks pay a floating rate dividend that is calculated as a spread (BML.L pays a dividend of LIBOR +50bps and GS.D pays LIBOR +67bps) above the 3-month LIBOR rate. However the unique aspect is that these securities also have a minimum dividend or a "floor" on how low the dividend can go. Given the current ultra-low interest rate environment, both securities are at their dividend floors of $1 per share annually which equates to 5.46% yield for BML.L and 4.55% for GS.D.
The beauty of these assets is the "optionality" of the fixed versus floating rate dividend payments and thus the removal of interest rate risk. Interest rate risk is essentially the risk that an investor's income stream will be worth relatively less in a future world of higher interest rates. Let's take a closer look at what this actually means for an investor. The chart below shows 3 month LIBOR since 2007. In this example we are analyzing BML.L, which has a dividend payment equal to LIBOR +50bps. The green line represents the LIBOR level at which BML.L would flip into paying a floating rate which would occur at a LIBOR level of 3.50%. The orange line represents the miniumum "coupon rate" the security will pay (4%). In other words LIBOR of 3.50% plus the 0.50% spread would equal a 4% "coupon payment" which is equal to the $1 dividend floor, any LIBOR rate above 3.50% would then result in a dividend of greater than $1 which was the case in 2007 and for a brief time in the fall of 2008.
Click to enlarge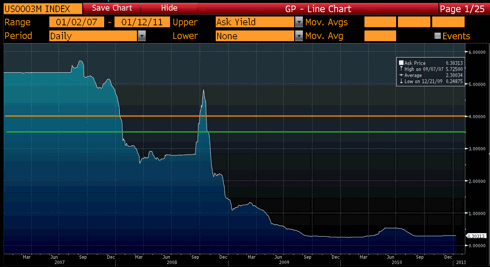 Since LIBOR is currently so low it is likely BML.L will pay its "floor" dividend for the foreseeable future, which equates to a 5.46% yield given that the issue is currently trading below the $25 par value. However if we look at LIBOR over the past 26 years (all of the data I could readily find) we see that generally LIBOR has been above 3.50% meaning BML.L would have paid a dividend greater than $1.
Click to enlarge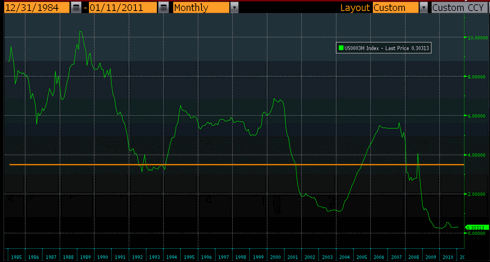 The below graphs shows the sensitivity of the BML.L dividend amount and yield to different LIBOR levels.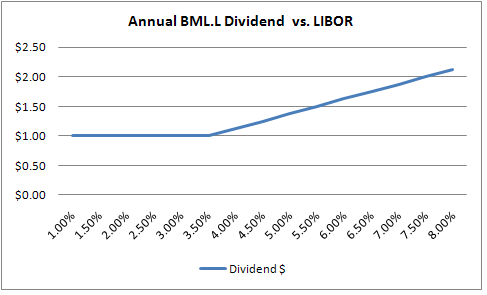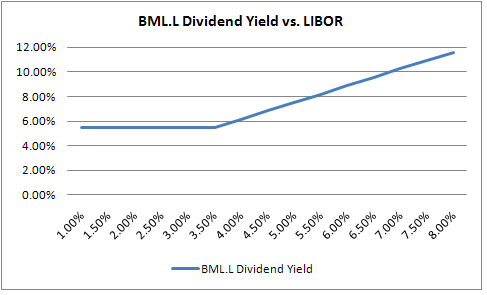 The essence of the "risk" that interest rate risk captures is the risk that a coupon payment stream will lose its future purchasing power due to inflation. The beauty of these two investments is that the coupon payment stream will maintain its relative purchasing power because the dividend payment will increase in a high-inflation world as LIBOR will rise in response. The chart below shows the relationship between three month LIBOR (green line) and the U.S. inflation rate (blue line) from 1985-2008. Typically three month LIBOR has run higher than the U.S. inflation rate (blue line) as measured by the CPI meaning any increase in inflation will be matched by an increase in LIBOR which will result in higher dividend payments and thus preserve purchasing power.
The below table shows how the dividend and yield for BML.L and GS.D changes based on changes to LIBOR. Dividend yield is calculated off of the cost basis which is the most recent closing price.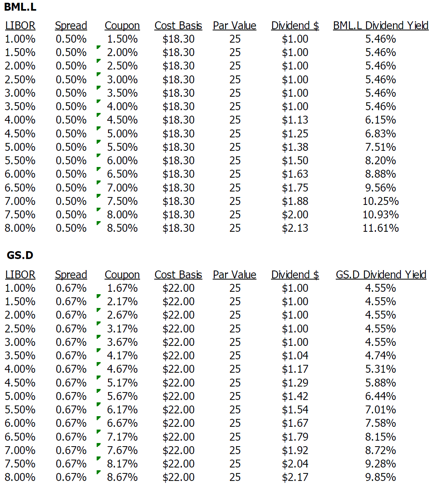 With the removal of interest rate risk we are only faced with credit risk pertaining to these securities, which is the risk of default by the issuer. I see the credit risk as being nearly non-existent by virtue of the unique positions that Bank of America and Goldman Sachs hold within the global financial system. Truly too big to fail in every sense of the expression, both entities were given special treatment and backstopped by the U.S. government during the throes of the financial crisis in 2008. Dividend payments for both of these securities have continued unabated since issuance including the dividends that were declared and paid out during the collapse of Lehman Brothers and AIG (NYSE:
AIG
), the TARP fund rescue, and so forth. In my opinion, it is reasonable to expect both Bank of America and Goldman Sachs to get bailed out again should the financial world derail once more. Following the unprecedented level of support given to these two entities last time around there is now enormous political pressure to ensure both companies survive.
A few additional reasons why BML.L and GS.D offer a compelling opportunity to income investors; both provide intraday liquidity as they trade on the NYSE and offer transparent pricing which is nonexistent in the bond world. Furthermore both securities pay dividends that are designated as qualified dividend income, which is subject to a beneficial tax rate of 15% making their after-tax yields even more attractive relative to other income options. BML.L is callable in May 2012 and GS.D is callable in May 2011 however both issues would be called at $25 per share which would provide a gain on principal of +37% and +14% which any income investor would gladly accept.
In addition to Bank of American and Goldman Sachs, similar floating rate preferreds have been issued by HSBC (HBC), Metlife (NYSE:
MET
), Morgan Stanley (NYSE:
MS
), Suntrust (NYSE:
STI
), U.S. Bancorp (NYSE:
USB
) and Zions Bancorp (NASDAQ:
ZION
).
To summarize, BML.L and GS.D offer a relatively attractive yield of 5.46% and 4.55%, respectively, should interest rates and inflation expectations remained depressed and in the unfortunate event that the Fed loses control of their chemistry experiment (QE 2.0, 3.0, etc.) and inflation spikes, your principal will be protected as the preferreds flip to floating rate securities and result in higher dividend payments. I see this "optionality" as being currently undervalued by the market given the yields of these securities relative to other yields found elsewhere in the market. In an otherwise bleak world for income investors this truly offers a win-win proposition. Go forth and live Mr. Mantis.
Disclosure: I have no positions in any stocks mentioned, and no plans to initiate any positions within the next 72 hours.
Additional disclosure: I am long BML.L and GS.D.