PHG miss 4q10 estimates due to weak consumer lifestyle sales.
After traders digest the earnings miss, PHG should set up a nice base for buying.
Philips (PHG) reported earnings this morning, missing profit expectations by a lot. From CNBC:
Philips reported net profit of 465 million euros, well short of the 532 million euros average forecast in a Reuters poll of 20 analysts.
If you're placing blame, look no further than the consumer division, which reported EBITA of 151mm euros v. 267mm expected. While the healthcare division exceeded estimates, the lighting division (a good proxy for the construction industry) missed estimates by 9%.
I look at the fundamentals and the chart, and I'm buying PHG on a pullback. This earnings report shows a satisfactory recovery from a weak 2009, despite the Euro-area woes. Lighting +141% y/y; healthcare +15.5%; consumer -43%. To remedy the consumer deadweight, PHG has joined everyone and their mother in shifting its focus to emerging markets.
The valuation is attractive too. A solid balance sheet hasn't reared much juice for the stock, which trades at 92% of sales, 1.5x book with the debt/equity ratio around 0.30%. Net margins are a metric to watch, because it's been driven down to 4.8% as opposed to a 5 year average of 9.2% (compared to 2007's near record at 15.5%) according to Reuters. That's the story of all retailers' 4q10.
To the charts: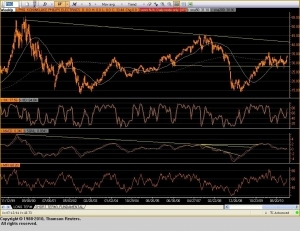 PHG weekly- MACD recently broke into an uptrend, with support & resistance trapping the price between $28 & 35. Upside bias here after the chart held a double bottom at $15.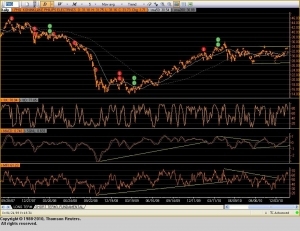 PHG daily- Broad consolidation range since April 2010. MACD has swung to a bullish bias ahead of the price action.
As the intraday is already finding a firm bid above the low open, I have full confidence that this earnings report witching will work its way out, and the stock will keep above $30 since no supply exists below there. Further, significant demand lay above that $34 1st resistance, and I expect PHG to establish a new trading range up there.
As far as I'm concerned, the stock is on sale right now. I will buy at $30 or at an upturn thereabove, as long as the technical indicators hold up.

Disclosure: I have no positions in any stocks mentioned, but may initiate a long position in PHG over the next 72 hours.