Originally published on Aug 30, 2014.
Baseline Analytics utilizes Federal Reserve data to assess economic trends and their correlation with stock market performance. An evident and rather interesting long-term cycle trend view of the relationship between Initial Claims for Unemployment vs. the Wilshire 5000 has emerged.
The chart below plots Unemployment Claims and the Wilshire 5000 from 1985 to-date.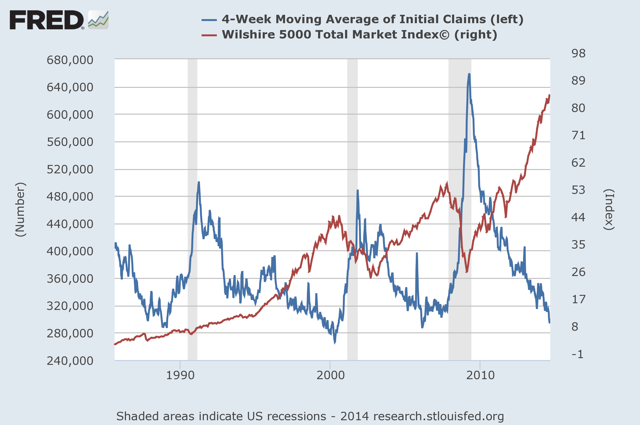 Note the troughs in the years 2000, 2006 and today (the far right lower corner of the chart). Unemployment Claims in the 300,000 area such as that shows at these trough points have preceded major market tops. The concept here is that great news as seen in shrinking unemployment claims has correlated strongly with gains in the stock market, but both eventually reach their respective peaks and troughs, then reverse.
This is certainly not a timing tool, as the peaking and troughing can stretch for months. It would be realistic to accept the current market heights as an indication that past (recent gains) are unsustainable and that a reversion to mean return may ensue. Comparing the stock market with Unemployment Claims helps support the thesis that markets revert to their long-term average returns.
Disclosure: none.