With housing prices soaring nearly twenty percent over the past year, as well as continued fears of an overly-heated and unsustainable housing market, Israel's central bank decided to raise interest rates by 25 basis points to 2.25% yesterday (January 24, 2011).
After cutting interest rates from 5.25% to a record low 0.5% over the past few years, Israel's housing market has seen rapid price acceleration that has made it difficult, and even impossible, for many of Israel's inhabitants to purchase homes. And the loose monetary policies that Israel has employed have made easy loans and speculative buying an all-too-common occurrence in recent times.
With 3-bedroom homes in Tel Aviv selling for $600,000 while the average salaries of Israelis are nowhere near enough to properly sustain such high-value mortgages, a bubble is increasingly likely. Just as we have seen in the US housing bubble, easy loans and exorbitant housing prices are the crucial ingredients of a housing bubble; and these factors seem to be exactly what is occurring in the Israeli market.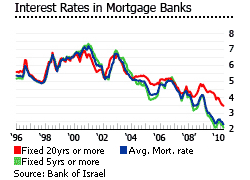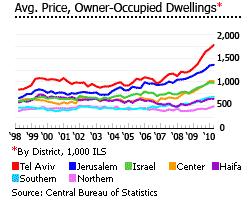 Warning signals have already surfaced:
Interest rates have been increased from 0.5% to 2.25% already in an effort to cool the soaring housing prices and potential inflation troubles.
The Bank of Israel's Governor, Stanley Fischer, has even warned of an impending bubble, saying "Prices have risen over 20 percent in the past year, and if they continue to rise at this pace we will have a bubble." These are not comforting words from the man in charge of controlling these scenarios.
The Bank of Israel issued stricter mortgage lending rules in June 2010, lowering the loan-to-value ratio from 70 to 60% - in effect requiring homebuyers to put more money down for their purchases than was previously required. This is a sign that loans have been too easy, and another sign of an overheated housing market with loan defaults on the horizon.
The combination of soaring home prices, loose monetary policies, easy loans, and speculative buying have made an Israeli housing bubble very likely.
With prices so far beyond reasonable in comparison to the average Israeli salary, it appears a similar housing bubble to the one we have just experienced in the US is underway. With the threat of hostilities in the region constantly on the horizon (which sent home prices down 11.6% in 2006 due to the war between Israel and Hezbollah) and the Bank of Israel's recent interest rate hikes to control inflation and cool the housing market, Israel's housing market may be in a bubble that is on the verge of deflating.
Disclosure: I have no positions in any stocks mentioned, but may initiate a short position in EIS, OTCPK:BKHYY over the next 72 hours.