Overview:
Risk conscious investors are finding few attractive opportunities in this market. The U.S. stock market is at an all-time high and is looking fully valued. Bond yields are low and there is wide concern that interest rates will rise, as the Federal Reserve ends its quantitative easing program. Cash is yielding 0.01% and is losing its value after the effects of inflation are considered. Investors looking for places to hold money should consider the Western Asset Variable Rate Strategic Fund (NYSE:GFY). GFY is a relatively low risk, closed end fund that invests in variable rate bonds, high yield debt, and senior loans of both domestic and foreign issuers. The portfolio has an effective duration of 0.61 so it should be insulated from changes in interest rates. The portfolio distribution could increase if interest rates rise. GFY charges a reasonable fee and uses leverage sparingly helping to reduce risk. GFY pays a reasonable 5.08% distribution based on market prices. This distribution isn't overly impressive, but offers a yield above inflation in a relatively low risk portfolio. GFY currently trades at a 9.8% discount to net asset value offering an attractive entry point.
Key Investment Highlights:
Low Duration Portfolio: GFY's portfolio has an effective duration of 0.61. The portfolio's low duration should protect investors from increasing interest rates. Investors could benefit if interest rates rise, as payments on variable rate securities would reset higher and yields on new securities would be more attractive.
Low Portfolio Leverage: GFY's portfolio is only 11.48% levered. The leverage is reverse repurchase agreements so it has relatively low cost. The low use of leverage leads to lower risk in the portfolio than other short-term CEFs that use higher leverage. The low cost of the leverage keeps the overall expense ratio of the fund manageable.
Discount to NAV: GFY is currently trading at a 9.80% discount to NAV. This is wider than its 1-year average discount of 9.42% and its three-year average discount of 6.98%. The discount leads to a 1-year Z-Statistic of -0.44.
Key Investment Risks:
Bond Default Risk: 43% of GFY's holdings are either rated below investment grade or unrated. Further, almost 19% are rated CCC or worse. These securities have a higher risk of default and loss of principal. Some of the lower rated securities could be mortgage-backed securities or bank loans where recovery rates could be higher in the case of a default. A slowing economy or major currency changes could increase the risk of defaults which would hurt performance.
Spread Risk: High yield bond spreads have contracted dramatically as default rates have remained low and investors stretch for yield. If risk tolerances decrease, it could drive high yield bond spreads wider causing losses in the portfolio. This would have a negative impact on the fund.
Distribution Coverage: GFY doesn't appear to be covering its distribution with current earnings per share. The fund does have positive UNII of $0.3326/share which is enough to pay the full distribution for 4.5 months. The current distribution shortfall could be covered by almost 4 years by the UNII balance. Gains on the portfolio that could be used to support the distribution. However, if interest rates remain low it could cause the fund to reduce its distribution rate.
Key Portfolio Metrics:
Premium/Discount: -9.80%
Z-Statistic -0.44
Market Distribution Rate: 5.08%
Current Monthly Distribution: $0.0725
Average Earnings/Share: $0.0658
Average Earnings/Distribution: 90.76%
UNII Per Share: $0.3326
Effective Leverage: 11.48%
Effective Duration: 0.61
Performance:
Using ETFs with a similar investment objective can give a good comparison to evaluate management's performance. GFY is essentially a short-term high yield fund. The fund uses the BofA Merrill Lynch USD LIBOR 3-Month Constant Maturity Index as its benchmark. The fund's management has the flexibility to invest both domestically and internationally as well as anywhere along the bond rating spectrum. This flexibility makes it difficult to find an appropriate ETF for comparison. The PowerShares Senior Loan Portfolio ETF (NYSEARCA:BKLN) gives a reasonable proxy as it invests in a low duration floating-rate portfolio. BKLN also has significant holdings that are below investment grade, helping the comparison. Overall, GFY compares favorably to BKLN with outperformance over the YTD, 1-, and 3-year time periods. GFY's annual performance has been strong as well. One area of concern is the -22.26% NAV return in 2008. It is hard to figure out if that is from excessive risk taking or just a product of the crazy markets in 2008 as BKLN wasn't around at that time.


Data as of 8/31/2014 Source: Morningstar
Premium/Discount: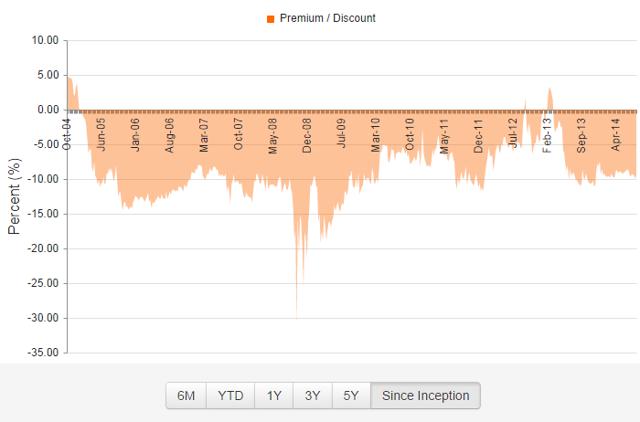 Source: CEFConnect
The fund closed 9/8/2014 at a 9.80% discount to the NAV, or underlying value of the portfolio. This is below the 52-week average discount of 9.42%. The discount could be driven by a number of factors. Key factors that could be driving the discount are the relative underperformance compared to other riskier CEFs, the relatively low distribution yield, and general discount expansion in fixed income CEFs due to concerns over higher interest rates. GFY has traded at a premium at selected points in the past. GFY could see its discount narrow or potentially trade at a premium again if performance holds strong in a rising rate environment.
Expense Ratio:
GFY pays 0.75% of daily managed assets to Legg Mason as an investment advisory fee. Western Asset Management, the fund's sub-advisor and a wholly owned subsidiary of Legg Mason receives a portfolio management fee of 0.70%. Western Asset's fee is included in the investment advisory fee paid to Legg Mason. The fund also pays an administrative fee and trustee fees. The fund also pays interest expense on the leverage employed. The annual expense ratio for GFY was 1.08% as of 9/30/2013. This is a pretty reasonable fee for an actively managed short-term high yield fund. It is important to note that exposure to floating-rate bond funds isn't cheap, with BKLN charging 0.65% for unmanaged exposure to bank loans.
Distribution:
GFY pays a distribution of 0.0725/share monthly. This distribution equates to an annual distribution yield of 5.08% based on current market prices and 4.59% based on NAV. The distribution isn't covered by the fund's current earnings. However, the fund does have $0.3326 of UNII and has some embedded gains on the portfolio which could support the distribution until interest rates start to rise. If interest rates do rise, GFY could be able to raise its distribution due to the low duration variable rate bonds held in its portfolio.
Leverage:
GFY employs leverage gained through investment operations. This leverage is largely reverse repurchase agreements and other investment transactions. This is a relatively low cost form of leverage in the current market. The use of these activities is one of the reasons that the expense ratio is so low even for a leveraged fund. This does cause concern over the long-term cost of leverage. If interest rates rise, it could increase the cost of leverage to the fund since GFY doesn't have fixed cost leverage in place. GFY's current portfolio leverage is 11.48%.
Liquidity:
GFY is a small CEF with $126 million in common assets. Trading volume is thin with 18,000 shares traded on the average day. This represents $300 thousand in daily volume at current prices. Investors should note the thin trading volume and use limit order to buy or sell this fund.
Management:
GFY is managed by Western Asset Management. Western Asset Management is a well respected fixed income manager with significant resources and a long track record. The fund appears to be in good hands.
Portfolio:
Sector Allocation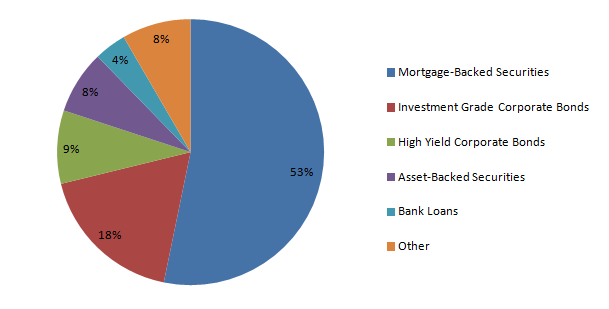 Source: Legg Mason as of 6/30/2014
GFY is about half invested in mortgage-backed securities. Investment grade and high yield corporate borrowers make up most of the rest of the portfolio. GFY has flexibility to look across different sectors in the fixed income market to look for areas with the best risk-reward while keeping duration low.
Credit Ratings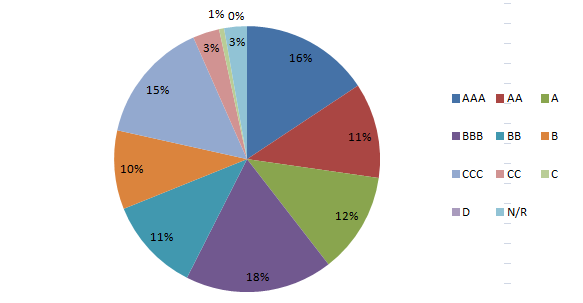 Source: Legg Mason as of 6/30/2014
GFY has investments across the credit ratings. The portfolio has a relatively high amount of investment grade rated paper. 43% of the portfolio is either unrated or rated below investment grade which adds yield but increases the risk in the portfolio.
Top 10 Holdings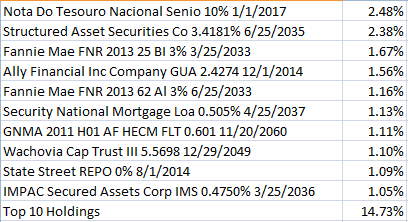 Source: Legg Mason as of 6/30/2014
GFY has a diverse portfolio with 340 different securities. The top ten holdings only represent 14.73% of the total portfolio. The turnover rate has been low, with 14% turnover as of 3/31/2014. 2009 was the only year in the past five where portfolio turnover was over 50%.
Strategy:
GFY's primary investment objective is to seek high current income. GFY is able to invest in variable rate bonds, high yield debt, and senior loans of both domestic and foreign issuers.
Tax Issues:
As of March 31, 2014, the fund had $3,364,298 of net unrealized appreciation in the portfolio. These gains are small relative to the size of the fund representing 2.65% of the total portfolio value. If securities are sold at a gain, it could cause capital gains to be distributed by the fund.
Conclusion:
Investors are looking for secure places to put their money. U.S. equities are beginning to look fully valued. Fixed income investments could be hurt by raising interest rates. GFY should provide some security while still offering an attractive yield. The variable rate nature of GFY's holdings should allow income to increase with rising interest rates. The low duration of the portfolio should allow the fund to navigate higher interest rates without significant capital losses. Underlying NAV performance has been solid and GFY pays a distribution of 5.06%. Investors who need yield and are concerned about higher interest rates should take a look at this fund and its 9.8% discount.
Disclosure: The author has no positions in any stocks mentioned, and no plans to initiate any positions within the next 72 hours.
The author wrote this article themselves, and it expresses their own opinions. The author is not receiving compensation for it (other than from Seeking Alpha). The author has no business relationship with any company whose stock is mentioned in this article.