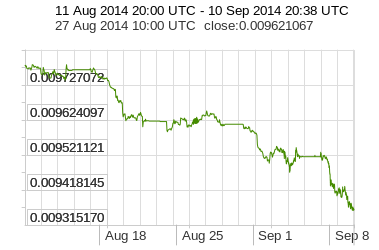 The yen is down more than 4% in the last month against the dollar.
The 10 year Japanese Government Bonds (JGBs) pay 0.54%. So losing 4% in value is about like losing 8 years worth of interest. If you can lose 8 years worth of reward in one month, the risk and the rewards are way out of whack.
The demand for JGBs is very low. Many of the buyers are really just front running the central bank. The central bank has driven some rates below zero. Investors and traders are happy to hold bonds while interest rates are going down because the value of the bonds goes up. With interest rates below zero, it is time to get out.
In the August 31 report from the Central Bank of Japan, they had increased their balance sheet by 1.1% in the previous 10 day period. This is printing money at hyperinflationary rates.
I think Japan is falling into the grip of the positive feedback loops of hyperinflation. It does not make sense for investors to roll over JGBs. As people don't roll them over, the central bank becomes more and more the only buyer. But it is buying with newly made money which makes holding bonds an even worse investment. The more new money, the less people will want to hold JGBs or the yen. But the less people hold, the more the central bank will make money to buy JGBs. Seems like the death spiral is starting to circle for the yen.