China's official inflation data for August showed continuing weakness in both consumer and producer prices. The official CPI was +2.0% YoY, coming in cooler than the expected +2.2%, and PPI slipped to -1.2% YoY, down from the -0.9% pace last month but better than the -1.4% expected.
The official release for CPI is here (Chinese), and PPI here (also Chinese).
A look at the main drivers behind CPI shows that once again it was basically food prices that were keeping the index relatively buoyant. According to the release, ex-food CPI clocked in a paltry +1.5% whereas food was +3.0% (down from the +3.8% average the previous three months, but still decent). Consumer goods prices were also a lackluster +1.8% YoY vs. services which were +2.4%.
One quick takeaway from the CPI data was that consumers seems to be cutting back on non-essential spending (i.e. other than food). What this could mean for investors is that the government will see greater pressure to step up and support the economy, which seems to be struggling. The weak CPI this month is well beneath policymakers' +3.5% comfort range, and this month's reading is the second-lowest for the year.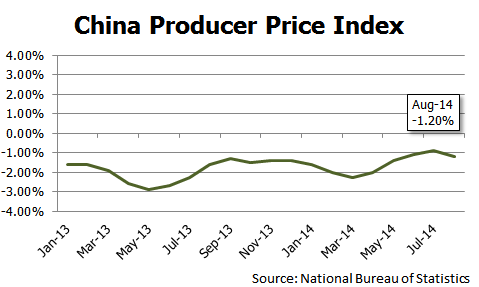 The headline PPI dipped vs. last month, falling to levels near what was seen before the government's mini-stimulus announced earlier in the year. The spread between input and output prices was flat vs. last month (a 0.20% differential), suggesting that manufacturers are getting squeezed a bit, also lower than the post-stimulus chatter. The contraction in the spread is another sign that manufacturers saw mini-results from the mini-stimulus, and sectors which had previously been feeling the pinch haven't made much progress yet.
It was tough to find many positives in the release, save the obvious "it's so bad, it's good" conclusion. Similar to the dip in CPI above, if producers continue facing harsh conditions, the government will itself feel pressure to offer some support. Despite economic theory which would suggest the pressure manufacturers are experiencing is ultimately beneficial (rational allocation of capital, etc.) that argument may fall on policymakers' deaf ears.
Disclosure: Holdings as of 9/3/14: Stocks: BIDU, NM, CSCO, T, AA, BBT, COP, F, FDX, GE, GES, GS, HSH, INTC, JPM, MSFT, PSX, SLB, TM, USB, WFC. ETFs: SPY, FXI, JNK, GLD, IYR, FXI, BKF. Funds: AFICX CIBFX CWGFX NEWCX NPFCX GFACX TEDSX