On January 12, 2011, European colocation and data center specialist Interxion announced plans to launch an initial public offering of its shares on The New York Stock Exchange, where it expects to start trading under the ticker symbol "INXN". The IPO is scheduled for Friday, January 28.
In the first part of our article, we'll examine the offering and the competitive landscape for colocation companies in Europe. In the second part, we will look at some financial data, leases and customers contracts, and finally at the role of Interxion's main shareholder.
Interxion's operations are all based in Europe and have been, so far, reported in the euro currency. Interxion's proposed IPO on the NYSE will represent a unique opportunity for U.S. investors to access a leader in the fast growing European multi-tenant network neutral data center market, but may also raise questions about the company's strategy in the North American market.
Later on, we'll analyze Interxion's past and present partnerships in the U.S. market. A European competitor, TeleCityGroup, is listed on the London stock exchange under the ticker "TCY" and has an American Depositary Receipt (ADR) programme on the OTC exchange (OTCPK:TLEIY).
THE OFFERING
Interxion will be offering investors the opportunity to buy a total of 18.55 million shares, partially sold by existing shareholders (2.3 million shares). There will about 65 million shares outstanding after the IPO. Underwriters will be granted an option to purchase up to 2.78 million additional shares, all offered by the selling shareholders. All these numbers are post a five-to-one reverse split that will happen before or at the closing of the offer, and exclude shares that can be issued upon the exercise of the 2008 and 2011 equity incentive plan (or about 4 plus 4 million shares, post reverse split).
The price range estimated by the company for its shares is between $11 and $13. The mid-range value would give Interxion an approximate market cap of about $780 million (excluding over-allotment shares), or about three times 2009 revenues, which were roughly $246 million, using the euro-dollar exchange rate of December 31th, 2009 (€/$ 1.43). Applying EBITDA as a metric, Interxion market cap will be about ten times 2009 Adjusted EBITDA. All these multiples look different (lower) when applied to 2010 results, which have not been announced, yet. Like most players in the sector, Interxion enjoyed a steady growth throughout these years.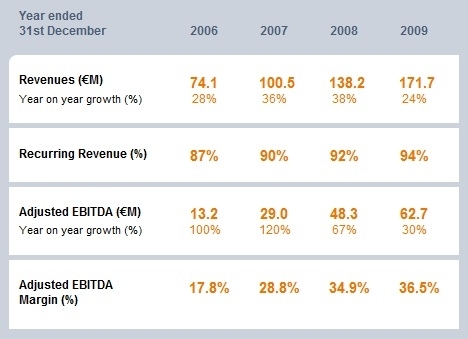 (all data in euro)
There is a 150 day lock-out period for existing shareholders. Baker Capital, Interxion's main shareholder, will not be selling any shares at the IPO.
The net proceeds from this offering for Interxion will be approximately U.S. $176.6 million. The company intends to use the net proceeds from the offering primarily for general corporate purposes, including, without limitation, expansion of existing data centers and construction of new ones.
ADDITIONAL FINANCIAL INFORMATION
Interxion has a debt of about €200 Million ($260 million) consisting of 9.50% notes due 2017.
On September 30, 2010 Interxion had about € 30.6 Million ($40 Million) of cash available. On November 11, 2010, the Company issued €60 million 9.50% Senior Secured Notes due 2017, whose net proceeds were added to the company's cash position.
On February 2, 2010 Moody's assigned a B1 rating to Interxion, with stable outlook (first-time rating). On January 14, 2011, Moody's issued the following comment: Interxion Holding N.V. Interxion IPO positive, but neutral to ratings.
In November 2010, Standard & Poor's Ratings Services cut its outlook on Interxion to negative from stable after the company reported heavy capital spending in its fiscal third quarter.
USA LISTING – JUST A BLOW TO THE LONDON STOCK EXCHANGE?
As we noticed, Interxion decided to apply for listing on the NYSE, rather than in Europe.
From an operational point of view, with all existing data centers in Europe, mostly in countries where the euro is the local currency, this decision may pose some practical problems. The IPO SEC filing reports financials both in euro and U.S. dollars and as a result some metrics may be subject to currency conversion/fluctuation. In the past, there have been rumors about the company's intention to expand in the USA, and at the time of Equinix's acquisition of Switch and Data a few observers speculated that Interxion might have been the international party also interested in acquiring the company.
Time will tell if a listing in the USA, rather than in Europe, represents also a sign of the company's intention to acquire a local presence through merger/acquisition. The possibility to use shares listed in the USA might give the company more flexibility in its expansion plans. One of Interxion's major competitors, Equinix (NASDAQ:EQIX), has data centers both in Europe (acquired through the merger with a former Interxion competitor, IX Europe,) and in Asia (acquired through a merger with Pihana Pacific and i-STT Singapore). Offering an option in most international and financial markets and financial centers may obviously represent a sales advantage dealing with multinational customers.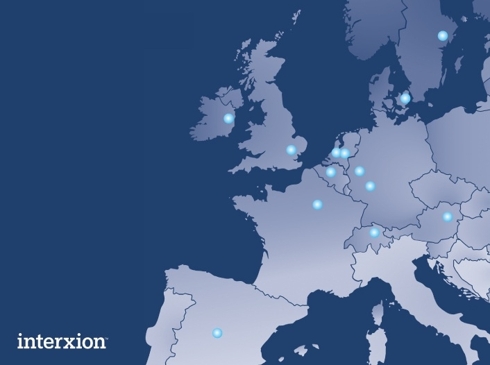 Interxion's data center presence in Europe
Interxion is not new to strategic partnerships with U.S. based competitors.
In November 2010, Interxion entered into a strategic alliance with Telx, a leading provider of carrier-neutral colocation data center services in the USA. The alliance is meant to provide a smooth transatlantic migration path into industry-leading, connectivity-rich colocation facilities for both Telx and Interxion customers, with particular strategic benefits for customers in the Financial Services sector, a very important vertical for both companies.
In the past, Interxion had similar referral agreements with Equinix and Switch and Data (later acquired by Equinix, as we mentioned).
COMPETITION
Interxion's main competitors in the European are other network neutral data centers like Equinix (EQIX), TeleCity and Telehouse.
Some carriers, like AT&T (NYSE:T), BT, Cable & Wireless, Colt Telecom, Savvis (NASDAQ:SVVS) and Verizon (NYSE:VZ), also operate their own data centers in Europe.
Digital Realty Trust (a REIT listed on the NYSE under the ticker DLR) and Global Switch are also active in the same market, mainly targeting the wholesale market for data centers.
DATA CENTER PRESENCE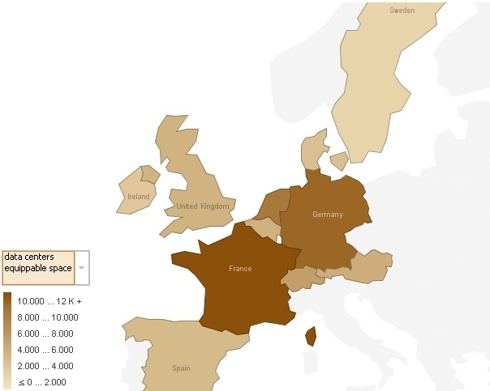 A quick look at Interxion's presence in Europe highlights that the company has the most available space in France and Germany. In 2009 the company generated about 59% of its revenues from France, Germany, Netherlands and United Kingdom (60% in the first 9 months of 2010).
While it may not be correct to use data center size as the metric to compare Europe's main players (data centers today are more about power than footprint available), it is interesting to note that Interxion, Equinix and TeleCityGroup all seem to have targeted a different market as their major one: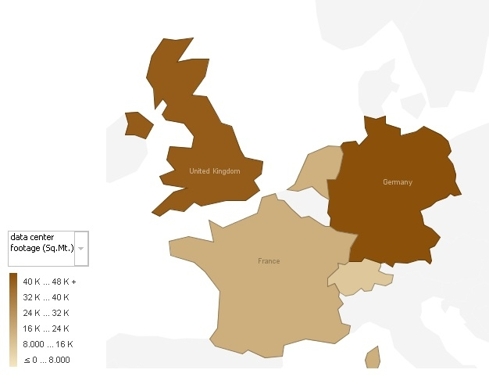 Equinix's main market, in terms of space available, is Germany, closely followed by the United Kingdom.
It should be noted that companies report space in a different way, so Equinix's numbers may not be directly compared with its competitors.
Equinix's latest quarter reported an occupancy of about 70% in Europe. Equinix employs about 450 people in Europe, and is present in 5 markets.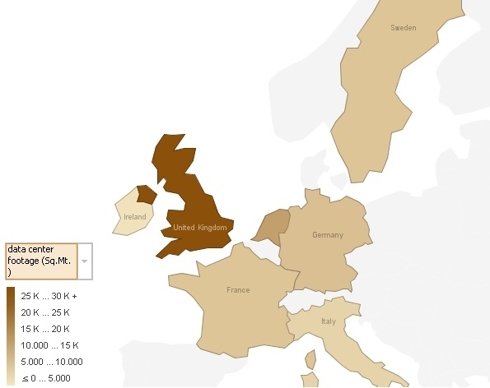 TeleCityGroup is present in 7 European markets, and gets about 50% of its revenues from the United Kingdom and Ireland.
The company reports its financials in Pounds.
On June 30th 2010 TeleCity reported an occupancy of about 76%, the highest among its peers. The total fitted-out space operated by TelecityGroup at 1H end was 60,538 sq.mt. (or approximately 651,000 sq.ft.) and total available customer power increased to 54 megawatts ('MW').
Here is a look at TeleCity's data center presence in Europe: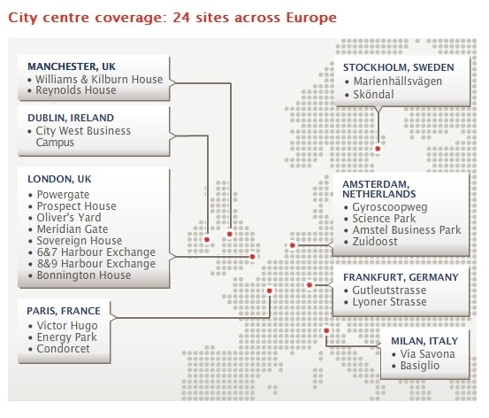 Interxion supports over 1,100 customers through its 28 data centers in 11 European countries. Interxion's centers range from as little as 500 square meters (5,400 sq.ft.) to 6,400 square meters. (68,900 sq.ft.).
The company houses more than 350 carriers and Internet service providers and 18 European Internet exchanges.
Here is a look at the exact size and location of all its data centers: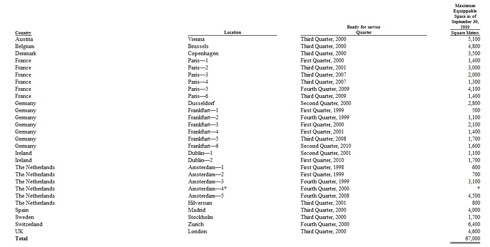 And here is the list of peering points Interxion is offering a link to: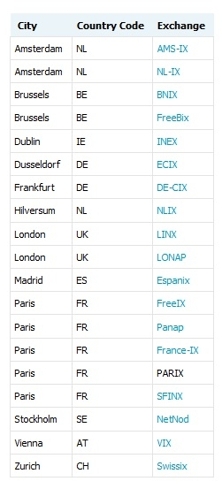 To give a better sense to our quick comparison among Interxion, Equinix and TeleCity, here is a chart resuming the highlights of each company in terms of data centers, capacity and customers (sheet compiled by Equinix and presented at the 2010 analyst meeting – data for Equinix are comprehensive of all its international operations, the exact number of Interxion's data centers is 28, although Amsterdam 1 and 4 are reported together as to space availability):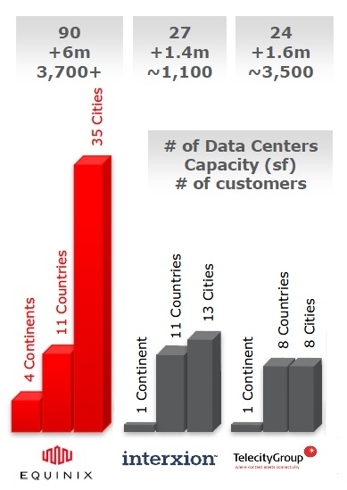 Click here for Part 2.



Disclosure: I am long EQIX.