One of the stock screens I typically run is designed to identify stocks that appear to be breaking out of consolidation patterns. In a bull market, buying these types of stocks is often a good strategy. With that in mind, I want to share some ideas that are currently being generated.
Here are the parameters I employed:
Member of the Russell 3000 index
Market Cap > $200mm
Within 10% of its 52-week high
Within 100% of its 52-week low
1-month price >5% (it's moving!)
3 month price up 3-15% (it's moving but not too much)
1-year price < 20%
2011 earnings estimate stable to rising over past 3 months
PE vs 10yr median < 1.6X
2011 PEG Ratio < 1.4
Here is what I generated (click to enlarge):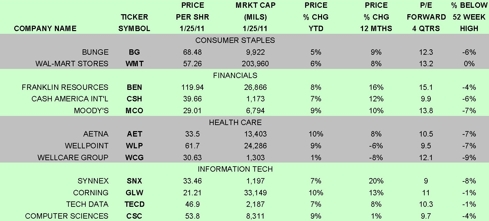 I sorted the group by economic sector - just four are represented. Nothing from the hot Consumer Discretionary or Industrial sectors made the cut. Interestingly, though we allowed Small-Caps, none made it, with the smallest company coming in at $1.2 billion.
Before hitting a few of the names with additional details, note that most of these stocks have lagged the S&P 500 over the past year, as the median price change has been 9% compared to about 18% for the S&P 500. In fact, only one stock has done better. Also note how low the PE ratios are, with a range of 9 to 15 and a median of 11.
Looking at the two Consumer Staples stocks, Bunge (NYSE:BG) is pressing against post-crash highs set in the summer of 2009 and early 2010. Wal-Mart (NYSE:WMT), which has had a tough few years relative to the market because it never fell enough in 2008-2009, is up against long-time resistance at 60 (2003-2004 and 2008). It's not the growth engine it was, but it sure appears cheap. It has an above-average dividend yield of 2.1%. It's hard to believe, but just three years ago it commanded a PE near 20X.
Financials have been out of favor for years now, but they are starting to capture some attention. I know the first one very well, as I added Franklin Resources (NYSE:BEN) in December to both my Top 20 Model Portfolio and the Conservative Growth/Balanced Model Portfolio. I believe that this asset manager, the largest publicly-traded one, has been unfairly punished for its exposure to bonds. Investors (not me!) were surprised to see them actually GROW in December despite the massacre in munis and the weakness in bonds. The company has a fantastic balance sheet and will be aggressively deploying its excess cash for share repurchases this year. CashAmerica (NYSE:CSH) has been my least favorite of the three pawn shops due to its balance sheet and some business model issues. With that said, the sector is on fire. Finally, I don't have a comment on Moody's (NYSE:MCO) except to note that 30 was resistance in April 2009 and then again in April 2010.
All three of the Healthcare names are insurance companies. Aetna (NYSE:AET) isn't too far from its high set last April. Wellpoint (WLP) is within 5% of its highs set in early 2010 as well. These are two leading players in the industry. Two changes ahead could help both: Higher short-term interest rates (maybe not a 2011 event) would let them earn a return on their huge float, while improving employment should add lives. It's hard to figure in the wildcard of Obamacare, but many have pointed to the future influx of more covered lives in a few years. I follow WLP on my Watchlist and have missed the recent rally. Wellcare (NYSE:WCG) is focused on providing insurance to Medicaid patients. The company is emerging from an accounting scandal.
Finally, Technology offers 1/3 of the names that made the cut. Synnex (NYSE:SNX) is a distributor that just reported strong numbers earlier this month. It has broken to an all-time high, but it isn't yet extended. Corning (NYSE:GLW) is one I don't follow very closely fundamentally. It recently cleared the highs of mid-2010 and sure seems to have a lot of skepticism priced in. Sales growth of 9% in 2010 is projected to remain on track in 2011. TechData (NASDAQ:TECD) is a company I have followed for over a decade. Like BEN, I just added this one to the Top 20 Model Portfolio in December. It is clearly cheap in terms of PE and P/TB (close to 1X), and I view it as a good proxy for technology. The company distributes IT (like SNX) and increasingly consumer electronics in Europe and the Americas. I believe that the company can boost its margins in the coming years. It is testing a 10-year high. Finally, I don't follow Computer Sciences (CSC), but it appears to be testing the top of a 10-year trading range. Given the recent explosion out of IBM, it is probably worth paying attention to these breakouts from decade-long consolidations.
Disclosure: I am long BEN and TECD in various models at Invest By Model