By Chris McKhann
KB Homes' (NYSE:KBH) stock continues to run higher, but the big options trade in the name is betting the run is over.
optionMONSTER's systems show total option volume of 19,121 so far in the name today, 10 times the daily average of the last month. Leading that volume are the March 16 calls as more than 11,000 traded against open interest of 112. Of those 9,500 sold for $0.92, below the bid price at the time. Most of the rest traded in the previous 30 seconds for $0.94 and $0.93.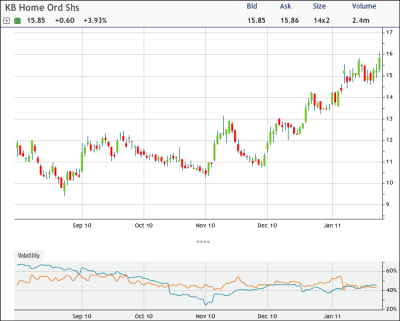 This call selling was done at-the-money with KBH trading at $15.85, up just shy of 4 percent on the day. New Home Sales data that came out this morning wasn't great but better than expected, and that has the homebuilders running higher.
KBH is at the highest level since May as it came off of 52-week highs above $20. This constitutes a run of more than 60 percent off of the August low.
But not all traders are buying into this rally, and at least one of them is selling calls. We don't see any related activity in the underlying stock, but the option trade may have been done as a covered call against existing shares, especially because it was done at the money. Naked call selling would present a real risk in that case.
The covered call seller collects the premium in the options, which is the profit is shares are anywhere above $16 at expiration. The trader would also then get a small cushion to the downside.

Disclosure: No position