We have sat steady with our current positions in this market as we look for attractively valued names with good looking charts. With oil prices pulling down the share prices of nearly all of the E&P companies, we are finding some interesting situations out there, however we are looking for names which have already bottomed out and could possibly be setting up to make a move higher. Patience is going to be key here, but long-term investors with larger portfolios could set up a buying program to begin to nibble on the blue chip names at this time and probably do well over the next few years. We would just caution to look for some yield protection.
Chart of the Day:
With Gold not having been able to hold above the $1,250/ounce level, we are seeing the fallout today. In the past 24 hours we have seen gold weaken dramatically and it certainly appears that the gold market is poised to test support around the $1,200/ounce area.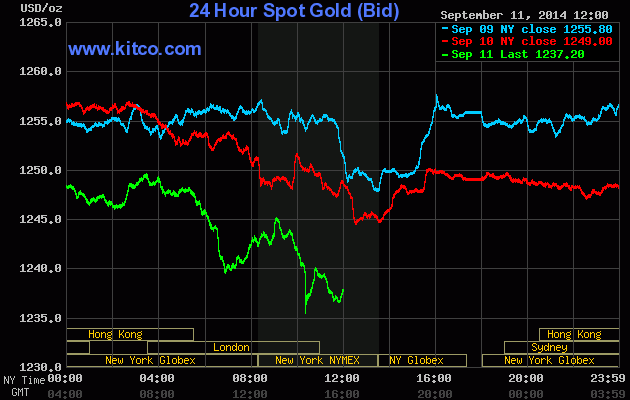 Source: Kitco
Commodity prices are as follows (at time of submission):
Gold: $1,237.10/ounce, down by $8.20/ounce
Silver: $18.605/ounce, down by $0.321/ounce
Oil: $92.05/barrel, up by $0.38/barrel
RBOB Gas: $2.514/gallon, down by $0.0125/gallon
Natural Gas: $3.831/MMbtu, down by $0.123/MMbtu
Copper: $3.0915/pound, down by $0.019/pound
Platinum: $1,372.00/ounce, down by $9.00/ounce
Chemical Deal
Both Eastman Chemical (NYSE:EMN) and Taminco (NYSE:TAM) were halted earlier today as news was pending. The news that the companies announced has Eastman Chemical purchasing Taminco for $26/share, or $2.8 billion with the assumption of $1 billion in debt. The transaction fits with the blueprint that Eastman management has discussed numerous times before where they will focus on returning cash to shareholders while simultaneously looking for bolt on acquisitions that are accretive to EPS early on.
In the press release announcing the deal, Eastman estimates that the transaction will accretive to EPS by $0.35 in 2015 and more than $0.60/share in 2016. The specialty chemicals maker Taminco will strengthen Eastman's current portfolio and help it in a few niche areas.
We have been bullish of Eastman Chemical shares for quite some time, having discussed their prospects in numerous articles. Management's ability to continue carrying out their plan to return cash to shareholders and focusing on bolt on acquisitions should continue to drive shares higher.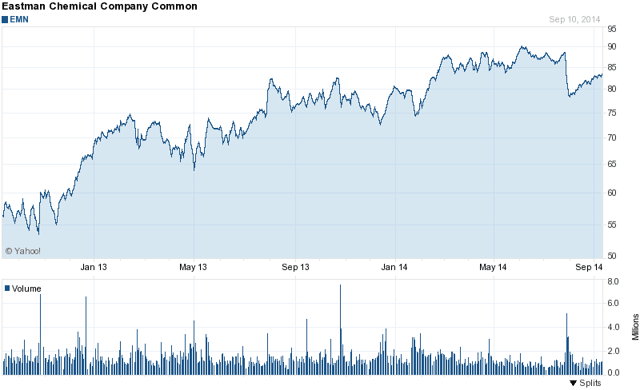 Source: Yahoo Finance
A Flood of Paper MLPs to Come?
International Paper (NYSE:IP) told those in attendance at a conference that the company had moved forward to the next step in evaluating whether to make the conversion to a Master Limited Partnership, or MLP. The company has been looking at this possibility for a while, as they could return more capital to shareholders, but until today the management team simply said that they were studying the possibility.
With Kapstone Paper & Packaging (NYSE:KS) also looking at the MLP structure, we would not be surprised if it took only one or two companies to decide to convert for the entire industry to join in on the party. There are issues with MLP conversions which could lead to the companies creating separate MLPs to drop assets down into or other fancy transactions, but the bottom line here is that numerous companies are looking at the MLP structure which could be a driver for share prices moving forward.
Frac Sand Provider Ups Guidance
We missed it yesterday but wanted to highlight for readers the raise in guidance from US Silica Holdings (NYSE:SLCA). The company initially expected EBITDA to come in between $215 to $225 million but increased that guidance to a range of $230 to $240 million. Readers know that we love it when companies increase their guidance by moving the entire range above their previous guidance; it is extremely bullish and highlights strength in the underlying business.
While many have begun to worry about the frac sand providers with oil prices falling, we would point out that there is a certain amount of lag time between when E&P companies decide to slow down their drilling programs and when suppliers such as US Silica begin to feel the impact of those decisions. While oil prices are beginning to approach levels that are worrisome, any move into the $80/barrel range (the level where drillers would start to slow drilling) would not necessarily have a short-term or long-term impact upon the company or competitors. The less time oil spends at lower prices the better, but we think that prices would have to be near $80/barrel for a month or two before the weakest players would begin to revisit their exploration programs.
Disclosure: The author has no positions in any stocks mentioned, and no plans to initiate any positions within the next 72 hours.
The author wrote this article themselves, and it expresses their own opinions. The author is not receiving compensation for it (other than from Seeking Alpha). The author has no business relationship with any company whose stock is mentioned in this article.