The core of my investment strategy revolves around two concepts:
risk/reward and

taking advantage of aggregate price disparities.
My buy of Winthrop Realty Trust (NYSE:FUR) in Mar '09 is one of the best examples of this philosophy in action.
Winthrop held a large amount of cash and liquid assets at the time; not to mention, it had significant cash flows coming from its operating properties. Yet, the market was pricing it as if it had major risks associated with it. Essentially, one would have to conclude that the market was punishing Winthrop for the sins of some of the more poorly run REITs. Indeed, the entire REIT sector was undervalued at the time, which was why it was such a great time to buy.
Regional and small commercial banks are in a similar state right now. In the aggregate, the entire sector is undervalued. There are, of course, high risks associated with many of these banks; the principal one being that they might need to raise more capital and dilute existing shareholders at an unfavorable price. Once a bank dilutes its stock at one-fifth of book value, it might be impossible to recoup one's initial investment.
To protect against these risk (while still having potential for upside), my strategy has involved buying into banks with all kinds of different risk profiles. I've bought high-risk banks, medium-risk banks, and low-risk banks. Overall, I've come out ahead, but my Seeking Alpha articles have mostly focused on higher risk banks, which have been more likely to be losers. Yet, in many ways, the lower-risk banks that are still selling at discounts could be some of the best buys out there.
Sonabank reminds me of Winthrop in Mar '09 in many ways. Due to the overall bearishness toward the sector, investors are largely uninterested in and afraid of small banks like Sonabank. Yet, SONA is one of the safer banks one could invest in right now.
The short case for SONA:
Huge capital cushion; Tier 1 over 20%
Significant growth potential
Consistently profitable; earning about 36 cents per share annually now; normalized earnings around 45 cents per share
Strong management team
Selling slightly below Tangible Common Equity
For a bank with SONA's growth, improvements, profitability, and large capital ratios; there really should be no reason it would sell under Tangible Common Equity (TCE). At the very least, it should be selling at a 1.2x premium to TCE (even in this environment), but it has significant upside potential that makes it even more intriguing. With that, here's the more detailed case for SONA.
Overview for SONA
Southern National Bancorp of Virginia (NASDAQ:SONA) is the holding company for Sonabank, a Virginia chartered bank that began operations in 2005. Sonabank is largely centered in the Northern Virginian suburbs of Washington, D.C., but they also operate a Rockville, MD., branch (also in the DC metro area). Additionally, they have a few branches outside the DC metro region; one in Charlottesville, VA., and a few others in the Shenandoah Valley region of Virginia (Clifton Forge, New Market, Front Royal).
Sonabank concentrates on making loans backed by commercial real estate, specializing in loans to small and medium-sized businesses. At the end of 2009, Sonabank acquired Greater Atlantic Bank, after the FDIC moved to close down the bank. Sonabank entered into a loss-sharing agreement with the FDIC, with the FDIC reimbursing Sonabank for 95% of all losses in excess of $19 million with respect to covered assets. Sonabank also acquired a branch office in Warrenton, VA., from Millenium Bank.
Sonabank believes its greatest advantages are its management team, acquisition and organic growth potential, and its business model, which focuses on asset quality, strong underwriting, and its focus on business owners.
Capital Levels
Sonabank shares a lot of similarities with Ruddick Corporation (RDK) in mid-'09. It is priced with a significant risk premium, even though it is lower-risk with sizable growth potential. Of all the banks I have analyzed over the past few years, Sonabank has the highest capital levels, even surpassing low-risk stalwart Hudson City Bancorp (NASDAQ:HCBK). Unlike Hudson City, however, I do not believe that this is a key part of Sonabank's long-term strategy. Rather, Sonabank's management maintains abnormally high capital levels because they want to be in position to take advantage of the opportunities available.
Below are Sonabank and SNBV's (the parent holding company) vital stats: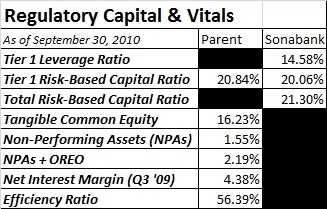 Southern Regional Bank has Tier 1 capital of 20.84% and Tier 1 leverage that is presumably around 15%. Nonperforming assets (including OREO) is relatively low at 2.19%. Even if Sonabank were to experience some stress in its loan portfolio, it has such a sizable capital cushion, that there should be very little fear of "survival dilution" scenario. There is some potential for "growth dilution", but the hope is that any capital raised for growth purposes is only committed if the ROI for investors is very favorable. Past history in regards to this has been positive. It's also worth noting that SONA's net interest margins have been over 4%, which is very strong.
Profitability
High capital levels alone are not enough to make Sonabank an attractive opportunity. Profitability, efficiency and growth potential are three other important attributes. Fortunately, Sonabank does well on these factors as well.
Below is Sonabank's profitability history for the past six years, using a constant share count, based on the current number of shares outstanding: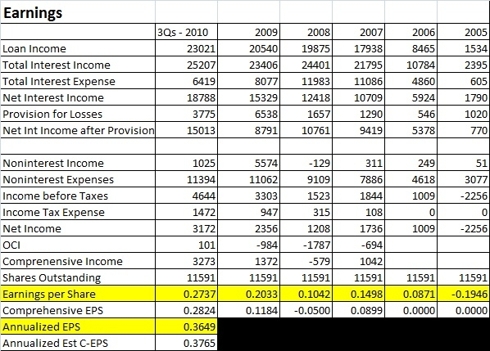 (Click to enlarge)
Sonabank has been profitable since 2006 and has made great strides since that time. In particular, the company has shown a dramatic improvement over the past year. With an annualized earnings estimate of 35 to 40 cents per share, profits could potentially increase by 75% - 100% over the 2010 fiscal year.
This improvement is simpler to understand once we take a look at Sonabank's improvement in its efficiency ratio. The table below shows the efficiency ratio over the past seven quarters: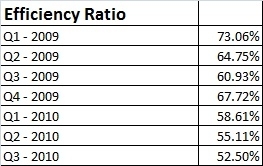 And here's a graphical chart of that data: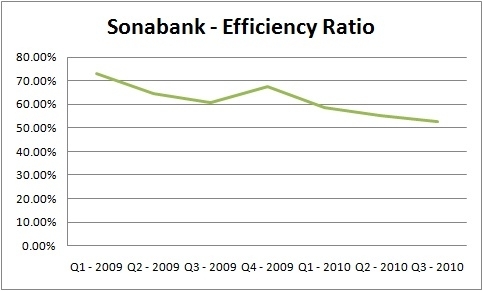 In essence, in two short years, the efficiency ratio has improved from 73% to 52%.
It's important to remember that we are not in a good environment for banks right now. Defaults are high and aggregate demand for loans is low; meaning many banks are going through considerable stress. I have pieced together a "normalized earnings" chart for SONA; this is not based on growth potential, but rather, strictly looks at a more normalized environment for nonperforming assets.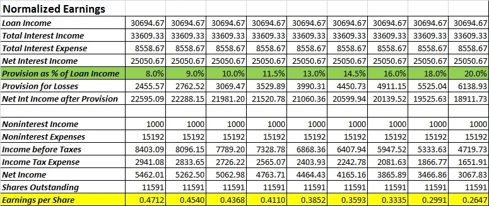 (Click to enlarge)
My belief is that in a better environment, SONA would be earning at least 45 cents per share on an annual basis, and possibly closer to 50 - 55 cents per share (once we factor in higher demand). From this perspective, SONA could be undervalued even without any growth. But I believe SONA has good growth prospects, as well.
Since FY 2007, Sonabank's revenues have increased by approximately 55% - 60%. This is in spite of the fact that the period was extremely weak in terms of aggregate loan demand. Below are some earnings projections based on revenue growth. This analysis ignores many other critical factors, such as increased economies of scale and improved efficiency, but is merely meant to provide a glimpse into how things can significantly improve based on continued growth.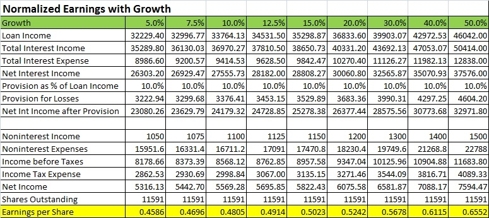 (Click to enlarge)
If SONA were to grow 30% in the next three years, it's completely plausible that it could earn 55 cents per share, if not more. This is not mindblowingly good, but the big takeaway is that things don't even have to improve that much to make this stock seem significantly undervalued.
Growth
SONA has managed to achieve growth both organically and through acquistions. A lot of this can be seen via the growth in deposits over the past several years: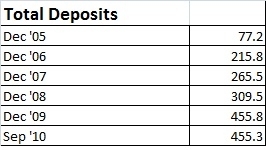 After the financial crisis had already begun (by December 2007), SONA has managed to increase deposits by 71%. Once again, this has largely been a function of having strong capital ratios to take advantage of opportunities, coupled with being situated in one of the stronger regions of the nation economically right now (mid-Atlantic, DC metro).

Undeployed Capital: Rising Interest Rates vs. Further Distress
This brings me to the next selling point for SONA: undeployed capital. Due to SONA's large capital cushion, it is in an ideal situation to improve. If the economy improves, very well capitalized banks will have the resources to take advantage of a higher interest rate environment; something that lesser capitalized banks might struggle with.
On the other hand, if we see further distress, a bank with Sonabank's resources is in prime position to gobble up more distressed assets and failed banks. Thus, it is able to take advantage of bargain basement prices and make high returns on investments.
While there is no guarantee of any of this, it is comforting to me to know that SONA could benefit with a swing of the economy either way. At the very least, we know that SONA has a considerable amount of undeployed capital at its disposal and that its profitability should improve once that capital is put to positive use. Therefore, current profitability probably understates future profitability by a significant amount.
Valuation vs. Price
Finally, the most important piece of the puzzle for me is always valuation versus price. The strange aspect about this is that, as SONA's fundamentals have improved over the past two years, the stock price has actually fallen. If SONA were priced at $20 per share right now, I wouldn't even be writing about it. Instead, SONA is selling at just below $7.70; approximately a 3% discount to tangible common equity (TCE).
A bank with SONA's profitability, growth, and capital cushion should be selling at a premium to TCE; yet that's not the case. At the very least, SONA should demand a 20% premium and $10 - $11 is probably a fairer valuation given the current facts and environment surrounding banks. And given the growth prospects for this bank, the upside potential is considerably higher. I would not be shocked to see SONA selling at $15 - $20+ if, five years down the road, the company continues operating well and making strong investments.
Conclusion
While Sonabank is still in its infancy, given its profitability, strong capital ratios, management team, and good potential for growth, it's very likely that SONA is undervalued right now. The capital cushion protects it from some of the more major downside risks that other commercial banks face. It also means that the company is in prime position to increase profits moving forward.
Of course, all commercial banks have risks, which bank investors are all familiar with. Banks could adopt weak underwriting standards; be subjected to distress emanating from a few large clients; or fail to compete for deposits effectively. As far as small commercial banks go, however, SONA has a lower level of risk than most others out there in the current environment.
Overall, I view this as a low-risk/medium-to-high reward stock amongst small commercial bank stocks and it helps hedge against my higher risk bank calls, such as the recent buy on Tennessee Commerce (OTC:TNCC). I don't expect to hit a home run, but when I see an opportunity for a high-probability, line-drive double, I take it.
Disclosure: I am long SONA and hold long positions and/or long-dated call options on several small/regional commercial banks.