There are insiders, institutional holders and in Sirius XM's case, institutional insiders. These are institutions that Sirius XM has working relationships with, and as such have greater visibility into Sirius XM's future potential. Already there have been two filings by such institutional insiders, which indicate increased stakes in Sirius XM Radio. While one filing indicates promise for Satellite Radio 2.0, another could be indicative of improvements to Sirius XM's capital structure.
The institutional ownership percentage as of this morning stands at 27.98%, with 306 firms listed as institutional owners of 1,098,473,353 shares. Given the fourth quarter run up and threat of the Bush tax cuts expiring, I would expect to see these numbers decrease somewhat, yet early indications are that the institutions are slowly, methodically and opportunistically adding SIRI to their portfolios.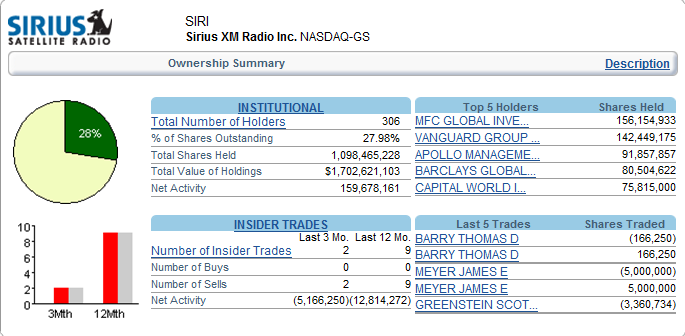 (Click charts to enlarge)
The notable notable, is General Motors (NYSE:GM). You may recall that General Motors was reported to have initiated a new position in the third quarter of 2010. Critics suggested at the time that the shares were likely leftover shares from GM's bankruptcy and reported as a result of GM's restructuring. Some speculated at the time that we were witnessing the end of General Motors interest in Sirius XM as an equity partner. We can now put that illusion to rest as General Motors reported that it has increased its stake in Sirius XM.
General Motors had initially purchased 68,345 shares of Sirius XM, and has increased that position in the last quarter to 214,241. Again, we are witnessing opportunistic accumulation by those "in the know." While the overall position might seem small, bear in mind that satellite Radio 2.0's introduction is still three quarters away, and this number is likely to increase as the debut draws closer.

A more significant increase can be seen with the Bank of New York, which also serves as the transfer agent for Sirius XM, increasing its personal stake by 3,203,327 to 16,280,215 shares. This 25% increase can be seen as a bet on improving credit quality. I'll let you guess what this could mean from a convertible bond perspective.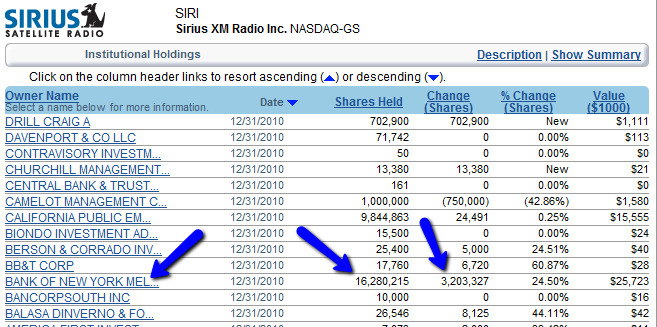 Transfer agent
The party appointed by an issuer to maintain records of stock and bondholders, cancel and issue certificates, and address issues arising from lost, destroyed or stolen certificates.
Other mentionables include HHR Asset Management, which sold 3,395,800 shares in the fourth quarter of 2010 while still placing as one of Sirius XM's ten largest shareholders, holding a position of 31,676,400 shares. Rhumbline Advisors also increased its stake in Sirius XM to 4,957,483, up 336,699 shares.
Disclosure: I am long SIRI.