RightNow Technologies, Inc. (NASDAQ:RNOW) provides RightNow CX, an on-demand (cloud-based) suite of software and services. RightNow's technology enables an organization's service, marketing and sales personnel to leverage a common application platform to deliver service, to market and to sell via the phone, e-mail, Web, chat and social interactions. The Company's Professional Services group combines project management (RightNow Project Methodology) with technical and business-focused consulting services to its clients. RightNow continues to develop products and solutions to broaden its offerings beyond what is available through the traditional CRM market.
Competition is also on the rise within the CRM space with Oracle (NYSE:ORCL) and SAP (NYSE:SAP) moving aggressively and Salesforce.com (NYSE:CRM) already having a strong footprint. Expectations are for product demand to remain favorable for RightNow, although margins may come under pressure in the near to mid term as the company continues to "ramp-up" with new services, increased hiring and this week's announced purchase of the Dutch Search Engine Q-Go.com B.V. in a cash deal valued at $34 million.
RNOW reports 4th quarter earnings on February 2nd and the average estimate is 10 cents per share on revenue of $50.7 Million. This represents a 92% increase on EPS growth and 22% 1 YR revenue growth. Forward estimates remain robust as well.
Price action has been on the upswing as well: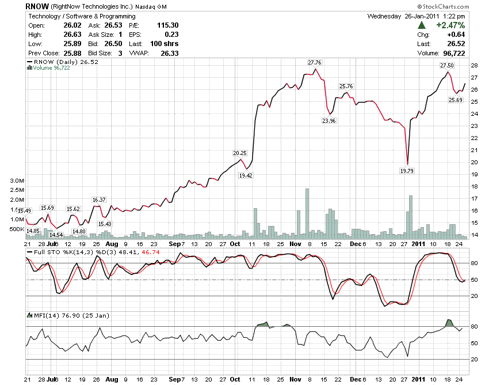 (Click charts to expand)
The technical picture for RNOW presents a two-edged sword somewhat. The chart pattern reveals that prices are sitting at major turning point. A break above 27.50 would clear the path for new highs above those seen last week at 28.55. A break below 25.69 would likely lead to new lows below 19.79 (acceleration a strong possibility) seen at the end of December.
On a daily basis the stock does have upside room before moving back into "overbought" reading. However, on a weekly and monthly basis that margin is not as wide keeping the downside potential firmly in place.
I use the MFI oscillator as a tool in determining the degree of a stock's overbought or oversold status. Here the definition:
The Money Flow Index (NASDAQ:MFI) is an oscillator calculated over an N-day period, ranging from 0 to 100, showing money flow on up days as a percentage of the total of up and down days. Money flow in technical analysis is typical price multiplied by volume, a kind of approximation to the dollar value of a day's trading.
MFI is used as an oscillator. A value of 80 is generally considered overbought, or a value of 20 oversold. Divergences between MFI and price action are also considered significant, for instance if price makes a new rally high but the MFI high is less than its previous high then that may indicate a weak advance, likely to reverse.
The MFI on a weekly basis does not confirm the most recent high and may be pointing towards a disappointment next week.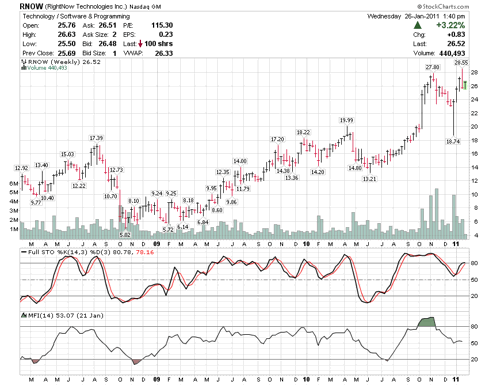 While we continue to feel that growth with the cloud-computing sector remains strong as is so often the case expectations tend to push ahead of reality. This is the case with VMware (NYSE:VMW) beating expectations:
"Q4 beat expectations, its weak outlook is spooking investors. VMware is investing for the future, and offering flat 2011 guidance, notes JPMorgan. It's "difficult for us to ascertain whether this is the best path."
RNOW is also investing for the future and may suffer the same fate as VMware. It's not that the company is poised to fail but rather it's time to rein in prices somewhat to keep in line with reality.
Expectations remain strong for growth within cloud-computing sectors and RNOW sits in a very good position to reap the benefits via growth with the United States and Europe. Currently 70% of RNOW's earnings are generated in the US with 19% in Europe and 11% in Asia Pacific.
Currently RNOW is a participant in on-demand CRM, a fast growing sub-market of the total CRM market that specializes in small and medium sized companies. The companies model or Software as a service (SAAS) reduces the cost and risks associated with deploying traditional enterprise CRM software. Operationally, management looks to be taking steps to improve the business model and expand its margins.
With the future for cloud-computing and RNOW remaining on the bright side any significant correction should provide an excellent buying opportunity.
Disclosure: I have no positions in any stocks mentioned, and no plans to initiate any positions within the next 72 hours.