Oracle (NYSE:ORCL) has been on an acquisition spree over the last 10 years, spending more than $50 billion to acquire 100 companies. In 2014 alone, Oracle has completed six acquisitions; BlueKai, GreenBytes, Corente, LiveLOOK, TOA Technologies and MICROS Systems. Oracle paid $5.3 billion for MICROS Systems, its second largest acquisition after its $7.4 billion buyout of Sun Microsystems in 2010.
Investors are not too sure if Oracle is doing the right thing here. There is no doubt the company has sufficient financial wherewithal to continue buying out new companies for many years - Oracle had $18 billion in cash and another $21 billion in marketable securities by the end of May. But there are other ways the company can add shareholder value, such as stock repurchases. Is Oracle spending its cash hoard wisely?
Sun Microsystems Acquisition
Many investors will probably think of Oracle's Sun Microsystems acquisition as the biggest pointer to the company's failed acquisition strategy. Oracle bought Sun Microsystems in January 2010 for $7.4 billion. Since the buyout, Sun Microsystems' revenue has taken a nosedive. Sun Microsystems reported revenue of $9 billion in 2009. Revenue fell to $7 billion, $6 billion and $5 billion in fiscal years 2010, 2011, and 2013, respectively. Oracle's hardware revenue in the just ended fiscal year improved to $5.4 billion, mainly due to strong growth in the company's engineered systems.
Oracle's hardware revenue decline can be partly attributed to the global decline in server sales, which has been falling at approximately 3% per annum for the last 3 or 4 years. Oracle's decline prior to the just ended fiscal year, however, stood at 16% per annum, suggesting something else was at play here.
Oracle's huge decline in server sales has been by design and not due to a poor execution strategy. The company's main goal when buying out Sun Microsystems was to get its hand on Sun Microsystems' powerful software platforms such as Solaris and Java, as well as its high-end customers. Oracle has been moving out of the low margins commodity x 86 server business. The company shut down OpenSolaris to focus on rebranding Solaris as a Unix-based system. Oracle has been focusing on rebuilding Sun Microsystems' RISC microprocessor platform to help it compete better with other Unix platforms by tech titans such as HP's UX Systems and IBM's PC-based AIX systems.
Oracle has moved into engineered SPARC servers which command better margins. Oracle's engineered systems now make up 30% of its hardware sales.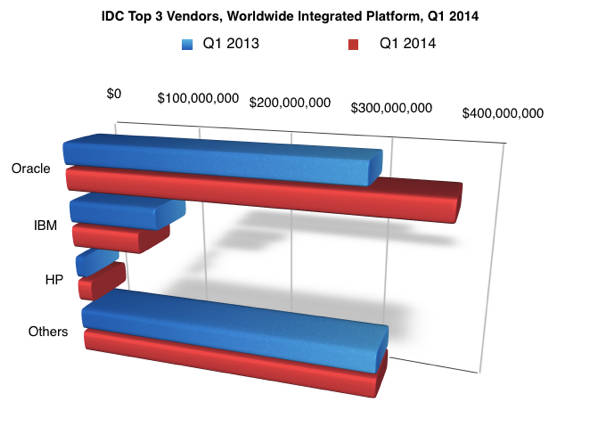 Source: The Register
Oracle's integrated platforms grew 24% during the last quarter, much faster than the anemic 3% growth for the hardware segment.
Oracle's hardware strategy might, after all, turn out to be a big success story. Fiscal 2014 has probably marked an inflection point for the segment's revenue, and it might now enjoy an unbroken run of strong growth, especially with integrated systems doing so well. The segment's gross margin stands at 66%, much higher than HP's 24% corporate gross margin.
MICROS Systems Takeover
Oracle has bought out MICROS Systems, a primary provider of retail and hospital software. The company provides various cloud-based, on-premise and mobile application tools for customers in three main verticals: hospitality, food and beverage and retail.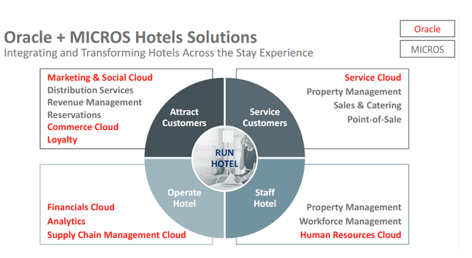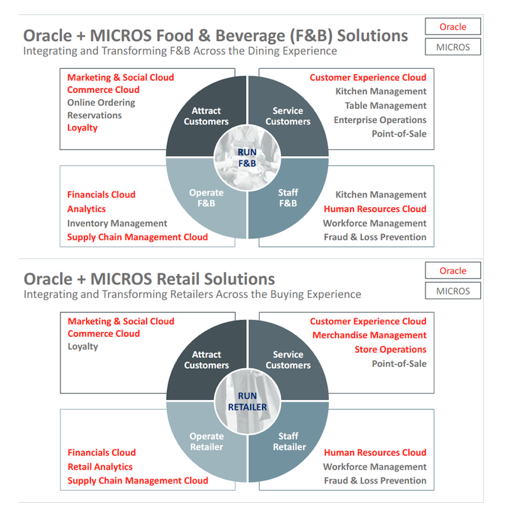 Source: ZDNet
MICROS applications are used in more than 570,000 hotels across the world. The company has a lot of potential to grow Oracle's application software portfolio. MICROS finished fiscal 2013 with $1.27 billion in revenue, with about two-thirds of it coming from the services division. More than half of the company's services revenue comes from recurring service maintenance contracts. The company's revenue growth in fiscal 2012 and 2013 was 10% and 14%, respectively.
Oracle can integrate Micros Systems into a SaaS operation that serves the retail/hospitality vertical. This way the company can access a large prospect base that's widely distributed and exploit a market that can be easily weaned from the on-premise framework. Oracle can also get into other verticals and integrate them into its SaaS platform.
TOA Technologies Acquisition
Oracle recently completed the acquisition of TOA Technologies for an undisclosed sum. TOA Technologies is a top provider of cloud-based field service solutions that are used to optimize enterprise customer service and management functions by coordinating activities between mobile employees, dispatchers and customers. TOA solutions are used in more than 120 million service events in the world each year. Oracle hopes to use the TOA acquisition to strengthen its cloud-based services.
Both MICROS and TOA have the potential to strengthen Oracle's flagging application software revenue that has come under a lot of pressure lately from pure-play SaaS companies such as Salesforce.com (CRFM), NetSuite (NYSE:N), Workday (NYSE:WDAY) and others. Oracle's application software and CRM software segments have continued to underperform the industry, mainly due to the shift from on-premise to cloud-based deployments.
Oracle is trying to position itself into a self-sufficient cloud vendor where it can leverage all its cloud layers (SaaS, PaaS, and IaaS). The company can promote SaaS to cloud operators and at the same time encourage end users to migrate to its cloud using its IaaS and PaaS platforms. Oracle/MICROS and Oracle/TOA can act as the software-overlay supplier. This approach appears better than Oracle trying to become a full-spectrum SaaS provider that builds out its cloud and then populates it with its own applications. Trying to become a full spectrum SaaS provider would entail heavy capital investments, or first cost, as well as considerable time to attain the desired service level. Buying out companies in specific verticals and then integrating them in its SaaS model allows Oracle to get to the market with its products much faster than trying to do everything from scratch.
Conclusion
Oracle's latest spate of acquisitions is targeting companies in verticals that the company can integrate into its new SaaS model. Its MICROS and TOA acquisitions are likely to become accretive to revenue and earnings in the current fiscal year. The real benefits, however, are likely to be felt 2-3 years down the line.
Disclosure: The author has no positions in any stocks mentioned, and no plans to initiate any positions within the next 72 hours.
The author wrote this article themselves, and it expresses their own opinions. The author is not receiving compensation for it (other than from Seeking Alpha). The author has no business relationship with any company whose stock is mentioned in this article.