Intel (NASDAQ:INTC) did not win the contract to supply the processor inside the BlackPhone. The high-margin secure phone from Silent Circle would have contributed a decent amount of money to help reduce the operating losses of Intel's mobile division group.
On a brighter note, Intel's smartphone chips business may reap long-term benefits from Lazada's support for the Asus (OTC:ASUUY) ZenFone.
Lazada, a two-year old private company that has received $436 million in funding from Tesco PLC (OTCPK:TSCDF), Rocket Internet and investors, has the marketing power to make the ZenFone achieve modest success in Singapore, Philippines, Malaysia, Thailand, Indonesia, and Vietnam. Lazada is emerging as the largest online marketplace in South East Asia (NYSEARCA:SEA).
Lazada Is The Leader in SEA E-Commerce
Even the very successful Xiaomi, which only exclusively sells its phones through its own website in China, is using the marketing power of Lazada to sell the Mi 3 and Redmi 1S handsets to South East Asian customers.
The charts below illustrate why Lazada is rapidly becoming the Amazon (NASDAQ:AMZN) of South East Asia.
Source: kinnevik.se
The most powerful marketing tool of Lazada is its Cash-on-Delivery (COD) strategy that allows customers without credit cards to purchase products. The large COD delivery network of Lazada over the five SEA markets gives Asus access to millions of potential buyers.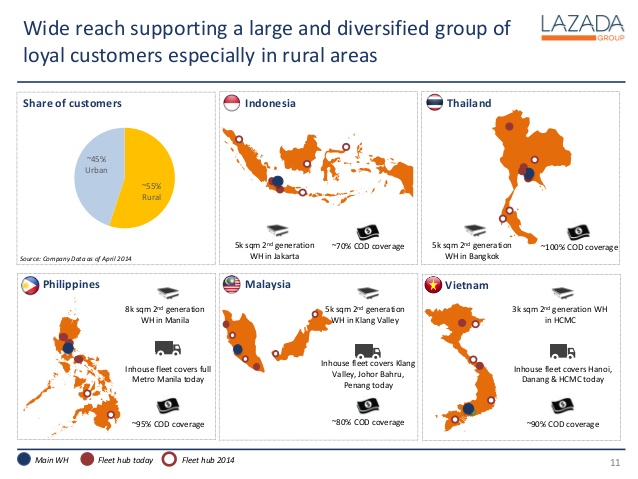 Source: kinnevik.se
Smartphone Sales in SEA Are Rising Faster Than in Europe Or The U.S.
Asus has little chance of making the ZenFone a success in China. Xiaomi, Lenovo (OTCPK:LNVGY), and Samsung (OTC:SSNLF) already dominate the Chinese market. India is also already saturated by several local and foreign brands. ZenFone is likely to find better market reception in SEA markets than in China or India.
South East Asian countries are posting exponential growth for smartphone sales. Smartphone sales in SEA grew by 61% in Q1 2014. Singapore and Malaysia have higher smartphone penetration rate than the U.S. and Europe. Indonesia, Thailand, Vietnam, and the Philippines have large enough buying population to make an impact to future sales of Intel Atom mobile chips.
In spite of the big surge in 2014 sales, the chart below shows there is still room for substantial increase in SEA smartphone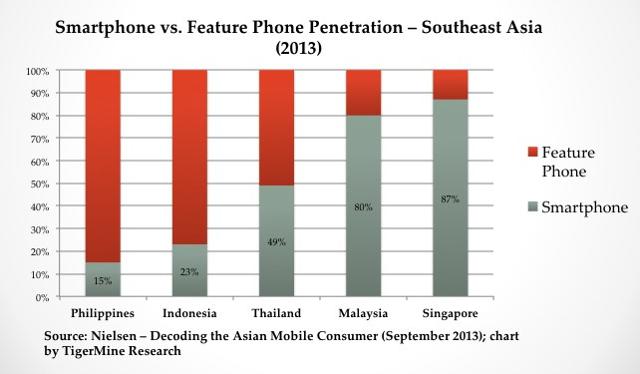 A low-priced ZenFone 4 can help low-income people in the Philippines, Thailand, and Indonesia switch to a smartphone.
Conclusion
No carrier in the Philippines (or in other SEA markets) supports the Intel-powered ZenFone. Lazada is therefore the only major avenue where the ZenFone can find probable success. Lazada is already the third biggest digital advertiser in South East Asia and its exponential growth means it will be an important vehicle for smartphone sales.
The ZenFone 4, 5, and 6 models are all under $200 - a price point that is perfectly suited to the majority of SEA customers. The ZenFone 5 offers the best value for the money. Lazada Philippines is selling the 16GB version of the ZenFone 5 for 6,995 pesos ($158).
The ZenFone 5's large 2GB RAM and 8MP PixelMaster camera makes it a better buy than Samsung's Galaxy Core and Nokia XL. The Galaxy Core and Nokia XL have higher price tags and yet they both only come with 1GB of RAM.
Asian customers will appreciate that the old dual-core Intel Z2560 processor helped the ZenFone 5 scored better benchmark scores than similarly priced Android phones. The ZenFone 5 posted better Antutu score than the Moto G and Samsung Galaxy Grand 2.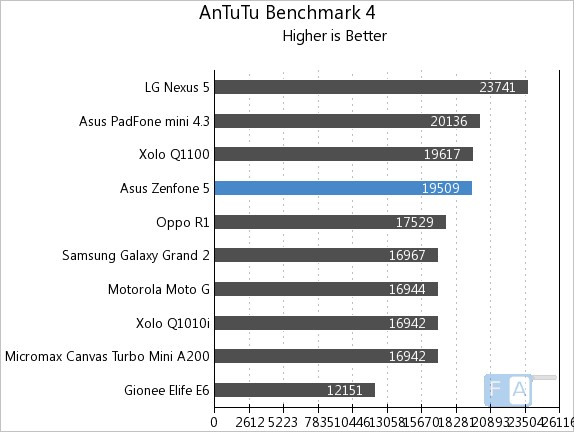 Source: fonearena.com
The chart above should confirm that Intel's upcoming LTE-Embedded SoFIA would match the performance of comparable mobile chips from Qualcomm (NASDAQ:QCOM) and MediaTek.
Contrary to its detractors' claim, Intel makes high quality x86 smartphone chips… and Lazada is helping Intel sell more of them.
INTC is a BUY.
Disclosure: The author is long INTC.
The author wrote this article themselves, and it expresses their own opinions. The author is not receiving compensation for it (other than from Seeking Alpha). The author has no business relationship with any company whose stock is mentioned in this article.
Editor's Note: This article discusses one or more securities that do not trade on a major U.S. exchange. Please be aware of the risks associated with these stocks.