Two companies that I've had on my watch list for a while have recently fallen to a point where I've decided to revisit them. Both being Chinese companies, they were seemingly expensive for quite sometime regardless of their intriguing business models and market potential. Here are two Chinese medical companies to consider for your watch list or portfolio along with my bull/bear cases.
Mindray Medical (NYSE:MR)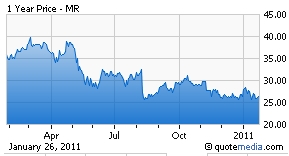 After adjusting the share price downward to reflect the company's net cash position of around $3.50 per share, I calculate that Mindray Medical is selling for about 14 times its forward EPS. Considering this company's impressive operations history and outstanding growth prospects as a Chinese maker of medical devices, this seems like a deal.
China has recently began upgrading their medical equipment and facilities and over 80% of their medical infrastructure is still from the 1980's. Domestically, the company has bright long-term prospects and its international push has proven more successful than previously anticipated.
As to the quality of the company, its market cap is around $2 Billion with Price Waterhouse Coopers as their auditor. Although they don't follow GAAP, outright fraud is severely unlikely.
Some quick reasons to consider investing:
Management has done a great job managing efficiency while ensuring quality. Mindray's products are consistently 10%-30% cheaper than competitors (GE and Phillips (NYSE:PVH)). Budgetary pressures on hospitals and clinics

may actually improve earnings.




Mindray has diverse revenue streams. The firm operates multiple strong product lines and has introduced eight new products per year since 2002.

Reasearch and development remain strong as new, higher-ticket products come on line in 2011 and 2012.




Management has done a great job of growing organically and by acquisitions. The company's purchase of Datascope gives them tremendous access and exposure to the North American market, where prospects are undervalued.
China Medical Technolgies (CMED)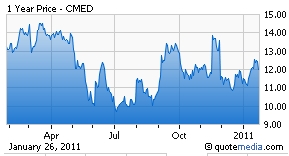 Less diverse than Mindray, CMED is more of a pure-play on the domestic Chinese medical market. With less products, CMED develops, manufactures and markets primarily in-vitro diagnostics products to detect & monitor various diseases & disorders. If you are able to research their products further, CMED may offer some interesting potential.
Trading near book value, insiders have bought nearly $200 thousand worth of the ~$300 million company over the past few months. With a short float of around 22%, it may also be a ripe candidate for a short squeeze.
Two things that popped out to me were:
China Medical continually expands its product offering, attempting to attract mid-sized hospitals to its devices. Their products still have a slight pricing edge, but it's up to management to push the company forward. Everything else aside, I'd prefer Mindray's management team any day.
The company has also recently attempted a slight change in their business model, going to a more disposable razor format. Their products have increasingly focused on consumables and disposables, leaving them with repeat sales and budget relief for stressed hospitals. Mindray, however, focuses more on larger ticket, permanent devices.

Disclosure: I have no positions in any stocks mentioned, but may initiate a long position in MR over the next 72 hours.