It's important for long-term investors to develop a guide for doing their investment research. Over the years I have developed questions to guide me in my thinking when researching the publicly traded universe. It's especially important when considering under covered small cap companies. With that said, let's talk about Village Super Market (NASDAQ: VLGEA).
1.) What does the company do?
When you buy shares in a company you effectively become part owner of that company. Therefore, it's important for an investor to understand what a company sells.
Village Super Market operates 29 grocery stores under the name ShopRite in New Jersey, Maryland, and northeastern Pennsylvania. Interestingly, Village Super Market is the second largest member of the Wakefern Food Corporation according to its latest 10-K. The cooperative provides the company the purchasing scale of larger corporations.
2.) What do the fundamentals look like?
Investors should also look for companies that grow revenue and free cash flow over the long-term and retain some of that cash for reinvestment back into the business and for economic hard times. Excellent revenue and free cash flow growth serve as catalysts for superior long-term gains.
Village Super Market's fundamentals reside a little in the lackluster range (see charts below). Revenue, net income, and free cash flow increased 17%, 2%, and 94% respectively over the last five years. Shareholders experienced a total return of 0.99% vs. 112% for the S&P 500.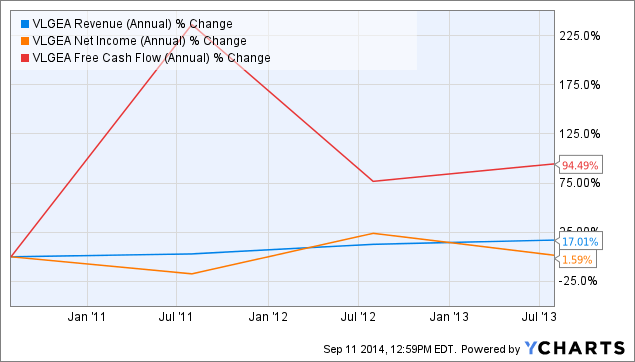 VLGEA Revenue (Annual) data by YCharts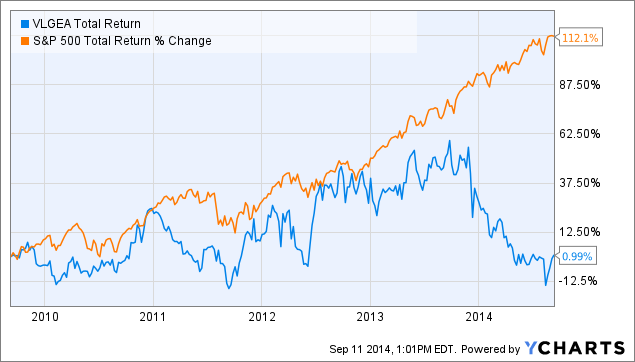 VLGEA Total Return Price data by YCharts
Store expansion and same store sales increases contributed to the growths in revenue. The small expansion in net income over the last five years can be attributed to competitive pricing and increased administrative expenses. The five year expansion in free cash flow partially stems from relatively lower capital expenditures between 2010 and 2013 vs. 2009. However, Village Super Market has been upping capital expenditures steadily since 2011 due to remodels, technology investments, and square footage expansion (see chart below).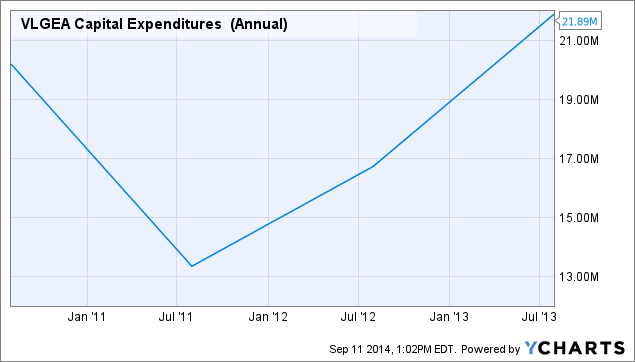 VLGEA Capital Expenditures (Annual) data by YCharts
Village Supermarket isn't doing so well so far this year. Year-to-date revenue increased 2%. However, it turned a year-to-date net loss vs. net income the same time last year. Village Super Market is also free cash flow negative vs. having a positive free cash flow this time last year. Revenue increased due to the opening of a replacement store. Village Super Market turned a net loss due mainly to an unfavorable tax ruling. Price cuts also hampered profitability growth. Increased capital expenditures due to investment in expansion and remodeling accounted for the negative free cash flow.
Village Super Market sports a rock solid balance sheet. Village Super Market's cash balance of $73.4 million equates to 31% of stockholder's equity. It currently possesses no long-term debt. Long-term debt creates interest which chokes out profitability and cash flow. Investors should always look for companies with long-term debt to equity ratios of 50% or less.
Village Super Market pays a dividend. Last year, it paid out 83% of its free cash flow in dividends which resides a little in the high range. Like long-term debt, investors should look for companies that pay 50% or less of their cash flow in dividends. Currently the company pays its publicly traded Class A shareholders $1.00 per share per year in dividends yielding 4.2% which appears to be an unsustainable rate over the long term.
3.) How much management-employee ownership is there?
Investors should always look for businesses where the managers and/or employees own a lot of stock in the company. Managers with a great deal of stock in the company will take better care to maximize company profits which will enhance share price and their personal wealth along with the wealth of shareholders.
Village Super Market's proxy reveals that the company has a dual capital structure with class A shares having one vote per share and class B shares that have 10 votes per share. With that said, directors and executive officers own 88.1% of the class B shares and 17.9% of the class A shares. Members of the Sumas family, some of which hold executive positions, own 78% of the company's class B shares and 23.6% of the Class A shares, giving the family 68.4% of the combined voting power. James Sumas, the CEO and Chairman of the Board own 25.4% and 0.9% of class B and class A shares respectively. Robert Sumas, President and COO own 20.8% and 1.0% of the class B shares and class A shares respectively. These people definitely have an incentive to see this company succeed.
4.) How does its "Report of Independent Registered Public Accounting Firm" stack up?
Every year a company employs external auditors to audit financial statements and evaluate whether it maintains adequate financial controls. At the conclusion of the audit, you want to see a letter from auditors with the language "unqualified" or "fairly presents" which generally means that the financial statements and internal systems in constructing them were clean or adequate. If you see "qualified" or "adverse" in the auditing letter's language then deeper issues in a company's financial statements may exist.
Village Super Markets' external auditors gave the company's financial statements and its internal financial controls a clean bill of health based on the most recent audit.
5.) What types of risk does it have?
It's always important for investors to weigh the various risks such as exposure to political risk in parts of the world where war is the norm, competitive positioning, and market price risk. All of Village Supermarket's stores are located in the United States meaning that political risk resides in the relatively low range.
Village Super Market operates in a highly competitive landscape with larger scale companies competing for grocery dollars. For example, Wal-Mart (NYSE: WMT) registered operating margins of 5.6% in 2013 vs. 3% for Village Super Market according to Morningstar.
Village Super Market trades at a P/E ratio of 46 vs. 19 for the S&P 500. Its earnings yield comes in at 2.2% vs. 5.4% for the S&P 500 meaning Village Super Market is overvalued based on these measures.
6.) What does its forward analysis look like?
Look for the competition to keep putting pressure on Village Super Market's prices and subsequently its profitability over the long-term. Dividend sustainability may be an issue leading to cuts and variations as it has in the past. Long-term investors could take solace in its cash heavy balance sheet to get it through hard times. However, new investors may want to take their investing dollars elsewhere.
Disclosure: The author is long WMT.
The author wrote this article themselves, and it expresses their own opinions. The author is not receiving compensation for it (other than from Seeking Alpha). The author has no business relationship with any company whose stock is mentioned in this article.