So far in this series, I have covered SeaWorld's (NYSE:SEAS) revenue, margins and large expenses in an effort to help investors understand SEAS' business more clearly. Bearish sentiment on the stock reached extreme levels following the acknowledgement from the company that the 'Blackfish' documentary had taken a significant toll on traffic to its parks. This emotional selloff that saw the stock lose a third of its value in one day was overdone and I'm trying to bring some clarity and facts to the situation so that investors can make an informed decision about whether or not to own the stock. In this article, we'll take a look at SEAS' free cash flow and capital expenditures to see how SEAS is doing generating cash and what kinds of investments are needed to run its business.
As with the other articles, all data used here came from company SEC filings.
We'll begin with SEAS' free cash flow as that is an extremely important measure for most businesses. GAAP accounting allows for manipulation of the income statement and earnings management, which is all perfectly permissible, but the statement of cash flows and FCF are hard to tinker with. Thus, it gives us a pretty good picture of what the business is producing exclusive of the noise that GAAP accounting provides.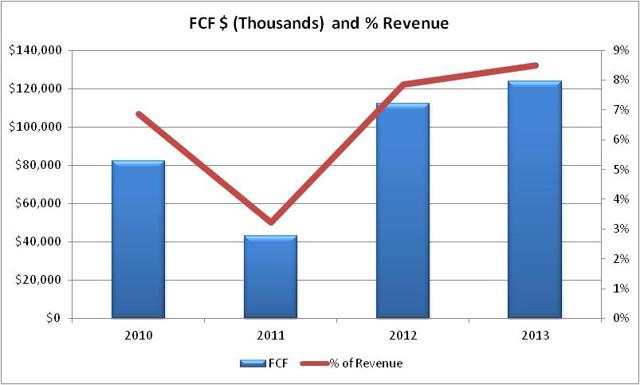 Here we can see that SEAS has seen its FCF increase quite rapidly in 2012 and 2013 following a very disappointing 2011. The company produced about $125 million in FCF last year, or around 8.5% of its revenue. That's pretty strong as it means that SEAS has the firepower to invest in projects it needs to, pay dividends and buy back stock, all of which are things it is actively doing at this point. It is also quite encouraging that SEAS is able to grow its FCF as a percentage of revenue each year, gaining some scale and keeping more of the revenue it generates.
One of the biggest components of FCF for SEAS is capex as it is obviously a capital-intensive business. The company has animals to care for, enormous amounts of land and structures to pay for and upgrades to existing parks to make. This means that SEAS spends a lot of money every year on capital expenditures, as we'll see now.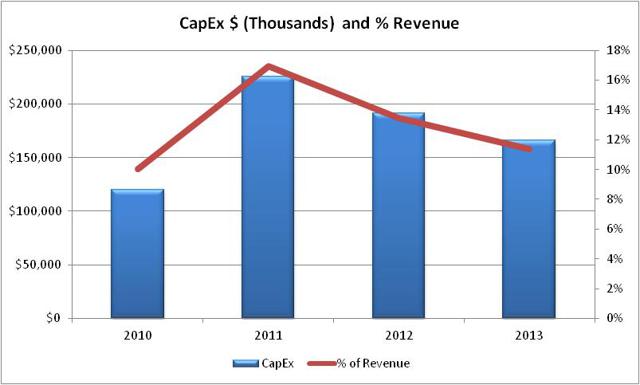 We can see here that capex spiked in 2011 which, if you recall, was the year that FCF hit its trough. This makes sense as the enormous amount of spending, about $225 million worth, crushed FCF that year. However, more normalized capex has resulted in higher FCF in the past two full years. And if you notice, capex has been coming in at 12% to 16% for the past three years and while this is sustainable, I'd like to see SEAS gain some scale here. Having capex come in at 16%+ year after year will take a toll on the company's ability to pay dividends and buy back stock so I'd like to see it come down without sacrificing care of the animals or parks in the process; that's a tall order for sure.
This has been further complicated by the announcement that the company will be upgrading its orca habitats in the near future as a result of the fallout from the 'Blackfish' documentary. The company has only given a rough estimate of the cost and it is huge; hundreds of millions of dollars. This is a lot of money for a company that produces $120 million in FCF in a year and as a result, depending on the final cost and how long it takes, I'd expect SEAS to see a significant increase in capex and decrease in FCF for the foreseeable future. SEAS will still need to invest in its business but will have this cost on top of that, reducing FCF in the process.
Time will tell how bad the damage is but for now, I'm not worried as SEAS can fund the gap with debt or FCF for the time being. The important thing is that the orca habitats are safe for the animals and that the guest experience is enhanced by the upgrades, investing in the business for the future. We'll have to wait and see the damage to FCF but with fundamentals improving, I'm hopeful that the company's build in FCF going forward can absorb the costs as the business continues to grow.
In the final article in this series, I'll wrap it up and take a look at SEAS' bottom line.
Disclosure: The author is long SEAS.
The author wrote this article themselves, and it expresses their own opinions. The author is not receiving compensation for it (other than from Seeking Alpha). The author has no business relationship with any company whose stock is mentioned in this article.