We recently wrote about dividend stocks in the restaurant industry that might make attractive value investments. In this article, we want to look at more growth-oriented restaurant stocks that have shown strong EPS growth over the past 5 years to see if we can find any that would make attractive investments.
Our criteria for the screen was to look at companies with positive Return on Invested Capital that had greater than 5% annual revenue growth and greater than 15% annual EPS growth over the last 5 years. Our screen returned the following 4 stocks: Buffalo Wild Wings, Inc (BWLD), Chipotle Mexican Grill, Inc (NYSE:CMG), Famous Dave's of America, Inc. (NASDAQ:DAVE), and Nathan's Famous, Inc (NASDAQ:NATH).
Using our software to calculate each stock's discount to intrinsic value, we get the following: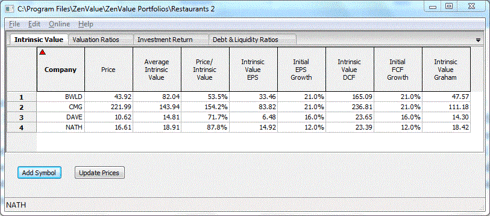 CMG is the one stock that is trading at a hefty premium to our calculated intrinsic value, while BWLD and DAVE are trading at a 45% and 28% discount to their intrinsic value respectively, passing our criteria of 25% margin of safety or greater.
Further investigation into these stocks shows the valuation ratios to be the following: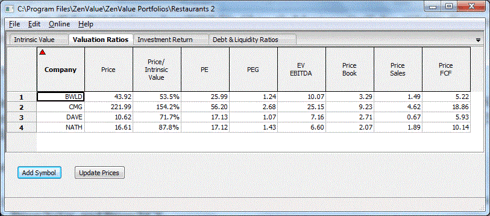 DAVE again passes the most value criteria on this screen: PEG close to 1.0 and competitive values on EV/EBITDA, Price/Sales, and Price/FCF. BWLD might be judged next in value with slightly higher numbers in all of these ratios.
The return on investment page shows the following: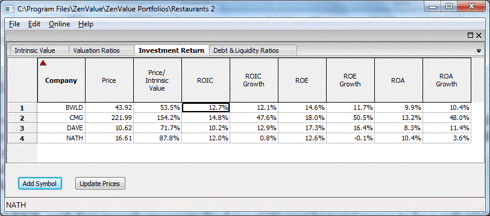 In this group of stocks, all have ROIC less than our target of 15%. However, CMG and BWLD do show improving returns over the last 5 years, and may achieve 15% if the trend continues.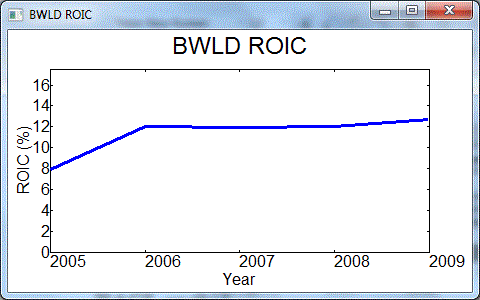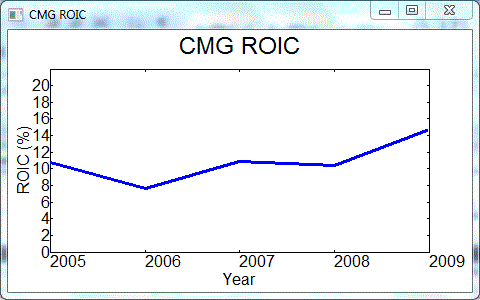 The debt and liquidity analysis shows the following: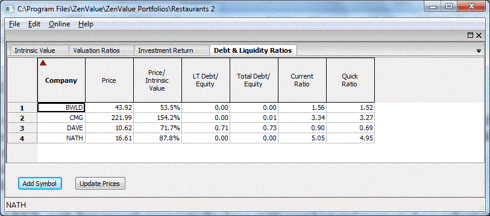 DAVE is the one stock that is holding significant debt. All others have kept their debt levels over the last 5 years at or close to 0, and thus have healthy current ratios well above 1.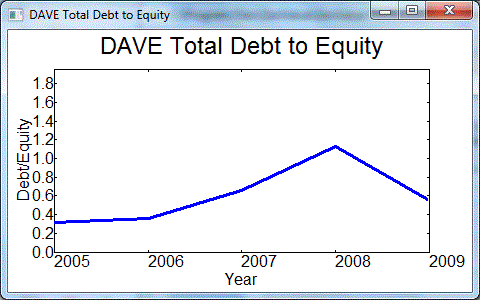 Based solely on these fundamentals and intrinsic value calculations, in our opinion, BWLD has the most attractive combination of returns on investment, low debt, and discount to intrinsic value of these restaurant stocks.
Disclosure: I have no positions in any stocks mentioned, and no plans to initiate any positions within the next 72 hours.