Copa Holdings (NYSE:CPA), through Copa Airlines and Copa Airlines Colombia, operates the leading Latin American commercial aviation service. Being founded in 1947, it has a long and successful history and, even more important, a working business model and a goal to reinforce its current status as market leader.
Strengths
Operating out of the Tocumen International Airport in Panama City, the company is geographically well-positioned to service its main markets in the South, Central, North America and the Caribbean region. Also the mild weather and low sea-level altitudes of Tocumen International Airport allow Copa Airline's fleet of 90 aircraft to operate without performance issues. Panama is an excellent location to operate an aviation service as it has been and still remains an important gateway for international commerce and tourism. The number of foreign visitors grew over 7% annually between 2011 and 2012, reaching 2.2 million, which is quite extraordinary considering the population of Panama is only 3.5 million.
Copa Airlines has been focusing on expanding its profit margins and has done it successfully with last quarter operating revenue per available seat mile (RASM) increasing 1.9% to 14.2 cents and costs decreasing 1.5% to 10.7 cents. Operating margin sits at comfortable 23%, which is quite high compared to its peers. Some of it can be contributed to low labor costs in Panama.
Copa Airlines is well-positioned to take advantage of the growing tourism industry in Latin America. According to Inter-American development bank, international tourism receipts in the region have increased by 50% during the last decade.
Fundamentals
The 12 months trailing P/E ratio is currently at 12, nothing extraordinary compared to general market and industry. But forward P/E is expected to be somewhere around 10.9. Considering that the earnings estimates have been either on the mark or conservative compared to real results for the last four quarters, I am quite convinced the estimates hold water.
Dividend
The company pays a dividend of $3.84, which results in a yield of slightly over 3%. Compared to the historical average of 2.18%, the stock is currently quite attractive buy. However, one needs to be cautious as dividend payout started as early as 2006. On a positive note, the company continued to pay and even increased dividends during the 2008/2009 recession. Also the payout ratio remains at healthy 49%.
Solvency
Another metric I like to look to determine the quality of the company is the debt/equity ratio. This determines if the company is capable of long-term growth. Currently, debt to equity sits at 0.5. More importantly the trajectory is downward, meaning the company has been paying off debt.

Source: Ycharts.com.
Technicals
Price is currently at the bottom of a one-year range. The long-term trend is very bullish. MACD is showing bullish divergence and momentum. I am keeping my eye on the $120 level for likely support as the price has held above for four previous attempts to break through.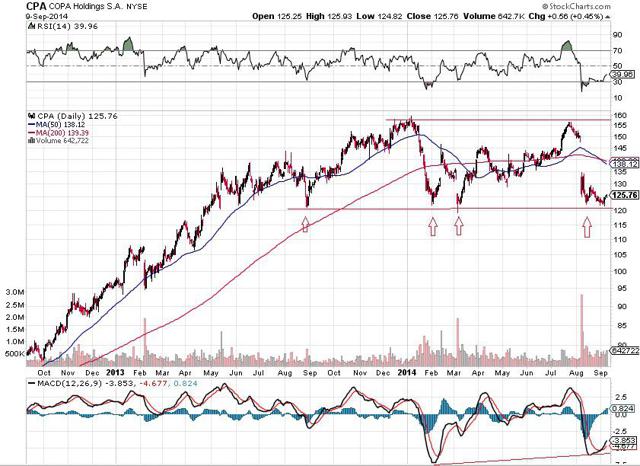 Conclusion
Copa Holdings is a great company with long history and an attractive investment at current levels, as Latin American tourism keeps growing and company management has shown that adding stockholder value is their priority.
Disclosure: The author has no positions in any stocks mentioned, and no plans to initiate any positions within the next 72 hours.
The author wrote this article themselves, and it expresses their own opinions. The author is not receiving compensation for it (other than from Seeking Alpha). The author has no business relationship with any company whose stock is mentioned in this article.