Investors have four ETF options in the pharmaceutical sector with sufficient assets and trading volume. Which one is the best of the bunch? It turns out they all have unique properties, but one stands out from the pack due to its outperforming the group.
PowerShares Dynamic Pharmaceuticals (NYSEARCA:PJP)
PJP tracks the Intellidex index, one of the first "smart" indexes in the ETF market. The fund passively tracks the index, by criteria such as growth, valuation and momentum.
SPDR S&P Pharmaceuticals (NYSEARCA:XPH)
XPH tracks the S&P Pharmaceuticals Select Industry Index, a market cap weighted index.
iShares U.S. Pharmaceuticals (NYSEARCA:IHE)
IHE tracks the Dow Jones U.S. Select Pharmaceutical Index, which is a "float-adjusted market capitalization subject to caps on the weights of the largest securities."
Market Vectors Pharmaceutical (NYSEARCA:PPH)
PPH tracks the Market Vectors US Listed Pharmaceutical 25 Index, which takes the 50 largest pharma companies and then selects the top 25 by free-float market capitalization.
Cheapest Fund
The cheapest funds are XPH and PPH, with expense ratios of 0.35 percent. IHE is not far behind at 0.46 percent; PJP is relatively expensive at 0.63 percent.
Income
For investors looking for income, PPH leads the pack with a 1.75 percent 30-day SEC yield. IHE yields 1.05 percent; XPH yields 0.70 percent; PJP yields 0.48 percent.
Diversification
Of the four funds, XPH is the most diversified across its holdings. It has 34 holdings and equally weights them, with the largest holding currently Salix Pharmaceuticals (NASDAQ:SLXP). It also has assets pretty evenly split across large, mid and small cap. This gives XPH the smallest average market capitalization of that group at $8 billion.
There are two main differences between PPH and IHE. First, PPH holds foreign drug makers such as Novartis (NYSE:NVS) and Sanofi (NYSE:SNY). In total, 40% of PPH's portfolio is overseas, versus the domestic portfolio of IHE. Second, PPH is a mega cap fund, with an average market cap above $100 billion. IHE has some mid- and small-cap holdings that reduce its average market cap to $24 billion.
Both PPH and IHE weight their holdings similarly. PPH has 61 percent of assets in its top 10 holdings and IHE has 63 percent.
PJP is diversified across its holdings, with 5 percent of assets in top holding Pfizer (NYSE:PFE) and 2.94 percent in Salix Pharmaceuticals. Since PJP uses a "smart" index, the portfolio can change substantially at each rebalancing. Currently, PJP has very little in mid-caps, about 30 percent in small-caps and the rest in large caps, giving it an average market capitalization of $20 billion.
Performance
Three of the pharma ETFs have histories going back more than 8 years. PPH changed its index in 2011 (it was formerly the Pharma HOLDRs).
Here's what the long-term performance looks like for the other three funds, starting from the end of 2006.
PJP is the clear winner, followed by XPH and then IHE.
Since inception in late 2011, here is how all four have performed.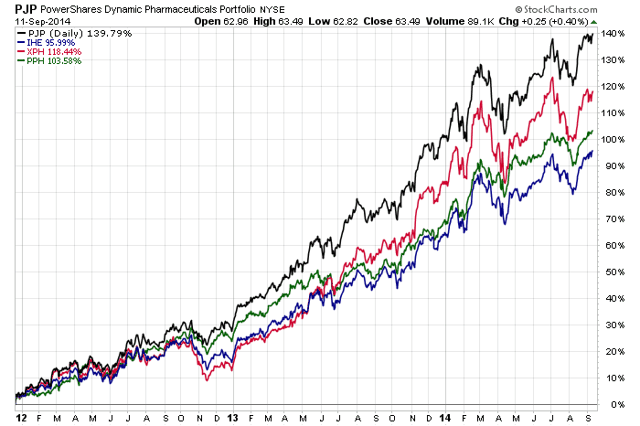 When evaluating a "smart" index like PJP, performance is one of the major criteria because the portfolio can change substantially over time. PPH will still be a mega cap fund with a large allocation to foreign pharma stocks in future and IHE will still be domestic, while XPH will still have its equal weight approach that delivers a lot of mid- and small-cap exposure. If mega cap pharma stocks lead the market, PPH should lead and XPH should trail. When the trend reverses, relative ETF performance will reverse with it. For example, it's clear in the second chart that small cap weakness in March, April and July of this year hurt XPH.
With PJP and other "smart" indexes, there's no way to know what the portfolio will look like in several months time, let alone several years. Either the index works, and outperforms, or it doesn't. Given the track record of PJP, it appears the Intellidex strategy works in the pharmaceutical sector.
PJP is not flawless though. During the bear market of 2008 and even several months into the recovery in 2009, PJP lagged the other funds by a significant margin. It may be that the price-momentum factors did not serve the model well, but whatever the reason, PJP has underperformed for an extended period.
Conclusion
Investors have four options in the pharmaceutical space and all four have something to recommend them. XPH offers the most small-cap exposure and its equal weight approach is good news if one of those small-caps hits a homerun; XPH is also among the cheapest funds.
PPH is tied for being the cheapest with XPH. It offers mega cap, global exposure to the pharma industry, with the highest yield of the group.
IHE delivers domestic pharma exposure with a portfolio more diversified by market capitalization than PPH.
PJP offers a "smart" index strategy for passive investors who don't want to analyze which of the other three funds are best positioned to outperform in the next year. However, given its track record, which of course does not guarantee future results, PJP also makes a strong argument that it is the best of the group for long-term investors.
Disclosure: The author has no positions in any stocks mentioned, and no plans to initiate any positions within the next 72 hours.
The author wrote this article themselves, and it expresses their own opinions. The author is not receiving compensation for it (other than from Seeking Alpha). The author has no business relationship with any company whose stock is mentioned in this article.