One of the stories that has come up repeatedly in the markets over the past year is that of wheat. Wheat prices rose sharply in 2010, and the trend has been continuing thus far in the early part of 2011. Let's take a closer look at the overall factors.
From my vantage point, there seem to be five main factors:
Climate crises. Massive fires in Russia and water shortages in China have contributed to a decrease in wheat production from those areas.
Growth of a middle class in emerging market economies, which translates to growth in demand for agricultural commodities.
The inflationary monetary policies

of many of the world's central banks -- i.e. the "currency wars" -- have contributed to rising food prices.

From the perspective of many forms of cycle analysis, we are in a bull market in commodities that started around 2000 and will last for 15-20 years.

As prices have risen due to the aforementioned factors, momentum-oriented funds and panic buying/hoarding push prices up further.
In terms of technicals, a cup and handle formation is in the midst of unfolding in wheat -- see the chart below (via tradermax).
In terms of ETNs, JJG is composed of three underlying futures contracts in wheat, corn, and soybeans. Technically we see that JJG is coming up to its 50% Fibonacci retracement level and is in a price channel on the weekly chart. I suspect JJG will go back to the highs it reached in 2008, though I would likely want to see a pullback to the lower part of the channel and ideally the bottom trendline before entering.

[Click to enlarge]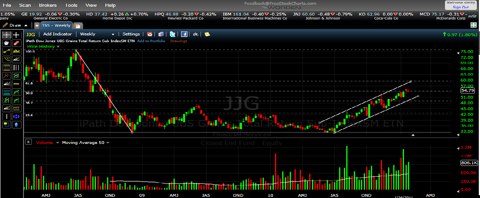 Disclosure: I have no positions in any stocks mentioned, and no plans to initiate any positions within the next 72 hours.