One of the most important investing rules is to recognize a new trend at its early stage. In my opinion, presently U.S. refineries are gaining a competitive advantage over their rivals, especially those located in Europe. Many of them, mainly the refineries located in the Mexican Gulf and on the eastern coast of the United States, export their products abroad, mostly to Central/South America and Europe. The chart below illustrates this thesis:
In thousands barrels per day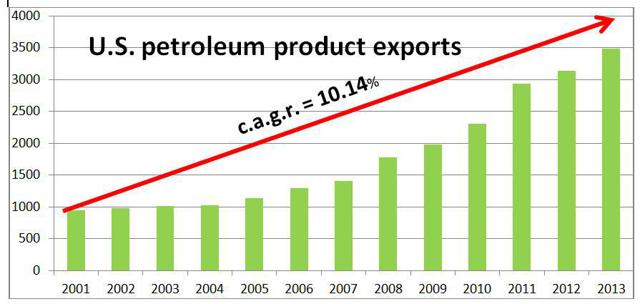 source: EIA
Assuming that the U.S. shale boom started in 2005, since then U.S. exports of refined petroleum products have been growing at the rate of 13.26% annually.
The main petroleum product exported by U.S. refineries is diesel oil. Diesel makes 33% of U.S. petroleum product exports (see the chart below).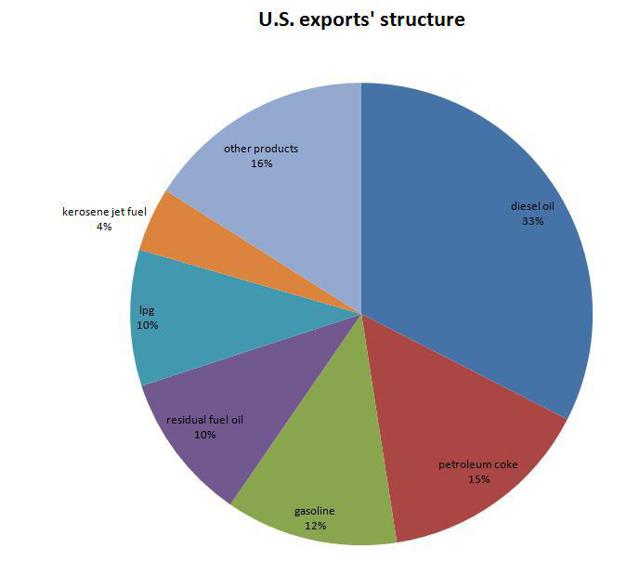 source: IEA
Since 2005, diesel exports have been growing at the rate of 26.37% per year. Diesel has been mainly exported to Central/South America (61% of total diesel exports in 2013) and Europe (33%). Another product, gasoline, is exported mainly to Central/South America (86% of total gasoline exports in 2013) with practically no exports to Europe.
Here is a main point of my thesis: all those petroleum products have to be moved from the United States to their destinations. And the only way to do it efficiently is to transport them by water.
Product tankers
To do it, special vessels, called "product tankers", have to be used. What are product tankers? Product tankers are built to transport refined oil products from the oil refinery to another refinery or to the end user. Product tankers are characterized by having coated tanks to prevent corrosion from the refined products and to facilitate cleaning of the tanks. These vessels are classified in two segments: MR (medium range vessels) and LR (long range vessels).
In my opinion, the companies having product tankers should have a lot of work to do in the coming years. The growth in U.S. petroleum product exports creates new trade routes. For example, for many years European refineries have been exporting gasoline to the United States. These days the United States does not need to import this product from Europe anymore because it has plenty of its local gasoline. But due to regulations imposed by the European Union, Europe shifts its demand from gasoline to diesel oil, which has to be imported (European refineries are not configured to provide sufficient quantities of this fuel). This demand is filled by U.S. refineries. In this way, a new route has been created with diesel oil being shipped from North America to Europe. What is more, the current trade between the United States and Europe is larger than before. In 2006, at its peak, 267 thousand barrels of gasoline per day were shipped from Europe to the United States. But in 2013 as much as 373 thousand barrels of diesel per day were exported from the United States to Europe. In the medium term, this larger trade should have a positive impact on revenues received by shipping companies.
Another example of these secular changes in the international trade is a route from the United States to Central/South America. U.S. exports of gasoline to that region increased from 132 thousand barrels per day in 2005 to 362 thousand barrels per day in 2013 (the growth rate of 174%). Diesel oil exports increased even more. In 2005, U.S. refineries were exporting 115 thousand barrels of diesel oil per day, while in 2013 the export figures jumped to 682 thousand barrels per day (the growth rate of 493%).
What about supply of product tankers? Navios Acquisition provides the data illustrating the development of the product tankers' fleet since 2010:
| | | | | | | |
| --- | --- | --- | --- | --- | --- | --- |
| millions dwt | 2010 | 2011 | 2012 | 2013 | 1H 2014 | c.a.g.r. |
| fleet size, including: | 121.8 | 126.2 | 128.7 | 131.5 | 133.4 | 2.65% |
| deliveries | 11.0 | 7.1 | 5.9 | 5.4 | 2.7 | |
| scrapping / removals | 5.2 | 2.7 | 3.4 | 2.6 | 0.8 | |
| net growth | 5.8 | 4.4 | 2.5 | 2.8 | 1.9 | |
source: the company's presentation (August 19; page 24)
As the table shows, between 2010 and the first half of 2014, the fleet's tonnage was going up by 2.65% a year. It is much less than 14.7%, which is the growth rate of U.S. petroleum product exports between 2010 and 2013. Clearly, demand (exports) is stronger than supply (fleet's size) so the product tankers segment should perform well if these trends hold.
These developments should have a positive impact on product tanker charter rates. If I am right, these rates should go up or at least stand firm. What is more, the product tanker business looks less risky than crude oil segment. To illustrate this thesis, I will compare the trends in spot rates recorded by these two segments. The chart below shows the average spot rates for crude oil (VLCC - the biggest crude oil tankers in the industry) and product tankers: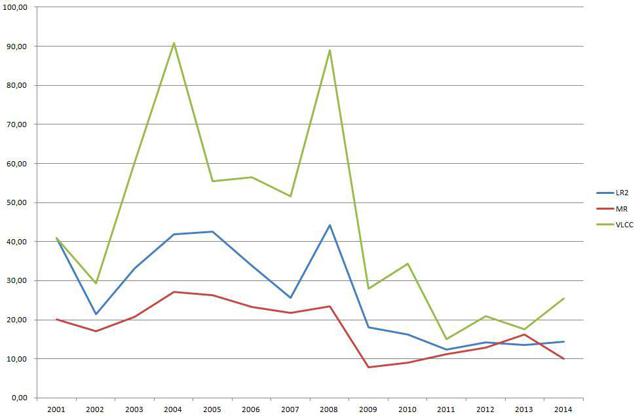 source: Simple Digressions
As can be easily spotted, since 2008 all rates have been going down. In 2009, the MR product tanker rates made their bottom. VLCC and LR rates made their bottoms in 2011. Since then, the spot rates have stalled. But the most interesting thing is the fact that the product tanker rates are less volatile than VLCC rates. To illustrate it, I have calculated the charter rates' variance for all segments (the formula for calculating variance: the average charter rate recorded in a given period of time divided by the standard deviation of charter rates in this period of time). The results are as follows:
| | |
| --- | --- |
| segment | variance |
| MR | 37.1% |
| LR | 46.3% |
| VLCC | 55.8% |
source: Simple Digressions
As the table shows, the MR and LR charter rates are less volatile than the VLCC rates. And if something is less volatile it is more predictable. Then it is less risky. And that is a point. Petroleum product segment of the tanker business is less risky than its crude oil segment.
Navios Maritime Acquisition Corporation
The growing U.S. exports of petroleum products create new possibilities for shipping companies owning product tankers. In my opinion, Navios Maritime Acquisition Corporation (NYSE:NNA) is a product tanker company, which is well positioned to benefit from emerging developments. Nearly one year ago, in an article of mine, I expressed my doubts about the company. At that time, one of the biggest problems the company was facing were high management expenses, which NNA was paying for its daily fleet management. I also stressed that these problems could become advantages if charter rates went up.
Today, the company's share prices are 5% lower since my last publication. But presently, due to the above described positive developments in the product tanker segment, I think that Navios Maritime Acquisition is in a better position. What is more, the way the company pays management fees to its manager should strengthen NNA's bottom line.
But before going any further, I would like to provide some facts about the company.
Navios Maritime Acquisition is an owner and operator of tanker vessels focusing on the transportation of petroleum products, bulk liquid chemicals and crude oil. At the end of the second quarter 2014, the company owned eight LR1 product tankers, fifteen MR2 product tankers, four chemical tankers and eleven VLCC crude oil tankers. Apart from these thirty eight vessels on the water, six MR2 product tankers were to be delivered no later than in the fourth quarter of 2015. The fleet consisting of product tankers and chemical tankers is very young - most vessels were built in 2012 and 2013. This is a big plus for the company - the fleet is modern and energy efficient.
The crude oil tankers are older than product tankers - most of them were built between 2001 and 2003, but five tankers are relatively young (built between 2009 and 2011).
The majority of the company's vessels operate under time charter agreements; most of these contracts also have profit sharing arrangements. While time charters make the company's cash flows predictable, profit sharing arrangements increase operating cash flows when charter rates are going up.
In recent years, the company has been building its fleet. Vessels have been acquired on the second hand market or built in shipyards. In 2010, Navios Maritime Acquisition had 10 vessels on the water. At the end of this year, it plans to own 42 vessels. These vessels have been acquired during the industry's downturn years so the company has benefited paying relatively low purchase prices. Since 2010 it has spent $1,340 million on vessels' acquisitions. These purchases were financed by:
$470 million - equity offerings
$659 million - bank debt
$165 million - cash flow from operations
$46 million - cash at hand
I think it should not be a surprise that the fleet's growth was financed by external sources (shareholders, bondholders and banks put $1,129 million into the company). During hard times, when there is a limited demand for shipping services, the charter rates are low and cash flow from operations is usually not sufficient to finance the development of any new entity (NNA is quite a new company - it started its operations in 2010), hence so much external sources of financing.
But when times are good, cash flow from operations will be a main source of capital for the company.
Financial results
The table below illustrates the company's results: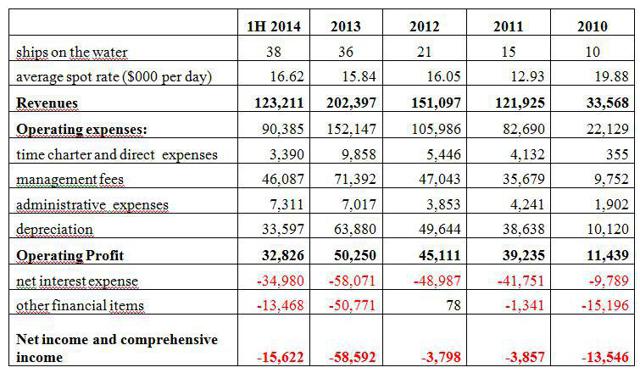 source: Simple Digressions
Although the average spot rates have stalled since 2012, NNA's revenues were growing each year, mirroring the growth of the company's fleet. The operating profits were following revenues. Unfortunately, management fees and administrative expenses were weighing down the company's results. For example, between 2011 and 2013 the NNA's revenues went up 66% while the operating profit increased only by 28%.
Digression: Navios Maritime Acquisition outsources the daily management of its fleet to one of the subsidiaries of Navios Holdings (a parent company for NNA). Here is an excerpt from the management agreement (daily prices paid to the Manager are updated according to amendments to the general agreement): "Pursuant to the Management Agreement dated May 28, 2010, the Manager provides commercial and technical management services to Navios Acquisition's vessels for a daily fee of $6,000 per owned MR2 product tanker and chemical tanker vessel, $7,000 per owned LR1 product tanker vessel and $9,500 per owned VLCC vessel for the first two years. This daily fee covers all of the vessels' operating expenses, other than certain extraordinary fees and costs."
As I mentioned earlier, due to the fact that management fees are fixed, they are weighing down the company's results when charter rates are low (presently). But when charter rates go higher, the fixed management fees will have a positive effect on the company's bottom line (higher revenues and fixed expenses mean higher operating profits).
Due to the fact that Navios Maritime Acquisition finances a large part of its fleet's growth through debt financing it incurs high interest expenses. In general, these expenses go up together with the fleet's growth (roughly 70% of a vessel's purchase price is financed by debt).
For example, in 2013 NNA paid $58.4 million to the banks as finance expenses. These expenses, together with low charter rates, are one of the main reasons that the company makes a loss.
Apart from interest expenses, NNA has to pay loan installments. If the company was not able to pay these installments, it could go bankrupt. I regard such a situation as highly unlikely, but nevertheless these payments have an essential impact on the company's cash flow. Below you will find the company's long-term obligations ($1,154 million in total):
December 31, 2015 - $33.7 million
December 31, 2016 - $79.4 million
December 31, 2017 - $70.5 million
December 31, 2018 - 85.3 million
December 31, 2019 and thereafter - $850.8 million
My forecasts
Revenues
According to the latest updates, due to existing long- and medium-term charter agreements, the following revenues are fixed:
2015 - $182.2 million
2016 - $110.3 million
2017 - $53.8 million
2018 - $45.3 million
Revenues assigned to new vessels, which will be acquired in 2014 and in 2015, are also included.
The majority of charter agreements are due to expire in 2015 and 2016. In my forecasts, I have assumed that each charter agreement will be renewed after its expiration. Charter agreements assigned to product and chemical tankers will be renewed at higher charter rates, while those assigned to crude oil tankers will have their charter agreements unchanged (this is my conservative stance that there will be no spectacular growth in this segment). If my theory of a growing demand on product tankers is right, product tanker charter rates should go higher. I assume that these rates will go up by 10%.
With these assumptions, the forecasted revenues should be as follows:
2015 - $308.3 million
2016 - $326.3 million
2017 - $328.0 million
2018 - $328.5 million
Expenses
Direct operating costs are assumed to stay at the levels reported by NNA in the second quarter 2014 (2.8% of reported revenues). The management fees are calculated in accordance with the management agreement (as a daily fee per owned vessel). Administrative expenses are calculated, similarly to management fees, as a daily fee per owned vessel.
The table below shows the forecasted Profit and Loss account: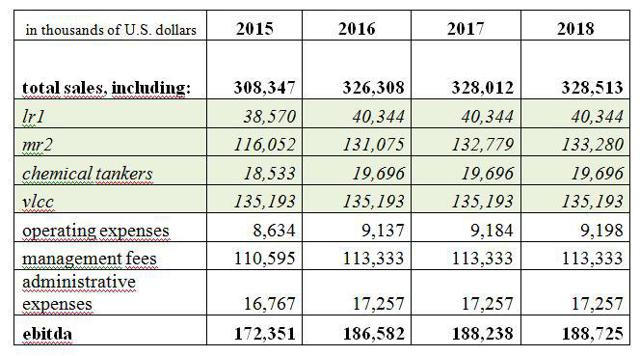 source: Simple Digressions
Valuation
Due to the fact that NNA was incorporated in the Republic of Marshall Islands it pays no income taxes. Therefore, the company's earnings before interest, taxes, depreciation and amortization are good indications of cash flows from operations. To find the company's value, these cash flows and the residual value (the 2018's EBITDA divided by the discount rate) have to be discounted. In my calculations, I am using the discount rate of 8%. After all these mathematical operations I have found that the company's net present value is $2,213.2 million. But it is not the end of calculations. To find the value of equity, the net present value, which is identical to the company's enterprise value, has to be corrected by subtracting the company's debt and adding the company's cash reported at the end of second quarter 2014.
Therefore, the equity value is calculated as: enterprise value ($2,213.2 million) - debt ($1,259.3 million) - debt financing new vessels ($36.9 million) + cash ($69.6 million) - cash financing new vessels ($31.7 million) = $954.9 million.
Because at the end of the second quarter 2014 Navios Maritime Acquisition had 151.7 million shares outstanding therefore the value of one share is $6.30.
Conclusion: assuming that Navios Maritime Acquisition is well positioned for the ongoing boom in the world petroleum product trade, the company's shares are worth $6.30.
This is 86% higher than the last price quotation ($3.39 as of 9 September).
One remark - in my forecasts I do not include the potential benefits of profit sharing arrangements; if product tanker charter rates go up these arrangements will have a positive effect on the company's valuation.
Risk factors
My main assumption is that the two trade routes (the United States - Europe and the United States - Central/South America) will be pushing the demand on product tankers higher. The data provided by EIA support that thesis. In my opinion, only the global crisis of a severe intensity could halt it. But even then the developing trade patterns will not reverse (for example, Europe will be importing diesel oil from U.S. refineries but in lesser quantities; the old pattern - Europe exporting gasoline to the U.S. - is out of the question). In my assumptions, I do not take into consideration a trade between Middle East/Saudi Arabia and China. Although this route has strong fundamentals (growing Chinese demand for crude oil and petroleum products plus higher capacity of Middle Eastern and Saudi Arabian refineries), I conservatively assume that crude oil tanker charter rates will not change. Therefore, the core business of NNA is a product tanker segment.
In 2014 and 2015, a few shipping companies plan to drastically increase their product tanker fleets. For example, Scorpio Tankers (NYSE:STNG) plans to add twenty one MR tankers and eleven LR2 product tankers to its fleet. It means that 2.3 million deadweight tons will be added to the world's product tanker fleet. It is quite a big number (around 1.7% of the overall product tanker fleet), but it is still below the growth rate of U.S. petroleum product exports (13.26% since 2005).
As I have mentioned above, Navios Maritime Acquisition uses high leverage to build its fleet. Between 2016 and 2017, the debt payments are in the range of $70-$85 million a year. If the charter rates go up, as I have assumed, the company will have no problems with paying off its obligations (cash flow from operations of around $170 million a year covers all obligations due). But if charter rates do not go higher in the coming years NNA can face some liquidity problems.
Summary
In my opinion, growing exports of petroleum products from the United States to Europe and Central/South America will have a positive impact on the product tanker business. Navios Maritime Acquisition, owning twenty seven product/chemical tankers (six additional product tankers are to be delivered soon), is well positioned to take active part in this trade. If this scenario comes true, the company's share prices have a considerable potential to appreciate in value. Today, these shares are trading at $3.39 while my estimates value these shares at $6.30.
Disclosure: The author is long NNA.
The author wrote this article themselves, and it expresses their own opinions. The author is not receiving compensation for it (other than from Seeking Alpha). The author has no business relationship with any company whose stock is mentioned in this article.