Editor's note: Originally published on August 17, 2014
Time to discuss a great long-term opportunity that is sure to produce results. We're going to dive right into the Uranium sector today and I'll show you exactly why we can expect to see an increase in stock price.
Following the global financial crisis and disaster at Fukushima in 2011, Uranium stocks plummeted dramatically, but the demand for energy still remains. The big picture here is that renewable energy can't uphold societal energy needs alone and combined with high generating costs, proves it to be inefficient. This leaves Nuclear Energy as the most viable option for large scale production. The benefit of nuclear power reactors is the ability to produce energy at a 91% efficiency rate without emissions. Abundant, affordable energy is a huge priority in a rapidly advancing world and it's coming… FAST!
It's obvious that the world relies on nuclear power as a monumental source for energy. One can argue its inefficiency due to the hazards involved, however new plants are safer and there will always be inherent precautions with any resource. Ultimately, nuclear energy is responsible for 20% of the U.S.'s energy consumption. Speculative growth suggests worldwide energy consumption over the next 20 years will grow as much as 81%. This substantial increase can be associated with both technological advancement and population growth. The market is growing; Russia and France are the largest producers of Uranium currently. China has plans to double its amount of reactors within the next decade and the U.S. is sure to follow.
The focus with acquiring Uranium contracts is Supply Security. Now, when analyzing the price of Uranium you must understand the difference between the 'Spot Price' and the 'Long-Term' price. Spot Price is associated with marginal, day-to-day trading and Long-Term is used in contracts. Price fluctuation is due to perceptual scarcity, yet with an increasing demand we can expect to see price stabilization with years to come. Take a look at the graph down below.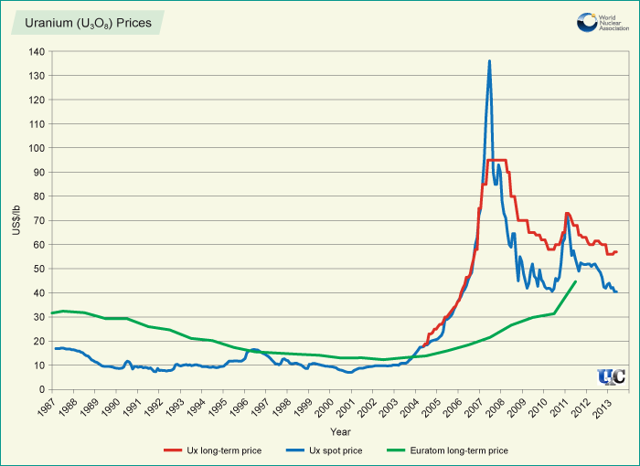 Uranium Prices
Both the Spot Price and Long-Term Price of uranium were significantly higher in 2007 and 2011, but following these highs were drastic declines. The problem with the current market for uranium is that the cost of production cannot remain higher than the price of uranium itself. Today, uranium is averaging a spot price of $30-$40. It's a correction that's bound to happen and it's up to you to take advantage of this opportunity.
The evidence is clear that a rebound is inevitable, however it's crucial to be invested in the right company. My recommendation to you is Uranium Energy Corporation (NYSEMKT:UEC).
With property acquisitions set in Texas Wyoming, New Mexico, Arizona and Colorado (most uranium concentrated locations in the U.S.) UEC is "well positioned to capitalize on the world's overwhelming demand for more uranium, for more energy, for cheaper energy and for a cleaner environment."
Led by Amir Adnani, UEC has gone from conception to production in very little time. It has become one of the lowest-cost uranium producers worldwide, with plants capable of producing more than 2 million pounds of uranium annually.
Doug Casey, founder and chairman of Casey Research once said,
"It's People you need to do your research on. I invest in PEOPLE, not the rocks. Great People will find you great rocks and make you a lot of money."
To my surprise, I received an email from Amir while writing this article. My Grandmother and Grandfather came across him while at the Sprott Global Investment Seminar and made sure to give him my contact information. If we're sticking to the principle of 'investing in people', my Grandma said she likes him a lot so you should too. Amir Adnani is not only the founder and CEO of UEC, but BRI as well, a publicly-listed gold exploration company. A man with consistent success in mind…
"Fortune magazine distinguishes Mr. Adnani on their '40 Under 40, Ones to Watch' list of North American executives. He is recognized by Casey Research, a leading investment advisory publisher, as a top-ten leading mining industry entrepreneur and executive. He is a nominee for Ernst & Young's 'Entrepreneur of the Year' distinction. Mr. Adnani holds a Bachelor of Science degree from the University of British Columbia, and serves on the university's Alumni Advisory Board." - UEC Website
What makes UEC an attractive company to me and investors alike relies on their ability to maximize profits. UEC's success derives from their unique form of mining called In-Situ Recovery or "ISR" in which fluid is injected into the ore and the solution is extracted for processing. Ultimately reducing overhead costs and minimizing wasted ore. Furthermore, UEC has profitability in mind, holding onto uranium at production sites until the spot price of uranium increases to meet demand. To better illustrate this profitability, UEC is capable of producing at the very low cost of $16/lb. When the uranium market recovers and the spot price increases, UEC will not only be growing at a tremendous rate but profiting greatly too.
Amir Adnani's design involves what he likes to call the "Hub and Spoke" strategy in which all acquisitions act as a "satellite" around their centralized location, Hobson, a fully operating production site. When combined with other permitted acquisition sites, UEC will be capable of producing uranium quickly and cost effectively.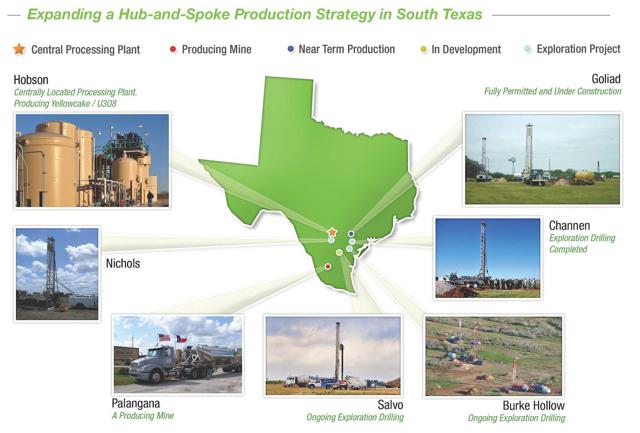 Hub and Spoke Strategy
Being 1 out of 5 uranium companies in the United States, you can begin to see the inevitable success that will be forthcoming in the next few years. Do not miss out on this opportunity!
Disclosure: No positions.