Trade Summary
- Stay long the commodity market (ETFs: GSG, DBC, and DJP; Futures: GI).
- The BUY rating was assigned at 556.43 on 10/05/2010.
- The BUY rating has already helped investors produce potential profits of 6.58%before leverage.
- Our target return is 23.24% before leverage.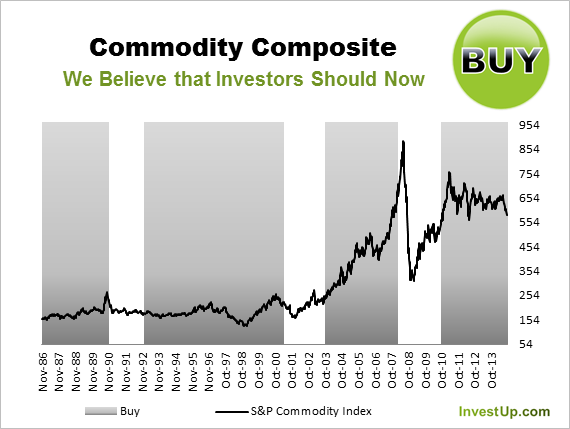 Analysis
We continue to have a clear bullish bias on the commodity index.
Our expectation for rising prices of the commodity market is a result of the improvement in the global economy. The last few months have been dominated by the stabilization in the global economic cycle and reduction in system risk. We have seen signs of improvement in labor market figures, capital expenditure, consumer spending, and business confidence. This has created a broadly friendly environment for cyclical assets, as investors become comfortable with the durability of the expansion. As a result, we are still comfortable about our current bullish view on the commodity market.
The global macro news remains our strongest anchor for near-term views. The purchasing manager surveys in many major were notably strong again, in line with our robust growth forecasts. Confidence has also gained globally along with sales and profits. This means that manufacturing firms will begin expanding their capacity by adding new plant and equipment. At the same time, the global job market data - while muddier - has also been a bit better, and our forecasts for the coming unemployment releases are better than the consensus. What's more, with our Invest Up Leading Indicators for most developed countries being quite encouraging, we expect improving global growth and job market news to be even clearer features of the next several months.
During the current growth cycle, we expect strong price rises across many commodities, but especially for iron ore, copper, oil, soybeans, and other raw materials, as we believe the supply response will struggle to get ahead of demand due to the scale and pace of change. In addition, the industrial news in the coming month should once again be good and we expect our final Leading Indicators to confirm the basic positive message from the initial reading. The commodity market is the star in the current stage of the cycle, which typically puts in a strong total return performance on a very broad basis. To summarize, we think that the commodity index will continue to rise as long as global economic growth remains broadly positive and the EM economies continue to perform, which remains our base line view.