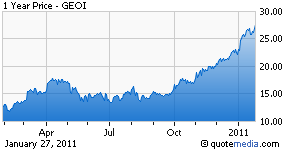 I liked GeoResources Inc. (NASDAQ:GEOI) the first time I took a look at the company, specifically because of its two locations, Bakken and Eagle Ford. Both locations are in their infancy, with a lot of future potential. GeoResources is well-known for possessing locations which have a high rate of return. This coupled with its high level of operational control seems to bode well for the future.
In the Bakken the company has 24,000 net operated acres and 13,000 net non-operated acres. When looking at the company's market cap of $544 million and taking into consideration its total acreage of 37,000 acres, it seems that the company is highly levered to Bakken production. GeoResources has 11,000 net acres in the Eagle Ford and also has a commitment for additional leases.
As of July last year, it had proved reserves of 24 Mmboe, of which 56% were oil. In the first half of 2010, the company averaged 5158 BOEd. 61% of its acreage is producing, with 27% undeveloped, and 12% developed non-producing. Proved reserves have seen a marked increase since 2006.
The Bakken Shale is a big part of GeoResources' future with 150,000 gross and 37,000 net acres. 50,000 of those are gross or 24,000 net operated acres, 100,000 of which are gross or 13,000 net non-operated acres. The 50,000 acres in Williams County has 47.5% working interest. GeoResources began drilling there in September 2010. The 100,000 non-operated acres are in Mountrail County. This area has been good to many of the bigger names in this play. GeoResources partnered with Slawson Exploration, retaining between 10% and 18% working interest. There are currently three rigs in this area. There are 72 Slawson operated wells drilled to date. There are plans for 200 more wells to be drilled in the next two years. Names like Brigham (BEXP) and Oasis (NYSE:OAS) are drilling near its Williams County acreage. The seven nearest southern offsets have reported initial rates of 1181 to 1947 BOPD.
GeoResources has 11,000 net acres in Eagle Ford, and retains 50% working interest. Its partner will be funding six horizontal wells. There may be additional acreages. The Eagle Ford AMI area has a volatile oil and gas condensate window. Other operators in this area are Magnum Hunter (MHR), EOG Resources (NYSE:EOG), and Clayton Williams (NASDAQ:CWEI).
Its Giddings Field-Austin Chalk has 68,000 gross and 29,000 net acres. There are 16 wells drilled, all of which were successful. 20 additional drilling locations are here and working interest ranges from 37% to 53%.
It has 2585 net acres with working interest of 975 at its Louisiana location and cumulative shallow production 15.2 MMBO and 16.6 BCFG. The Quarantine Bay field is 14000 gross acres and it has 7% working interest above 10500 feet and 33% below with 180 MMBO and 285 Bcf.
Capital expenditures are weighted towards oil and liquids. It will further exploration and production. Current allocations favor low risk high cash projects this year. GeoResources will currently fund these expenses with cash flow. Only conservative leverage will be used this year. It has a $145 million borrowing base.
GeoResources is currently hedged through December 31 2012. This has helped considerably with its natural gas production. 58% of production is hedged for this year.
This company seems to be doing quite well. Its natural gas hedges have protected this company from falling natural gas prices. It is increasing oil production which should increase margins. That combined with its excellent portfolio of locations makes this company worth a good, hard look.
Disclosure: No position